Rediscover Lancaster County
If you still think of Lancaster County as quaint, you're out of date
Lancaster is much more than buggies, straw hats and barns. It's got art galleries, specialty museums and parks to visit. You can hike, cycle, canoe or see it all from the sky in a balloon ride!
Get an Overview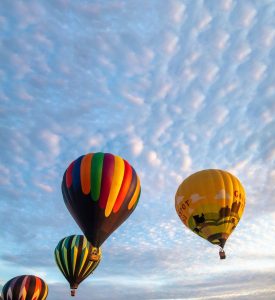 Become part of the view. And get a view. Take off in a tall, colorful airship to see the rolling countryside from on high. Let the hot air lift you and the breeze carry you over the lush farmland. Operating out of Bird-In-Hand, the U.S. Hot Air Balloon Team hosts rides. Remember to take photos!
At the other end of the county, the Northwest County River Trail is a 14-mile, mostly paved trail for hiking and bicycling that follows the Susquehanna River and route of the PA Main Line Canal. The trail starts at the Columbia Crossing River Trails Center, with canoe, kayak and bike rentals. On your trip, you'll pass through a 180-foot, allegedly haunted tunnel dug in the 1850s for the railroad. Plus there's rock climbing, if you're so inclined. At the end of the day, you can relax and enjoy a spectacular view of the river.
In Lancaster City try one of several walking tours. The Historic Lancaster Walking Tour highlights the city's architecture and tells the story of the Civil War, Underground Railroad and Colonial times in Lancaster. Several other tours are also available: the Lancaster History and Craft Beer Walk, Underground Railroad Walking Excursion, Sweet & Savory Tour, and more.
Enjoy Art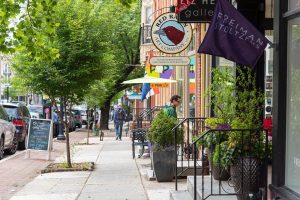 Located mainly along the first and second blocks of North Prince Street in downtown Lancaster City, Gallery Row is the heart of the thriving art scene. If you're lucky or plan well, visit on a First Friday, when the area's many galleries, shops, restaurants and entertainment venues come alive after 5.
The Demuth Museum on East King Street is in a home that belonged to artist Charles Demuth over 200 years ago. Collected worldwide, Demuth was a renowned modernist painter. That museum was joined administratively with the Museum of Modern Art, exhibiting regional, national and international works.
The Phillips Museum of Art, located on the Franklin & Marshall College campus, has a mission to foster an appreciation of the arts, including contemporary, historical and multicultural materials.
Visit More Museums
If you're honest, you didn't get much from class trips to museums of natural history and science. Certainly not compared with what they offer.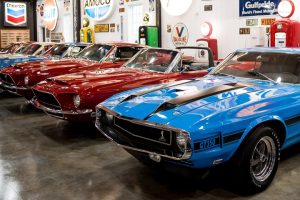 As an adult, though, you can dawdle, read the captions of the exhibits, study and appreciate. For that, we recommend the North Museum in Lancaster City. Visit the planetarium, the bug room, the dinosaur room, the bird room and more. Oh, yeah, the kids will have fun too.
If you're fascinated by railroads, the Railroad Museum of Pennsylvania in Strasburg and National Toy Train Museum in Ronks are for you.
In love with automobiles? Car guys should head for Barry's Car Barn in Intercourse, specializing in muscle cars from the 1950s through 1970s.
News buffs will enjoy the Lancaster Newspaper's Newseum, which can be viewed from Lancaster City's sidewalks. The display traces the history of newspapers and their production over 200 years.
There's also the National Watch & Clock Museum in Columbia, with more than 13,000 timepieces on display. One 1878 clock is 11 feet high and 8 feet wide, shows phases of the moon, constellations and tides!
Stop at Lancaster Central Market
A must-see for any visit and open since 1730, Central Market has about 60 vendors, is owned by the public and managed by a nonprofit trust. Since 1889 it's been in its current building in downtown Lancaster City. For the last 60 years, you could buy horseradish from Longs there. For over 100 years, you could have bought produce there from Stoners.
Baked goods, cheeses, dairy, meats, poultry, fish, candy, chocolate, snacks, ice cream, coffee and tea, sandwiches, soups and salads … You should eat there at least once for a quintessential Lancaster County experience.
More at DiscoverLancaster.com.
Kick Back at the Parks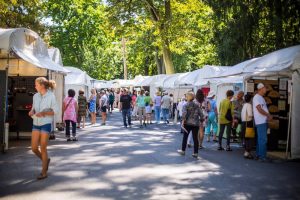 Covering 544 acres at the southern end of Lancaster City, Central Park has a pool, skate park, basketball courts and trails for hiking, cycling and horseback riding.
On the outskirts of Lancaster City is Long's Park: 80 acres of picnic pavilions, a petting farm, children's playgrounds, tennis courts, fitness trail and a three-acre, spring-fed lake. Through the summer months, on Sunday nights for almost 60 years, musical concerts are held at its amphitheater. Long Park's Labor Day Arts and Crafts Festival draws over 200 exhibitors from across the mid-Atlantic.
back to top