Recent Discoveries
Photos courtesy VisitBucksCounty.com
Family Fun in the Poconos
Enjoy endless outdoor adventures with excitement at every turn
Famous for the many campgrounds, scenic beauty and 150 clear lakes, the Poconos Mountains have attracted nature lovers and vacationing families for generations. Spend the weekend exploring the picturesque mountain slopes and hundreds of acres of state parks for tons of summer fun.
Embrace Nature
Pack up the car, disconnect from devices, and commune with nature at a Poconos camping trip. Engage your inner adventurer with a visit to a campground and enjoy the fun of a rustic camping—or with a few extra amenities.
Go old-school and pitch a tent in a campsite furnished with a fire ring, picnic table, water and electric or go off-the-grid at one of the bare bones campsites at Jim Thorpe Camping resort for a true "roughing it" wilderness experience.
For those desiring more luxurious accommodations, stay at the historic 1911 Shawnee Inn, now offering some modern twists like glamping (glamorous camping). Updated tents feature one queen bed, one daybed and a private deck overlooking the scenic Delaware River. New features also include a canoe trip, breakfast in the River Room and a recreation attendant to assist with fire making. All the beauty of camping with none of the hard work.
Outdoor Adventures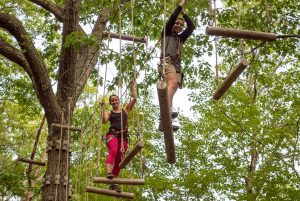 Keep the family busy with plenty of Poconos fun activities—from laser tag and go-karts to animal parks and ziplining.
Soar through Skytop's Treetop Adventure Course and discover an array of adventures. This wooded course reaches over 1,500 feet in height with challenging obstacles, including elevated bridgeways, hanging logs, walk-across ladders and five different ziplines. Or give Skytop's 33-foot climbing wall a try as you tackle six different sides with difficulty ranging from beginner to advanced.
Then unleash your wild side at Claws 'N' Paws Wild Animal Park. See over 100 varieties of animals with everything from roaring lions to swinging gibbons. Little ones can feed lory parrots and pet animals in a special petting zoo. And you can try your hand at an archeological adventure as you search for dinosaur bones in the Dino Dig.
Round out the day at Costa's Family Fun Park with activities like go-karts, bumper boats, laser tag, mini golf, batting cages and more. Plus, you can finish the fun with family-favorite snacks including hand-dipped Hershey's ice cream.
Make a Splash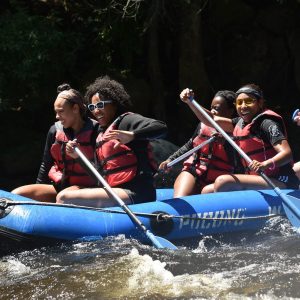 Stay cool and explore the 150 lakes and 170 rivers the Poconos has to offer. Whether you prefer kayaking and canoeing, whitewater rafting and tubing or just sunbathing and floating, you'll find scenic waterways calling your name throughout the region.
Brave the rapids of the Lehigh River with Jim Thorpe's River Adventures. Enjoy hours of exciting whitewater rafting with options for every experience level. Go full-force dam release for a challenging ride or choose a calmer family-style trip and get a glimpse of the surrounding wilderness and wildlife. Be prepared for stops along the way for cascading waterfalls and swimming holes.
If you prefer a leisurely drift, head to the inlets of Lake Wallenpaupack and spend the day swimming and soaking up the sun. Paddle the lake with a canoe, kayak or stand-up paddleboard and enjoy the serene waters. Plan to extend the summer by coming back for one last hurrah at the Wally Lake Fest, August 27–29, for live music, good food and even more lake-side fun.
And of course, spend a day at Camelbeach Mountain Waterpark for adrenaline-filled waterslides and poolside lounging. With over 37 rides, slides and attractions, Camelbeach Mountain offers thrills from mild to wild at the biggest waterpark in Pennsylvania. Just remember to pack your swimsuit!
Eating and Drinking
After a night at the campsite and a day in the water, it's time to grab a bite to eat at one of the many Poconos restaurants. Explore the flavors of the region through farm-to-table dining, chef-designed tasting menus and family-friendly spots.
Indulge in signature burgers and handcrafted shakes made with fresh and locally sourced ingredients at B-Lux Grill & Bar. Even adults can get their sweet fix with one of their hard shakes, like the Kentucky Brain Freeze made with Maker's Mark whisky, caramel and peanut butter.
Class it up at the Frogtown Chophouse—perfect for casual fine dining. This classic American chophouse, dating back to the early 1800s, is anything but old-fashioned. Choose delicious steak and seafood entrees like crispy duck topped with a raspberry sauce and barramundi filet with lemon garlic butter, plus artisan cocktails. Sip a Dirty Toad, A'Pear'ently "Frogtinis" or classic cocktails like an Old Fashioned and Chophouse Sangria.
Make a special toast to the night at one of the many area breweries and distilleries, including the Pocono Brewery Company with locally inspired craft beers available by the glass, flight and growler and served alongside wood-fired pizza.
Wherever you stay and whichever path you take, summer fun is always the destination in the Poconos Mountains!
For more info visit PoconoMountains.com
No Need to Pack to Visit Bucks County
Home to concrete castles and historic downtowns, this neighboring county is rich in history, entertainment and family fun.
Tucked in the rolling hills of Philadelphia's countryside, Bucks County boasts lush farmland, idyllic towns and bountiful vineyards. Stay close to home for a day trip or weekend getaway and delight in museums, gourmet dining and fun for the whole family.
Family Attractions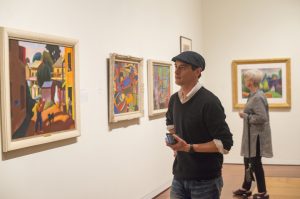 Just because school is out doesn't mean learning has to stop. A visit to Doyelstown can include magnificent museums for fun mixed with a little education.
Climb the many steps to hidden rooms filled with beautiful tiles at Fonthill Castle, the former estate of renowned archeologist and tilemaker Henry Mercer. With over 44 rooms including 18 fireplaces and 200 windows, there's plenty here to explore. Next stop is the Tileworks Museum to get an up-close look at handmade tiles and mosaics in the same style seen in Fonthill Castle.
Then step back in time at the nearby Mercer Museum, another castle housing more than 40,000 early American artifacts, and marvel at antiques like a fire engine suspended in air, horse-drawn carriages and a Conestoga wagon. Or satisfy your inner artist at the Michener Art Museum,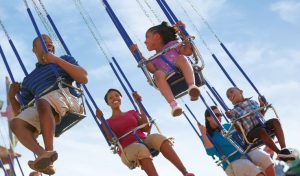 featuring the largest public collection of Pennsylvania Impressionist paintings. Get inspired by regional artists displayed throughout the galleries or while wandering through the outdoor sculpture garden.
If you've got energy to burn, gather up the kiddos and head to Sesame Street Park in Langhorne. Plan a day of whirling rides, splashing slides and visits from your favorite Muppets—Elmo, Big Bird and Cookie Monster. Delight the little ones with family-friendly rides or cool off at the water park filled with tube slides, a lazy river and a kid-friendly wave pool. End the day with a live show or catch one of the daily parades as you wander through Sesame Street Park.
Get Outside
Disconnect for the day and embrace area's parks, offering everything from historic spots to lake-day fun.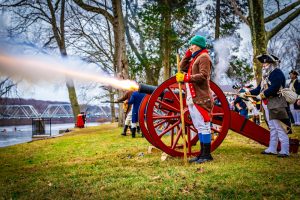 Travel back to 1776 at Washington Crossing Historic Park and explore the 500-acre park preserve where General George Washington famously led troops across the Delaware River during the Revolutionary War. Check out restored 18th-century buildings and homes, Revolutionary War gravesites and climb Bowman's Hill Tower for a bird's-eye view.
Make your own music at Ringing Rocks Park in Upper Black Eddy. BYOH (bring your own hammer) and strike the boulder field to hear the rocks ring like a bell. Make a game of it by recreating favorite songs and having your family name that tune. Then take a short walk to the county's largest waterfall, High Falls, and take in all the beauty nature has to offer.
Or you can pack a picnic and head to Nockamixon State Park in Quakertown to enjoy biking and hiking trails throughout the 5,286-acre park. Looking for low-key fun? Lounge and splash around in Lake Nockamixon for a day in the sun.
Toast the towns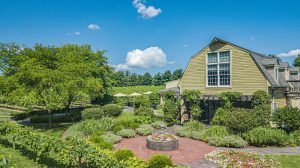 Sip your way through the area's beautiful landscape and experience the flavors of Bucks County's Wine and Ale Trail.
Located less than a mile from the site where Washington crossed the Delaware River, Crossing Vineyards and Winery sits on a 200-year-old estate with views perfect for indulging in their award-wining wines after touring the property. Or stroll through the vineyards of one of Pennsylvania's first farm wineries at Buckingham Valley Vineyards and Winery and sample over a dozen varieties of wine, including their famous wine slushies.
Beer lovers can grab a stool at the bar and let a local brew master pour a pint of craft beer at one of the 11 breweries along the Ale Trail. Toast your vacation with seasonal beers like Summer Solstice (brewed with lemon zest and Caribbean spices) at Bucks County Brewery in Pipersville or crack open a can of Peel & Petal (wheat ale with orange, chamomile and coriander) at Free Will Brewing Company in Peddler's Village.
Dine Downtown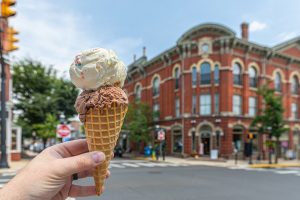 After a day of adventure, gather together for a family dinner or enjoy a romantic night out at one of the many area restaurants.
Discover a storybook village with picturesque Colonial-style buildings, award-winning gardens and tempting dining spots at Peddler's Village. Get the true town experience and dine at the flagship restaurant, the Cock 'n Bull, serving traditional American classics like savory chicken pot pie and short rib burgundy, all offered in a charming setting. Or grab some grub at the Buttonwood Grill and dig into burgers, including the Guinness Onion 'n' Bacon burger smothered in Guinness BBQ onions, sharp cheddar and creamy horseradish.
Treat your taste buds to delicious dishes in Doyelstown after you take a stroll along East State Street, known as Restaurant Row for its eclectic collection of locally owned dining spots and cafes. Stop by M.O.M.'S Maxwell's on Main for Southern fried chicken entrees, including classic chicken and waffles with maple chipotle syrup or a fried chicken sammie with Memphis slaw and pickle aioli. Another option: embrace the Italian influence of Genevieve's Kitchen and delight in mascarpone carbonara flatbread, duck and wild mushroom Bolognese and white bean and basil ravioli.
End the night on a sweet note at nearby Nina's Waffles and Ice Cream (locations in Peddler's Village and Doyelstown) and try their s'mores waffle with torched fluff and chocolate ganache or the Mad Crack with vanilla ice cream and saltine cracker brittle made with toffee and chocolate.
There's plenty to do, see and eat, so plan your getaway in Bucks County this summer!
For more info VisitBucksCounty.com
back to top