Recent Discoveries
You looked so very pretty,
when we met in Ocean City
Like someone, oh, so easy to adore.
I sang this little ditty,
on our way through Ocean City
Heading south along the Jersey Shore.
On the way to Cape May,
I fell in love with you.
On the way to Cape May,
I saw my dreams come true.
"On the Way to Cape May" by Al Alberts
Is this 1986 pop ditty the reason we're focusing on Cape May and Ocean City, New Jersey? We'll never tell.
Ocean City, NJ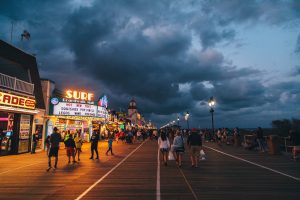 When a town trademarks its logo as "America's Greatest Family Resort®" and secures the phone number 1-800-BEACHNJ, it must be a pretty good place for a summer getaway. And Ocean City, New Jersey — not the other one on the Atlantic, with a wooden boardwalk, theme parks, salt water taffy but in Maryland — has been attracting families for generations. As they also say, "your memories start here."
There are eight miles of sandy beaches (best section said to be to the north, near the dunes) plus almost three miles of boardwalk for fun, food and fantastic shopping. And there's plenty to do on the bay side — fishing, kayaking, sailing. The sheer variety of attractions — and its reputation as a family-friendly destination with guarded beaches and no alcohol — make this a destination worth visiting.
What to Do?
Ocean City has it all — arcades, amusement parks, mini golf, go-karts, jet skis, fishing cruises (plus surf fishing, bridge fishing and more), surf lessons (surfing, skim boards, paddle boards), rock walls, laser tag, an escape room, mirror maze, water slides, airplane rides and parasailing, theater productions, a golf course, sports courts, parades, family-friendly events and tons more fun! How many other places have a half dozen themed miniature golf options — from Pirate Island to Haunted Golf to Medieval Fantasy and more?
Regularly scheduled activities include beach exercise with yoga on Mondays, Funtastic Tuesdays (entertainment, face painters, balloon sculptors), more beach exercise with Pilates on Wednesdays, market days and Family Nights on the Boardwalk on Thursdays, and low-impact beach exercise on Fridays. July 5 hosts a Wacky Wednesday pie-eating contest to celebrate America by eating apple and cherry pie – no hands allowed! There are also freckle contests (July 5), sand sculpting contests (July 6), a French fry sculpting contest (July 12), as well as Christmas in July (July 26). Whew!
For Nature Lovers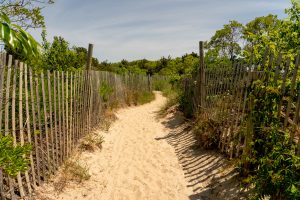 For some quiet time, head to the southern tip of the island to 340-acre Corson Inlet State Park for its trails, dunes, wetlands and wildlife. Or take refuge in the 16 acres of protected dunes and marsh at Stainton Wildlife Refuge (between 23rd and 30th Sts.) for great bird watching (many wading and shore birds).
Consider a guided beach walk on Tuesdays and Wednesdays in July and August, meeting at the north and south ends of the island. Whale and dolphin watching excursions are another option. And cyclists will enjoy exploring the many bike paths, bike lanes and bike-friendly roads in town.
Are There Amusement Parks?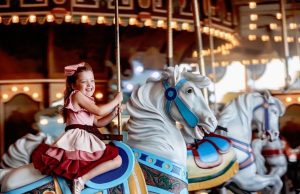 Of course there are! Gillian's Wonderland Pier (6th and 7th Sts. on the Boardwalk) has classic rides like the 141-foot-high giant wheel — you can see Atlantic City on a clear day. This historic amusement park, founded in 1929, is now run by the third generation. Favorite attractions include Little Buc's Bay, an 18,880-square-foot water playground just for kids, and the Canyon Falls Log Flume that will cool you off even on the hottest days.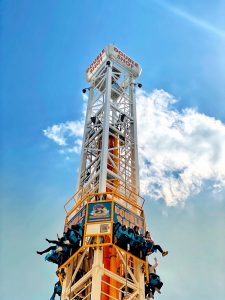 Celebrating 60 years on the Boardwalk, Playland Castaway Cove features 30-some rides, Pier 9 golf, go-karts, an arcade and the Wild Waves, Whirlwind and Gale Force roller coasters. Enjoy all the classics, like super slides, scream machines and extreme cyclone (the thrill rides). For the little ones, try those labeled Family Fun rides, like the Ferris wheel, merry-go-round or classic train.
Jilly's Arcade is the largest arcade on the Boardwalk. It's a family entertainment center with more than 100 video games as well as pool tables, air hockey and play-til-you-win cranes. Come here for Pac-Man or Skee-Ball, which still costs a dime to play (same as in 1976).
Totally Tubular Water Sports is another popular attraction for families. From tubing to waterskiing to jumping on and off inflatables, there's plenty of action. Book a charter and go banana boating (on an inflatable banana), wakeboarding and other fun water activities.
Missing Philly and Music?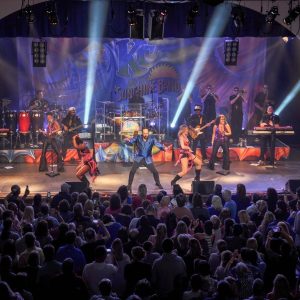 Then join in on Mummers Nights, Tuesdays and Thursdays on the Boardwalk, July 6 through August 31. "It's a Philly Thing" is the theme for Ocean City's 68th annual Night in Venice on July 29 — a bayfront celebration with boat parade and decorated bayfront homes — hosted by recently retired news anchor Jim Gardner as grand marshal. Wait for the fireworks finale after the parade.
If you're yearning for music, head for the Music Pier to hear the Pops Orchestra (840 E. 6th St.). On July 3rd and 4th, the Ocean City Pops will perform a free outdoor concert at 7:30 p.m. at Carey Stadium, including patriotic classics and audience favorites in honor of our nation's birthday. Bring a beach chair or blanket to sit on the field, or hope for a seat in the bleachers.
Monday nights through summer are time for the Concert on the Beach series.
Food
We think the best food in town is simple: the snacks on the Boardwalk — ice cream, frozen custard, pizza, caramel corn, funnel cake, fried Oreos, popcorn and taffy. Family-fun food in a family resort.
---
Cape May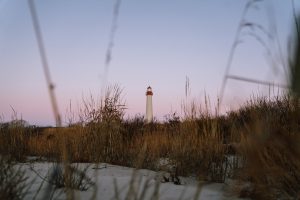 Did someone say trolley tour? We're always ready to hop aboard to get an overview of a new discovery. And so, MAC's bright red trolleys (MAC for Museums, Arts, Culture) beckon us aboard the Welcome to Cape May Tour for an easy and comfortable intro to the country's first seaside resort, full of Victorian charm plus seashore and maritime history.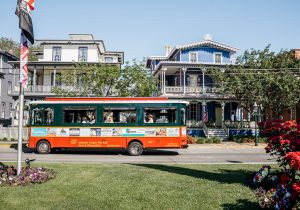 Tip: If you enjoy trolleys, return for the more focused tours, including for the Historic District, Mansions by the Sea, Ghosts of Cape May, Underground Railroad and a special children's trolley ride.
Whether you drive on New Jersey's back roads or parkways (Cape May is exit 0) or choose the water route for the 17-mile, 90-minute crossing of the Delaware Bay on the Lewes Ferry, you'll arrive at a destination with plenty to offer all members of the family. This beach town has history, nature, fun, food and so much more. After all, it's one of the Travel Channel's Top 10 Beaches!
Getting Around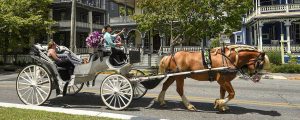 If trolleys aren't your thing, consider a horse-drawn carriage tour to get into the Victorian spirit that pervades much of the town. For those who want to control the pace and the route of their exploration, bikes and e-bikes are available to rent — if you didn't BYOBike.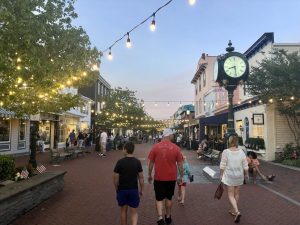 Walking tours are another healthy option for seeing the sights. The Washington Street Mall offers a three-block pedestrian space for stretching your legs, browsing and sampling sweet treats. Plus there's a boardwalk for getting in your steps.
Consider taking an Architectural Walking Tour or a Painted Ladies, Porches and More Tour through the historic district — parasol optional as you pass the many grand Victorian houses, some still used as B&Bs, restaurants and more.
Or for something a bit different, get out on the water on a pontoon pedal boat. It's a BYO everything situation, with coolers to keep fuel on ice for the thirsty pedalers.
Seeing the Sights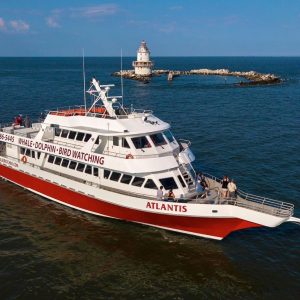 Nature lovers will enjoy boat tours for whale and dolphin watching, or perhaps a kayak or paddleboard tour of the harbor. Meanwhile, land lovers can indulge in birding at the Cape May Bird Observatory, while hikers rack up their miles along nature trials at Cape May Point State Park.
The iconic Cape May Lighthouse offers other opportunities to explore from a historic vantage point. Stairway to the Stars evenings offer nighttime climbs of the 199 cast-iron spiral stairs in the 1859 lighthouse during the light of the full moon, with other climbs scheduled during the new moon. Take in the panoramic view over the Delaware Bay and Atlantic Ocean.
True lighthouse fans may opt for the Delaware Bay Lighthouse Cruises, five-hour excursions aboard the Cape May Whale Watcher to visit seven offshore lighthouses and learn the history of each (includes breakfast and lunch buffets). And then there's National Lighthouse Day on August 7, celebrating the "majestic beacons that are America's maritime treasures."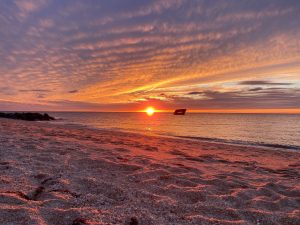 Sunset lovers can take in an epic blaze of color over water from this southern tip of New Jersey. Why not check out Sunset Beach? There must be a reason for the name. Maybe you'll find Cape May diamonds there (actually quartz crystals, but still …).
Fans of the occult, or scary, creepy fun will love the ghost walks that continue through October. Like we said, something for everyone.
Entertaining the Kids … and Parents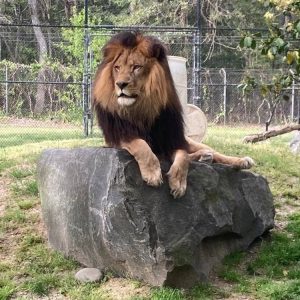 Come in July for the extra fun of fireworks over the beach for the July 4th celebration. And stay until July 26 for the 90th coronation of Cape May's Queen Maysea, open to resident girls 6 to 10. Or anytime during the month, the kiddos will enjoy the Cape May County Zoo and Park to encounter wildlife and explore the playground.
What's more fun than movies on the beach? Cape May offers a full program. Bring chairs, blankets and popcorn for Top Gun: Maverick (July 6), Moana (July 13), The Mighty Ducks (July 20), and Elf (July 27). This last show seems a bit wrong for summer, but isn't everything fun in the sand?
For the ultimate in summer fun, a 20-minute drive north to Wildwood takes you to thrill rides, water parks, arcades and fun on the boardwalk at Morey's Piers and Beachfront Waterpark. Fun for the whole family.
And for those feeling a bit nostalgic from the sea air, join a '60s Musical Review at the Cape May Convention Hall. The lineup includes The Lettermen (July 9), The Association (July 16), Jay & the Americans (July 23), Herman's Hermits (July 30) and the Drifters (August 6).
Prefer artsy-craftsy fun? Then the July 8 Promenade Arts and Crafts Show is for you.
Sampling the Food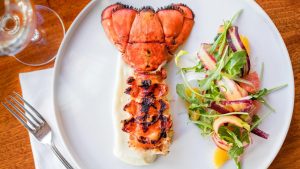 As you'd expect in a longtime seaside resort, dining options are many and varied. From the Lobster House, a huge seafood restaurant at Fisherman's Wharf, to the more elegant Ebbit Room in the renovated 1879 Virginia Hotel, to a farm-to-table meal in a barn at Beach Plum Farm, you'll find what you crave. And for breakfast? Head for the Mad Batter. Ask those waiting in line why.
For sipping, Cape May Brewery is a perfect place to wet your whistle. Or support a nonprofit brewery, Cold Springs Brewery, part of a living history museum of Cold Springs Village. And for those thirsting for something stronger, there's Nauti Spirits Distillery. Plus, of course, wine tours to Turdo Vineyard and Winery, Cape May Winery and more.
Cheers to Cape May!
back to top