Recent Discoveries
Berks County
You already know Delco, Bucks and Chester Counties, now get to know Berks.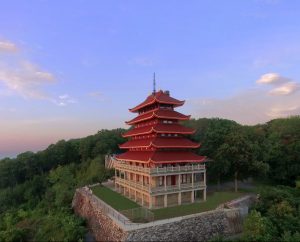 Located just northwest of Chester County, Berks is an easy day trip, yet it can seem a world, or at least a county away. With a mountainous backdrop, rich Pennsylvania Dutch influences and not a single mention of the Founding Fathers, Berks County offers a multitude of family-friendly options that can be reached on a single tank of gas.
Whether you're the outdoorsy type, want to learn something new, or yearn for a good old-fashioned family vacation, Berks County has history, tradition and an underground ice cream cone just for you.
Outdoor Adventures
Blame it on all that time outside over the last two years, but birding is now a popular American pastime, and Berks County is one of the best places in the region to catch the majestic creatures in flight.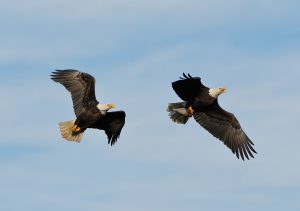 Start with Hawk Mountain Sanctuary. Recent spottings include raptors, cerulean warblers, winter wrens and, of course, hawks. Another good birding option is Blue Marsh Lake. Home to the orchard oriole, the eastern bluebird and the known habitat of bald eagles, it's also a great place to cool off on a warm summer day.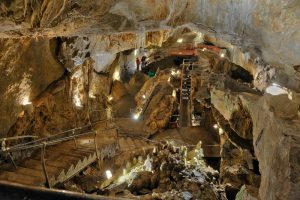 Next head south to another popular Berks County method for cooling off — subterranean Crystal Cave. This 150-year-old natural wonder maintains a refreshing interior temperature of 54 degrees even on the hottest of summer days. Located just outside Kutztown, the cavern's impressive half-million-year-old rock formations, including the popular "Ice Cream Cone" attraction, are worth exploring. Then hike some trails, play a round of mini-golf and refuel at the onsite cafe.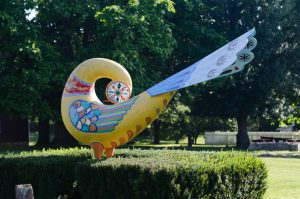 From there continue south to Reading, where you'll want to check out the Berks County Heritage Center. This free park/historic site combo has hiking trails that lead to all kinds of discoveries, from a covered bridge to the Pennsylvania Dutch-inspired Der Distelfink statue. While you're there, check out the Gruber Wagon Works and Epler's School House onsite museums.
Be sure to pay a visit to the iconic Reading Pagoda that sits atop Mount Penn. Unfortunately, the Pagoda is closed for renovations, but the grounds are still open sunrise to sunset. No Berks County adventure would be complete without a stop at the more than 100-year-old National Landmark and peak with its 30-mile panoramic view.
Cool Off With History
While history in Pennsylvania often focuses on Philadelphia and the birth of the nation, there's plenty to learn from the industrial pasts of those who settled just northwest. And that includes one of the Keystone State's most famous sons, fabled frontiersman Daniel Boone.
Continue your tour with a stop at the Daniel Boone Homestead in tiny Birdsboro, just south of Reading. Born in the Oley Valley region in 1734, Daniel Boone spent his formative years on the preserved 579-acre property. Stroll the manicured grounds, visit the lake and, when temperatures get too hot, seek shelter in the Boone family home, the blacksmith shop and five other 18th-century buildings.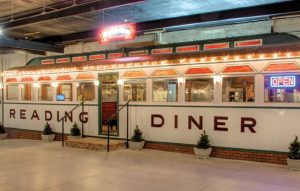 Next head east to picturesque Boyertown. Bursting with charm and teddy bears (75 cuddly bear statues dot the streets), there are plenty of places to pop in and out of the heat. First hit the Boyertown Museum of Historic Vehicles, featuring a unique collection of PA-built vehicles from high wheelers to safety bikes to immaculately restored cars.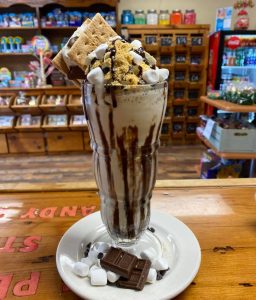 Or try the newly opened General Carl Spaatz National USAAF Museum, an interactive history experience honoring Boyertown native son and WWII Air Force commander Gen. Carl Spaatz. Attend a pre-flight briefing and sit in the cockpit while live cast members in period uniforms demonstrate the equipment.
Then head downtown to enjoy the beauty of glassblowing at the Taylor Backes Glass Studio and thrill the kids (and kids at heart) with the penny candy collection at the Peppermint Stick Candy Store on Philadelphia Avenue.
Team Americana
Travelers from the Rhine region of Germany were among the first settlers in Berks County more than 300 years ago. These settlers brought their art, their traditions and, of course, their food. Much of this heritage has been preserved in the markets, festivals and day-to-day life of the region. You just have to know where to look.
Nothing brings to life the history and culture of the region quite like the Kutztown Folk Festival. See how it was done with authentic craftsmen demonstrations, daily entertainment and America's largest quilt sale. The nine-day festival starts on the first Thursday of July (July 9 this year).
While in Kutztown, stop by Renninger's Antique and Farmers Market. Open Fridays and Saturdays, it's home to some of the best in Pennsylvania Dutch delicacies. For the true cultural experience, grab a jar of chow-chow (a sweet-sour pickled vegetable mix). For those with a sweet tooth, add a sticky-sweet shoo-fly pie to your cart and the always-popular apple butter.
For more festival fun, come back August 12 and 13 for the Goschenhoppen Historians 54th PA Dutch Folk Festival in Perkiomen for food, crafts and stage programs.
Now, let's play ball. While there's no record of those early German settlers playing catch, there's nothing more Americana than an evening at the ballpark. And no one does it better than Reading's Fightin' Phils at FirstEnergy Stadium. A feeder program for the Philadelphia Phillies, Reading's AA team lets you witness major league talent at minor league prices.
Finally, no Pennsylvania tour would be complete without a pretzel, and this one is no exception. From Reading head west to Litiz and see (pretzel) history in the making. At Julius Sturgis Bakery, you can tour the original 1861 bakery and test your pretzel-twisting abilities with a special playdough mixture. When you are done, head over to the onsite bakery to taste how it all began. Grab a bag, or two, to go.
Pair your goodies with that apple butter for a tasty reminder of your visit to Berks County.
For more things to do and see in Berks County, go to VisitPAAmericana.com.
Finger Lakes, NY
Wine trails, nature and dreamy accomodations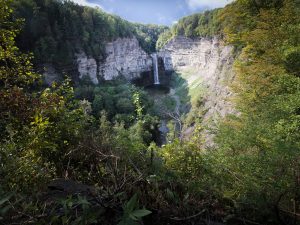 Get on Route 476, head north and in roughly four and a half hours, you'll have arrived at the rolling green hills of New York's famed Finger Lakes region. Once there, navigate winding country roads through acres of vineyards until you glimpse the clear blue of one of the region's dozen or so slender, appendix-shaped lakes.
Congratulations! You've arrived at a vacation destination you won't soon forget. Lush countryside, award-winning wines and one-of-a-kind sights — all under a night sky with a thousand stars.
Day Drinking
We'll start with wine. While the area's cool temps make New York an ideal region for rieslings and gewürztraminers, there are plenty of award-winning pinot noirs, cabernet francs and merlots produced here as well.
To help you get oriented, note that the area's wine tasting is centered around three wine trails, one for each of the region's largest lake. Cayuga Lake Wine Trail, the oldest, was established in 1983 as a way to draw visitors to the region. Its success soon prompted Seneca Lake and Keuka Lake vintners to follow suit.
While the trails were a 20th-century addition, wine in the region can be traced back to 1886 when the Seneca Lake Grape Wine Company opened the region's first winery. Thanks to the are's unique micro-climate, that reputation has grown. Today there are hundreds of wineries laying claim to more than 6,000 national and international medals.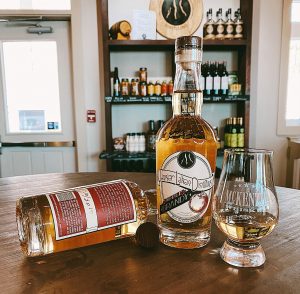 On Seneca Lake, start your trip at Herman J. Weimer Vineyard in Dundee. A pioneer in Finger Lakes winemaking, they offer award-winning wines and one of the best winery tours in the region (reservations required). Then head to Penn Yan, home of Fox Run Vineyards, recently named one of the top tasting rooms in the country. Order a flight of their reislings. If you're over on Keuka Lake in Hammondsport, try to snag a visit to Dr. Konstantin Frank Winery, arguably the region's most famous winery.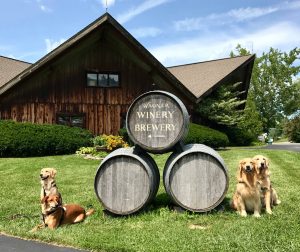 While the region is best known for its wines, there are other sipping options. Finger Lakes Distilling, a craft distillery in Burdett, offers high-quality, small-batch liquors made from farm-fresh fruits. Beer drinkers in the bunch? Head to Wagner Valley Brewing in Lodi. At nearby Wagner Vineyards, visitors can order a flight of beer or wine at a tasting room overlooking beautiful Seneca Lake. Or cool down with an all-natural real Draft Root Beer.
Of course, this is only the tip of the tasting glass when it comes to wine-tasting options in the Finger Lakes. Charting your own way is part of the fun. Discussing the best and worst pours of the day is what dinner conversation was made for.
Off-Trail
Yes, wine tasting is nice, but it's not the only fun activity. You'd be remiss not to explore the natural wonders of the region.
Watkins Glen State Park is home to 19 waterfalls plus the challenging but rewarding Gorge Trail (there's a shuttle if you prefer). Neighboring Taughannock Falls boasts the tallest free-falling waterfall east of the Mississippi.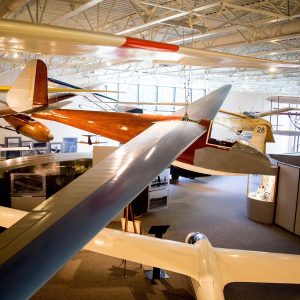 The region's unique collection of museums is also worth a look. The National Soaring Museum in Elmira tracks the unique history of motorless flight. Feeling adventurous? Pop over to neighboring Harris Hill Soaring Corporation and experience the thrill for yourself.
Something a little more down-to-earth? Check out the Corning Museum of Glass in, yes, Corning. Featuring 45,000 pieces of classic and contemporary glass art, it's the world's largest glass collection. Plus, live, narrated daily glassblowing demonstrations are a further treat.
Another option is to start your day at one of the many farmers markets. Located between Keuka and Senca Lakes, the Windmill Farm and Craft Market in Penn Yan boasts more than 175 vendors. Try gooey cinnamon buns from Stoltzfus Pastries, a Windmill staple since the market opened in 1987. Toss in vine-ripened produce, fresh-baked bread and local cheeses, and you have an Instagram-worthy picnic to sustain you through the day's fun.
Bringing It Home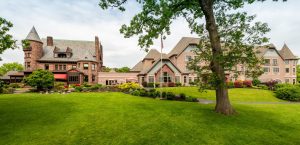 With the wine and the drive, this trip is well worth a long weekend, which is perfect because there's also a wide selection of unique lodging options — from high-end camping to charming B&Bs and even a castle. The stuff that dreams are made of.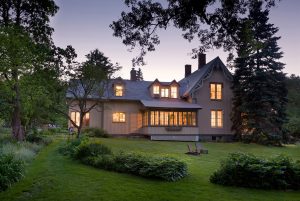 On the National Register of Historic Properties, 123-year-old Belhurst Castle in Geneva has a dramatic past of opulence, excess and booze. Stay in one of the 11 elegant guest rooms or three cottages that surround the main house. Set between Cayuga and Seneca Lakes, the Inn at Gothic Eves in Trumansburg offers eight rooms expertly decked out and all appropriately named after wines.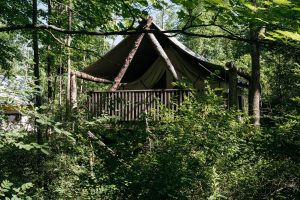 Looking for something a little different? Firelight Camps in Ithaca offers a one-of-a-kind glamping experience. While you're technically outside, the comforts abound (no air mattresses here). Plus, you have access to a fully-equipped bathhouse, beverage station and complimentary breakfast to start your day.
So, ready to book your trip? Here are a few tips. The wine trails are just a guide. Each is self-navigated and the best way to go is to hire a transportation company, of which there are plenty. From Seneca Lake Kayak and Winery Tours to Above the Glen Limo and Wine Adventures, a quick search turns up dozens of options. Your professional driver provides a worry-free day and can be an invaluable resource with insider info.
Also remember summer is the region's busiest season. Expect lots of visitors but, on the upside, extended hours. Most wineries are open from 11 a.m. to 5 pm., seven days a week. Just be prepared to take things slow and enjoy the view.
For more on planning your Finger Lakes visit, go to FingerLakesWineCountry.com.
back to top