Radnor Hunt Concours d'Elegance Celebrates 25th Anniversary
Photos by Bryan McCarthy
Featured marques include Cadillac, Porsche and a Ferrari 75th anniversary display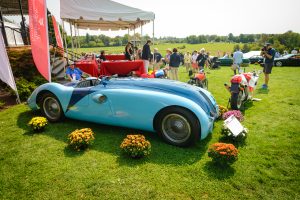 Vintage car fans cheer as the Radnor Hunt Concours d'Elegance celebrates its 25th anniversary this year. The annual event takes place September 9 to 11 at the historic Radnor Hunt grounds.
The Radnor Hunt Concours d'Elegance encompasses three days of activities, beginning with the Friday evening barbecue. Head back to the grounds Saturday morning for the always popular Bill O'Connell Memorial Road Rally through the scenic Chester County countryside, culminating in a catered lunch at Ristorante La Locanda. Return in the evening for the Black Tie Gala, the prelude to the main event on Sunday — the Concours d'Elegance.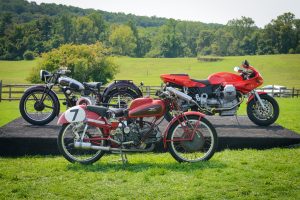 Established in 1997, the Concours d'Elegance is an invitation-only event that assembles a hundred of the most interesting and significant automobiles based on a featured automobile marque (make), vehicle type or coachbuilder and a motorcycle marque or class each year. This year's featured marques are Cadillac, Porsche, cars of the Derham Body Company (a historic Philadelphia coachbuilding company) and BSA Motorcycles.
"This year's event will be a special one," says Michael G. Tillson III, chairman of the event. "We have what I consider to be our greatest show field of all time to celebrate our 25th anniversary, and I am extremely grateful to General Motors for generously sending two very special concept cars that have rarely been seen outside of their museum." On display will be two Cadillac concept cars, the 1959 Cyclone and 2003 Sixteen.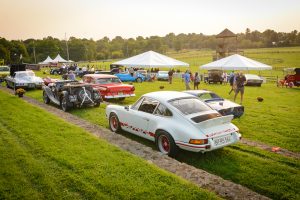 The Car Selection Committee has also added classes for the Cars of Chuck Cantwell — the man responsible for the success of Shelby's Mustang GT-350 program — and a Ferrari 75th anniversary display. Because the event was the first nationally recognized concours to feature motorcycles, they've also added a class for Motorcycles Made in America. This class will feature very rare early American-made motorcycles, including the 1912 Piece Four, a 1912 Pope model K racer and 1923 Henderson Four Deluxe.
While you're there, check out the MotorSport Park, where local marque car clubs gather close to the show field entrance on Sunday. Then stop by the Shoppes at Radnor Hunt, hosting a variety of automotive and other specialty vendors.
The event benefits Malvern's Thorncroft Equestian Center, which specializes in therapeutic horseback riding and other equine-assisted activities for children and adults with mental, emotional and physical disabilities.
IF YOU GO:
When: September 9–11
Where: Radnor Hunt Grounds, 826 Providence Rd., Malvern
Tickets: General admission $30–$60, 12 & under free. Additional admission for events
Info: RadnorConcours.org
back to top