Quintessential Lancaster
After you've met the amish
Travel west on Lincoln highway … until you pass a black, horse-drawn buggy. Then you'll know you're in Lancaster County, aka Amish Country. As you pass a bit of living history, just be respectful, don't stare, don't take photos. They're just living their lives. Simply.
Lancaster County has evolved beyond being a place where time stopped to offering entertainment, specialty stores, museums and crafts—a place where the old seamlessly meets the new.
We'll take you on a tour of Lancaster County, citing quintessential experiences your family can enjoy on a trip that's not far from home. (Note: we checked that safety protocols are in place.)
Plan Family Fun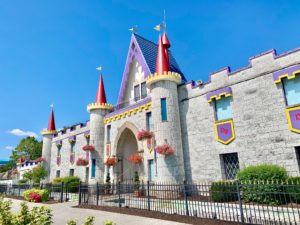 First, you probably want to plan some fun for the kids. Luckily, there's Dutch Wonderland, a fun-filled amusement park in Lancaster City. Unluckily, May 15 is opening day and then it's only open a few day each week, with registration in advance required. Likely kids will need masks and have to follow other CDC guidelines. But, it's worth the wait and protocols. Enjoy over 35 rides, attractions and shows, from roller coasters, bumper cars to a water park. That should make everyone happy.
Buy a Quilt
Many visit Lancaster for the quilts, perhaps stopping at Hannah's Quilts & Crafts in Gordonville or C. Jean Horst in Bird-in-Hand. The best are all handmade, often in a quilter's own home. You'll also find quilts available at many farmer's markets. They're literally everywhere.
Amish Country Lane Quilts offers a website where you can track down a quilt-maker whose style matches your preferences. Also worth a stop: The Old Country Store in Intercourse. It's in the oldest building in Intercourse and has a wide selection.
Browse Antiques and Mud
There are countless places to buy antiques in Lancaster County: over 5000 dealers, by one count. You can spend weeks, maybe months, searching. A recommended starting place is Adamstown, home to the "Antique Mile." There you'll find Renningers, Stoudts and the Adamstown Antiques Mall. There are more shops, in town and beyond.
Frankly, if you're game, one of the many "Mud Sales" may be your best bet for finding something vintage. These are quintessentially Lancaster County events, outdoor auctions run by the local fire companies. For 2021, though, most have been cancelled or postponed due to COVID.
Explore the Romance of the Railroads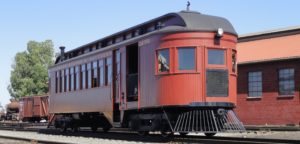 It's not the only train museum in the United States. And it doesn't have the first or oldest locomotive, though it does have a replica. What the Railroad Museum of Pennsylvania in Strasburg does have is the original Pennsylvania Railroad locomotive, built in 1888. In all, you can see over 100 locomotives and railroad cars there.
Down the road in Ronks is the National Toy Train Museum. The smaller-scale collection is huge, spanning O, G, S and HO gauges and including antique and modern trains. You can even operate the trains. In fact, you can "get on board" (with the help of cameras).
And, if that's not enough, you can buy tickets and board the Strasburg Railroad, the oldest charter in America. With views of the hills and countryside, the train departs several times a day.
Dance with Wolves
Once almost the entire continental U.S. was inhabited by gray wolves. Some put the estimates as high as two million. Though never much of a threat to humans, the wolves were sadly hunted to near extinction and until last year listed as an endangered species.
In the Wolf Sanctuary by Lititz, though, about 50 on 80 acres provide a refuge for the Wolves of Speedwell. Make a reservation and see these magnificent creatures.
Learn About the 15th President
First, who is it? Hint: He's the only President from Pennsylvania. Still don't know? He lived at Wheatland. Still nothing? It's James Buchanan, a one-term president who, in the last administration before Lincoln, presided over a country that was coming apart over slavery.
Notably, his response in the waning days of his administration was ineffectual. Dejected, he retired to Wheatland.
Buchanan's mansion, however, on ten bucolic acres, today tended by the Lancaster History Museum, is spectacular. For now, you can only visit it online.
Celebrate the Theater
In the 19th century, Fulton Hall flourished. Mark Twain and Horace Greeley lectured there. Theatrical performances included Harriett Beecher Stowe's "Uncle Tom's Cabin." It did very well. Though the theater remained open, audiences dwindled in the 1900s, siphoned off by Lancaster's movie houses. But, in 1969, the theater was designated a National Landmark and began being used by community groups, the Lancaster Symphony Orchestra and Opera Lancaster.
In 1995, renamed the Fulton Opera House, it was again renovated. About 14 plays were performed there each season. Though currently shuttered due to the pandemic, it plans to reopen in May.
Meanwhile, several other theaters are hosting performances around the county. The Dutch Apple Dinner Theatre is open, in the last performances of "Happy Days" and starting up mid-month with "On Your Feet." The Bird-in-Hand Stage features "Ryan and Friends," a comic ventriloquist act. And the Sight & Sound Theatre brings the Bible to life with "Esther."
Essen, Essen, Essen!
It all began as a roadside stand, between two maple trees in East Earl, managed by a couple, the Martins. Today, operated by their son-in-law, Shady Maple brings in as many as 1.4 million visitors most years, and includes a grocery, bakery, smorgasbord restaurant, banquet and conference center, plus catering division and gift shop. The complex employs over 750 people! Yet Marvin Weaver—he married the Martin daughter and is CEO today—still regards Shady Maple as a family business.
Shady Maple isn't the only smorgasbord in Lancaster County. Since 1929, hungry diners could visit Miller's Smorgasbord in Ronks, plus Hershey Farm Restaurant, also in Ronks and Bird-in- Hand Family Restaurant & Smorgasbord. There's a smorgasbord of others.
Make sure to sample some scrapple, pot pie, buttered noodles, chow-chow and shoefly pie. Top it off with a bag of doughnuts to go, and avoid your scale for a few days.
Dine Well
Once you've snacked on pretzels—Julius Sturgis Pretzels come from a 19th-century bakery in Lititz—you'll probably be ready for some fine dining.
With roots dating back to the 1750s, the Stockyard Inn is probably the best steakhouse in Lancaster and maybe in all of Pennsylvania.
Jimmee Fournaris bought the Stockyard Inn in 1952 and his family continues to operate it.
Just above Zook's Mill Covered Bridge, built in 1929 and operated as a speakeasy, there's the superb Log Cabin Restaurant. Chef Steven Painter, who apprenticed at the Greenbrier Resort and served under a former White House chef, plans to take the restaurant to a "whole new level of excellence." Not that it needs it.
Taste the Chocolate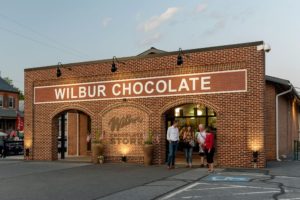 Though Hershey's Kisses may be better known, in fact, that chocolate morsel, dating from 1907, was virtually copied from the Wilbur Bud. Lawrence Wilbur, grandson of H.O. Wilbur, developed the Bud, which came to market in 1894, some 13 years earlier. Take that Milton!
The iconic Wilbur Chocolate Factory has since closed, but Wilbur Buds are still produced by Cargill at several locations, one of them in Lititz. You can, and should, buy Wilbur Buds at the Wilbur Chocolate Candy Store & Museum in Lititz.
Finally, Drink the Beer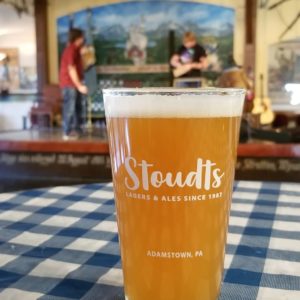 Brewing in Lancaster County dates back to before the Revolutionary War. Owing to its German influence, Lancaster became well-known as the "Munich of America." Then came World War I, Prohibition and mass production: read Budweiser. In 1956, the last batch of beer was brewed in the county.
Until 1987. Then Stoudts Beer was launched in Adamstown. Headed by Carol Stoudt, the only female brewer in the U.S. since Prohibition, the brewery was a pioneer in the burgeoning craft beer movement. Alas, last year Carol retired and closed the brewery. Today, Stoudts survives, as a beer garden with a long list of beers served, both local and foreign.
For your quintessential Lancaster experience, head for Lancaster Brewing Company, established in 1995 as the second post-prohibition brewery in the county. You can end your tour with a toast to Lancaster City.
back to top