Publisher's Letter April 2021
April 2021

April! Ahhh. Sun and warmth. Leaves, flowers and robins. It's spring! At County Lines, we're going outside at last! After months of isolation, we're beginning to celebrate a new beginning!
If you're planning a wedding, the pandemic has unfortunately put limits on its size. But Carol Metzker says the party doesn't have to be big to be fun. In "Big Things in Small Packages," she looks at how we're celebrating now.
Planning your wedding will likely increase stress. But there's no need to take it out on your guests or your spouse. Before you say "I do," take Madison Meinel's suggestion.  In "Major Relaxation for Your Micro-Wedding," she advises that a day at the spa may be just the thing.
Looking to tie the knot in a memorable place? Marci Tomassone provides her "Guide to Wedding Venues & Services."
I suppose nothing will guarantee a happy marriage, but Josh Hoffert of Unruh Insurance Agency suggests that you can at least avoid the costs of a ruined wedding. Read "Should You Get Wedding Insurance?" and find out what's covered.
I'm looking west, to the next county, and wondering what's out there besides the Amish. Amusement parks, quilts, antiques, museums, theaters, wolves, satisfying meals.  In "Quintessential Lancaster," I'll try to identify the best.
To perennialize or naturalize? Both? Question for the ages …. Find the answer to these and other persistent gardening questions in "Planting Impressionist Dreams of Bulbs" by Eric Hsu of Chanticleer.
Laurel Anderson found a 6500 square-foot, five-bedroom home in West Chester, built in the 1920s, updated throughout, with solar and geothermal HVAC, and landscaped by an accomplished gardener. She takes a tour in "Home of the Month: A 1920s French Norman Home."
Ever wonder where all the varieties of new beers are coming from? In "Creating New Beer Flavors," Dan Shaw of Wrong Crowd Beer shares his inspirations.
For her "Brandywine Table" column this month, Alyssa Thayer is "Serving Up Spring," seeking freshness, and interviews Chef Josh Taggert of Mae's West Chester. The recipes for spring are, by the way, wonderful as well.
Many of us haven't been to the dentist lately, owing to COVID. Drs. Theresa Smith and Carlos Vila of SV Dental explain that now may be a good time to visit your dentist, and tell us what to expect, in "Dentistry During the Pandemic."
And don't forget: the "Best Things to Do" and "Events" sections have ideas for you and your family.
We hope you'll subscribe to County Lines. You can do it online or call 610-918-9300. Or you can read an electronic copy at Issuu.com. For single issues, try Main Point Books, Reads & Co. Books, Wellington Square Bookshop, Bryn Mawr News, Berwyn News,. Visiting an advertiser is a great—and free—way to get one: click How to Get A Copy at our website, www.countylinesmagazine.com. You can also get our free on-line publisher's letter and events newsletters by signing up at the website.
We hope you enjoy our April issue. And stay safe!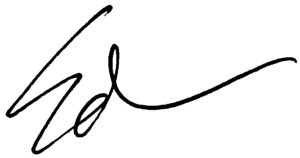 Ed Malet, Publisher
Big Things in Small Packages
The pandemic cramped their style, but not their love.  Rather than cancel or postpone their wedding, many couples went small, choosing smaller venues, fewer guests and finding less stress.  Find out what was done, by the couples and their planners, their florists, their dressmakers, their jewelers, to celebrate.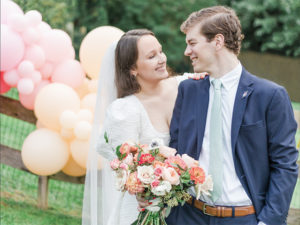 Creating New Beer Flavors
You've likely noticed major changes in the variety of beers available over the past 15 years.   Where do they all come from? The founder of a new local brewery describes how he innovates, from recipe creation through label invention.  His thinking: why spend all that time and effort brewing if not to be original?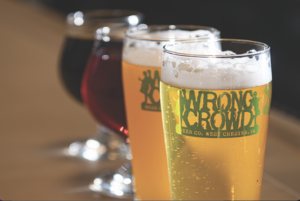 Home of the Month: A 1920s French Norman Home
The home was built almost a century ago, to resemble the original owner's ancestral home in France.  With an exterior of local fieldstone, and many of its interior appointments imported from Europe, it's got five bedroom and five baths, not to mention a second-floor great room, music room, home office and more. And, since its renovation, it's got solar and geothermal HVAC, too.  The best part:  it's only a 10-minute walk from downtown West Chester.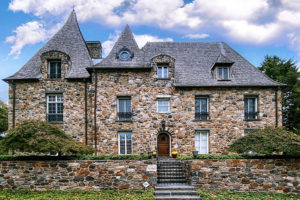 back to top