Public Art for All to Enjoy
West Chester's Public Art Commission has been busy!
Although it got its start just a few years ago in 2017, West Chester Borough's Public Arts Commission (aka PAC) has made an impact. Sponsoring, spearheading and promoting the arts, culture and creative identity of the Borough, the Commission was established to provide "guidance, advocacy and leadership to support the reach and impact of public art."
From murals, sculptures, banners and more, public art has become part of the fabric of the Borough.
Here are a few of its accomplishments that you may have noticed.
Lamp Post Banners
West Chester winning the Great American Main Street Award got a tribute in the form of banners proclaiming the designation and the work done of preserving the historic and cultural heritage of the town. Sponsored by Elmark Graphics, the banner competition resulted initially in 18 local artists' work being selected to be displayed on banners hanging from lamp posts along the busiest part of High Street. The banners mark this milestone award for West Chester as well as display original art in this well-traveled public space. More banners were later created and displayed along Gay Street.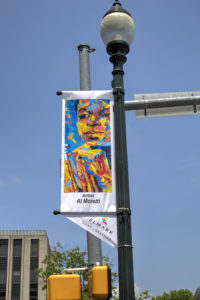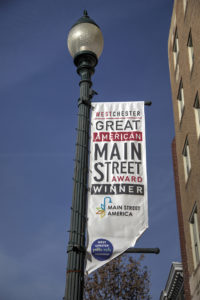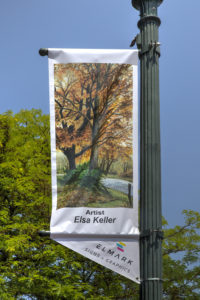 Best Flag Forward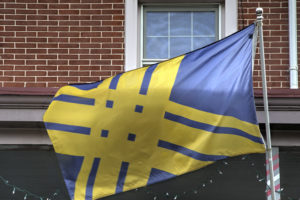 Did you know West Chester had a flag? Maybe you noticed the blue flags with gold design hanging on buildings around town, including Borough Hall?
Spurred by an idea from The Fence Authority, the Commission held a competition to create an official flag of the Borough, to capture the sense of pride and unity of residents and join many other cities and towns boasting their own distinctive flag.
In 2019, Borough Council selected Julie Allen's design with its tilted gold grid pattern symbolizing the six original streets in West Chester (Chestnut, Gay, Market, Church, High, Walnut).
[Editor's note: For some fun with flags, spend 18 minutes watching a delightful and informative TED talk on YouTube about designing city flags. See how the West Chester flag is a winner.]
Open-Air Marketplace and Art Space
Closing four blocks of Gay Street to traffic opened possibilities for public art. Focused initially on beautifying the concrete barriers blocking cars, a handful of local artists—including Rhoda Kahler, Al Moretti, Dane Tilghman, Jeff Schaller—were joined by West Chester University students to use concrete as their canvases, painting on-site on the Marketplace's opening day. Later more artists along with local kids continued to add art to the well-used open-air Marketplace. When cold weather forced changes, new uses were explored for the decorated barriers.
Now temporarily stored in Hoopes Park, the barriers await their next use. Perhaps a return to Gay Street this spring?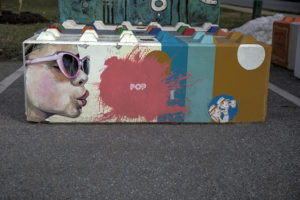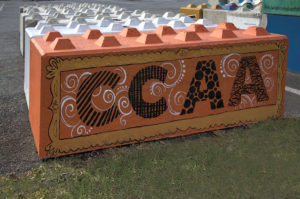 Women's Suffrage Mural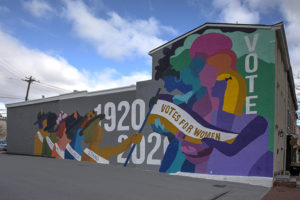 You may have noticed the vivid mural at 119 East Market Street commemorating the 100th anniversary of passage of the 19th Amendment granting women the right to vote. Sponsored by the Chester County Fund for Women and Girls, the juried mural competition selected local artist Kendra Beitzel to create the Women's Suffrage Mural on the wall of a building owned by Zukin Realty. The original piece of mural art captures milestones in the history of women's suffrage and pays homage to generations of female leaders of the movement past, present and future.
Learn more about the process from the YouTube video interview with the artist and get some merch depicting the mural on a 250-piece puzzle, coffee mug or tote bag, all available on the Fund for Women and Girls' website.
Photos by Timlyn Vaughan Photography.
Learn more about the work of the West Chester Public Arts Commission on their website and social media. West-Chester.com/544/Public-Arts-Commission.
back to top