Popping Up in Phoenixville
Still plenty to see and do
The sun is shining and the coffee is rich. Outdoor tables, including ours at Steel City, line Bridge Street—on the blocks closed to traffic until winter sets in. People stroll, shop and stop to chat while their pups drink from bowls of water at stores.
A stranger walks by our table, says hello and tells us a silly joke that would bring a smile to a seven- or 70-year-old. He wishes us good day and continues up the sidewalk where flowers spill over raised beds and David Gerbstadt's street artwork spreads messages of kindness. There's merchandise on stands, music and the feel of community in Phoenixville's air. That spirit keeps the phoenix hovering above the pandemic and other workaday worries.
Sense of Community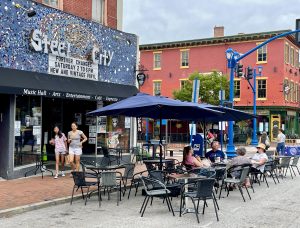 This year, the town's hub and coffeehouse, Steel City, celebrates five years under the ownership of Ed Simpson and Laura Vernola-Simpson, and 25 years total. "If Steel City weren't in Phoenixville, it probably wouldn't still exist," says Laura. "But the borough stepped in to close the streets. The Phoenixville Chamber of Commerce supported us as we filled out grant applications. Businesses stuck together. One day Bill Rutter, owner of Your Mom's Place—known for its great breakfasts—brought us flowers. The community came out to help us stay open—providing donations and buying a little extra online. We faced reality together."
Consequently, Steel City continues to serve up daily beverages, pastries and more. It hosts weekly Open Mic nights, ukulele jam sessions and Sean Cephas's Saturday morning record swaps that keep friends old and new connected.
In Phoenixville, as in every other town worldwide, the recent years have been rough. "But while lives, jobs and ways of living were lost, people found new hobbies and creative outlets," Laura continues. "When we re-opened, they came back in-person to Steel City and other shops."
In fact, contrary to dreaded scenes of dark storefronts and empty sidewalks, new businesses have popped up in Phoenixville since January 2020. Four are restaurants: Avlos, Dim Sum Court, Paloma's and Lock 29.
The borough is still busy on weekends—from bicyclists on the Schuykill River Trail pausing at one of the town's eateries or Twisted Cog bike shop to neighbors from nearby lifestyle and luxury apartments as well as from other corners of Chester County.
More than a Meal
Early on a Saturday evening, I return to Phoenixville with friends and end up with a memorable dinner that doubles as a refreshing vacation. Thanks to two Greek sisters, Katerina and Nikoleta Skartsilas who opened Avlós in January 2020, we experience friendly hospitality, a rejuvenating atmosphere and a Greek meal that's unparalleled.
Under a dusky sky, sidewalk tables topped with tiny white stones and covered by white umbrellas evoke images of warm sands at a Greek island.
We're fully transported when our feast arrives, starting with morsels of flavorful Loukaniko sausage and Dakos—thick chunks of satisfying barley rusk (bread) with feta and capers. We dig into each others' Agganares Politikes—a vegan entrée of artichokes, peas and carrots—and Kota Souvlaki—skewered chicken with kopanisti cheese that has a little kick, alongside heavenly potatoes. We finish with Karidopita Poutiga—delectable cake of spices, honey, walnuts and sweet creamy frosting fit for a Greek god or goddess.
Just steps away, enter Dim Sum Court to find a simple interior with dark wood paneling and a graceful orchid on the counter. A pot of green ivy rests on a wrought iron shelf above wooden tables and chairs where patrons enjoy, well, dim sum—steamed buns and dumplings—in addition to soups, noodles and bubble tea. Across from the Colonial Theatre, the eatery that opened this summer is great for a meal before a night's entertainment.
On the east end of Bridge Street, Executive Chef Chris Siropaides, a native of neighboring Montgomery County and graduate of Culinary Institute of American, dishes up European cocktails and cuisine at the new Paloma's restaurant and market.
The menu lists Crab and Spinach Crepe Florentine, Taco Fresco and an item called "Love Your Food?" with the following description: "Buy the kitchen a Round of Beer (Gin and Tonic for Chef Chris.)"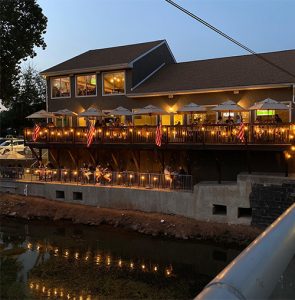 Open since July, Lock 29 Mont Clare is so far east on Bridge Street it's actually in the neighboring town of Mont Clare. With indoor or outdoor seating along the canal, it's great for a brew and a bite while watching the water or bicycles and joggers along the path.
Whether you opt for a vegetarian snack, panini, wings—including truffle garlic Parmesan or Cajun dry rub—or a signature Lock 29 Burger stacked with pepper relish, crispy prosciutto and more, you're in for some good food to accompany craft cocktails and rotating beer selections from Rebel Hill and other brewers.
The perfect pairing with your food and drink is a book to read at an outdoor table or to take home. Reads & Company makes it easy to purchase a mystery or novel for an evening of cozy reading or a mental getaway when picking up take-out meals and curbside cocktails. Their virtual events with big name authors from around the world expand our horizons and spark new ideas.
Dazzling Dahlias, Marvelous Mums
Local flower farms are brightening fall days with dahlias and mums that love cooler temperatures. The blooms shaped like starbursts, fireworks, pompoms or spiders dazzle in pinks, purples, magentas, and fiery yellows, reds and oranges.
Near the heart of town, discover the Front Porch Flower Farm. Four years ago Rob and Jen Jones turned a third of an acre into a flourishing, pesticide-free, flower micro-farm. In season, the Joneses cut stems from their backyard where a pear tree holds a hammock and a family of entertaining ducks eats slugs that would otherwise damage or devour seedlings. In October, customers—also their neighbors—often arrive on foot or by bike to pick up weekly bunches of picture-perfect dahlias from their front porch.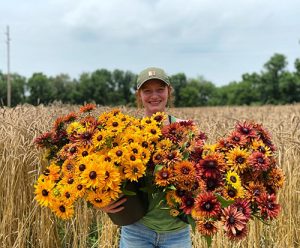 To score spectacular heirloom chrysanthemums from Hickory Grove Gardens' hoop house, head to the Phoenixville Farm Market or the seasonal stand in front of Seven Stars Farm. Julia Bull grows sprays of brilliant orange Honeyglows, dusky purple to lavender Moira mums with curled petals, Apricot Courtiers—lush mums the color of golden peaches—and more.
Julia also offers dried florals. Just some of the flowers in her everlasting bouquets and wreaths are fuzzy celosia, colorful strawflowers, ruffly marigolds, colorful statice and craspedia—whimsical little yellow balls that could have been invented by Dr. Seuss. Blooms start out in the fields, then end up drying anywhere there's space: hanging upside down from strings in the barn or wooden clothes racks in her office.
For flower fans looking for a lovely drive, the trip to the year-round market at Seven Stars Farm is an added bonus. Wend your way past backroad signs for Hare's Hill and Deer Run roads. Pass the charming Kimberton Inn. Go through the white covered bridge to find a vast sky, fields with grazing cows and, between a barn and silos, the small, friendly market where the farm's yogurt, cheeses and meat are ready for your table at home.
A Club with a Kick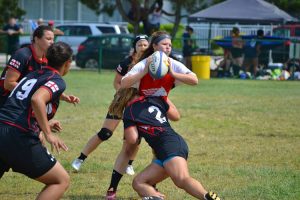 Looking for outdoor action and excitement? Phoenixville has a semi-pro women's rugby "team"—the White Horse Rugby Club. Who knew?
Founded by Angela Johnson in 2014, the club is one of the top competitors locally at matches and tournaments on fall weekends. Over the past seven years, nearby businesses have supported team members—financial donations and space for after-match gatherings at St. Mike's Social Club, swag and beverages from Levante Brewing Company, rugby-viewing parties at Molly Macguire's Irish Restaurant and Pub, workout space at Iron Cross Athletics and transportation to attend the 2019 playoffs from Phoenix Karate. Turning the tables, rugby players volunteer at community events; they also give the borough something else to cheer about!
White Horse welcomes new fans and potential players. They invite spectators to free events: a friendly match on Saturday, October 23, at West Chester University and to a spirited home conference match against Doylestown on Saturday, October 30, at Friendship Field in Phoenixville.
Signs for the Times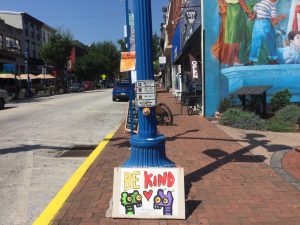 If you're lucky, on a walk around Phoenixville you'll spy irresistible, soul-capturing messages in art on found objects—a window pane, discarded pieces of wood or sheets of brown cardboard. Loved from Phoenixville and his hometown, Berwyn, to Manhattan, San Francisco, Mexico and Europe, David Gerbstadt's street artwork of marvelous monsters encourages: "Never Give Up" and "Be Kind."
Sometimes his paintings or sculptures of quirky, lovable creatures pop up at a storefront or intersection, then disappear in minutes … by design. Since 1994 Gerbstadt has been making art accessible to people. He leaves work on a street for the purpose of delighting discoverers and being taken home. The least amount of time for a sign to be scooped up was less than a minute. Placing artwork one day at the bridge over the train tracks, Gerbstadt turned to grab his camera and the sign was gone. A fan with gusto had seen him get out of his car and stopped to acquire it.
There's more to find. Pop on over—Phoenixville is waiting for you.
Click the link below for fun Phoenixville Events!
Learn more at PhoenixvilleFirst.org and Phoenixville.org.
back to top