Phenomenally Phun in Phoenixville
Couldn't resist the pun for this fun town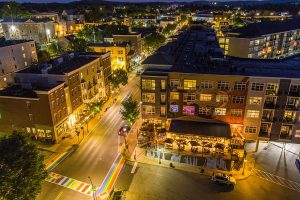 It's early on a Phriday evening and phestivities are in full swing in Phoenixville. Music and art thrive. Bikes, pups and pedestrians in fashions from 1963 to 2023 head from Bridge Street to Main.
They traverse a new rainbow crosswalk signaling that everyone is welcome. Every day of the week, on summer days Phoenixville is cool, and in the snow, it's hot.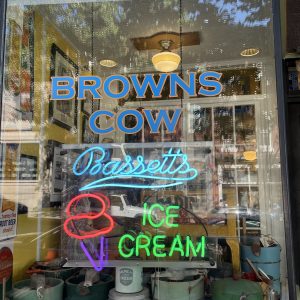 Whether warm or cool weather, Brown's Cow is the perfect start of any visit to the borough. There are 40+ reasons to go: 40+ flavors of ice cream plus dairy-free Gadzooks!, sorbet and Tofutti. Try a Brown Cow root beer float with chocolate syrup, whipped cream and jimmies or the Milkshake of the Month. Treats in a nostalgic atmosphere — old Coca-Cola crates, antique wooden handle scoops and hand-crank churners — in the shop on Main are so popular that lines sometimes trail far out onto the sidewalk … which, it turns out, is great fun.
Brown's Cow's next-door neighbor is vinyl shop Forever Changes, where the door is always open for music. Spinning records keep people dancing and singing in the streets, whether waiting for shakes or extending the fun of outdoor events.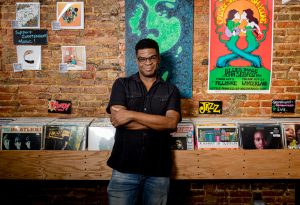 Forever Changes, named after an album by 1960s band Love and celebrating its first birthday last November, was started by Shawn Cephas. As a new baby, Cephas came home from the hospital to a building that housed his family above his father's iconic record store — Philadelphia's King James Records.
Last year Cephas rekindled his family's love of vinyl with a shop that offers curated collections of records for beginners and seasoned collectors, turntables and music-inspired local art, notebooks made from vintage album covers and more. He also partners to bring music-related movies to the Colonial Theatre, such as July's showing of Prince's "Sign O' the Times" and concerts to Soundbank, just up and across the street.
Back to Blobfest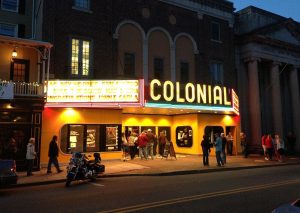 This summer, the Colonial Theatre's Blobfest was held in person, the first time since Covid began. Crowds were ecstatic to return. People celebrated in the street and throughout time. Iconic Steel City Coffeehouse & Brewery saw its busiest day ever.
Jumping up and down, cheering and watching moviegoers' elation and flying popcorn was the Colonial Theatre's new executive director, Jennifer Carlson. Carlson moved to Phoenixville from Connecticut, drawn to the town's "exciting, thriving community," she says. To get people out of their living rooms and into the theater, she's already luring folks with rich experiences pairing movies and food — such as "Mamma Mia!" and the great cuisine of Avlos, the authentic Greek restaurant on Bridge Street with to-die-for dakos, papoutsakia and sokolatopita.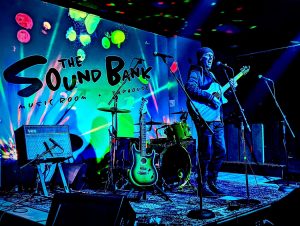 In October at the Colonial, sit back in your seat to revel in Rufus Wainwright's songs or sit at its edge for some horror flicks to get your blood pumping.
For more entertainment and food, head to The Soundbank Music Room & Taphouse. The full kitchen and bar offer burgers, dogs and craft beers, and the stage offers music of all genres. After closing during the pandemic, they reopened earlier this year. Fall concerts feature jazz and tributes to Tom Petty and the Allman Brothers.
Hops and Shops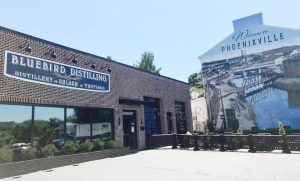 There are lots of Happy Hours and gathering spots for your tastebuds and return to social life. Bluebird Distilling spills over with people and music early on weekends. At outdoor tables or the indoor tasting room, imbibe and sip Gin 'N' Juice, vodka Bluebirds or Tommy's Margaritas.
The party is already rolling with great beers, beverages and tasty food at Sedona Taphouse. Try a SuperVillain IPA with Devil's Pass pasta or refreshing Solera sour ale with crab cakes. Get crafty, fruity, hoppy or saucy with friends at Bistro on Bridge over cocktails, beers and wings with lots of flavors.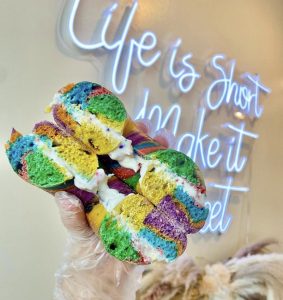 Linger a little longer over dinner at Paloma's, starting with flatbread and continuing with filet mignon or bass. Savor Sage Mediterranean's Elizabeth salad with crab, shrimp, calamari on romaine, tomatoes and olives. Never, ever skip dessert at Avlos — Greek yogurt with rose-petal marmalade or traditional Greek Easter bread with honey syrup, whipped cream and almonds.
The morning after an evening on the town, visit Sweet Brew. At the café that turns a year old in December, BYOB means build your own bagel. Choose your favorite New York bagel, specialty cream cheese — garden veggie or jalapeño cheddar — and toppings, including Fruity Pebbles, Nutella and Flamin' Hot Cheetos at the storefront where Bridge Street Chocolates used to be. Fortunately, the chocolates are still in town — just across the street.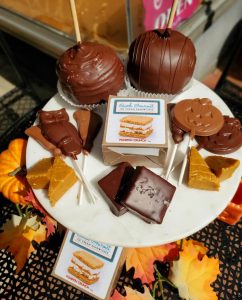 Bridge and Main Street are often confused by visitors. Bridge Street runs across French Creek before it crosses the Schuylkill River. Main runs across Bridge and south to connect with Routes 23 and 29. But both offer great shopping and entertainment.
Allow the fabulous shop windows throughout town to pull you in. Admire the Christmas hobby horse at Cameron Peters, then get delightfully lost at its choose-your-own blooms wall or the DIY plant bar and potting station where you select … well, plants and pots. On Main since 2021, the floral designer has three times the space, flowers and charming gifts as it did at its location on Bridge.
Walk, run or ride to Twisted Cog, selling electric bikes and others, plus offering service for the one you rode into town from the Canal Trail.
Just Your Style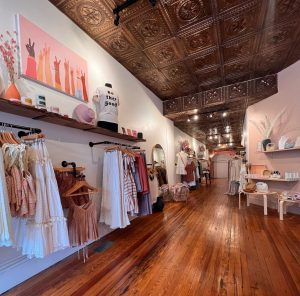 With so many places to go out now, it's time to get gussied up once again.
For fashions for women who like to dress up and have a good time, enter the House of WE. The boutique opened Memorial Day week this year. Glam up their sparkly and beaded garments with your favorite dazzling stilettos, pair with white sneakers for a casual day or go barefoot to wear the same outfit on an island beach. Gift yourself and a friend with unique, dazzling bags in lush colors and recycled fabric from Sixton of London.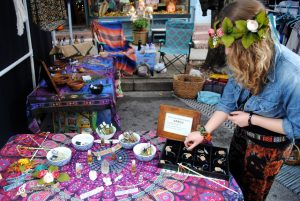 On October 8, get your quirk on at the fabulous vintage and flea market, A Whole Lot of LuLu, brought to you by the owners of LuLu Boutique & Gifterie. You'll never know what you'll find — an antique brooch, pop culture swag or the most eccentric "don't-know-what-it-is-but-I-must-have-it" you've ever seen. Another option: nearly any day of the year, head to TC House of Style for fun and funky vintage and consignment.
Get Outta Town!
Farther down Bridge Street, discover the Mont Clare Deli & Market, brought to you by the owners of Steel City. With most of town turning out for the eatery and community hub's opening on April 19, they sold out and had to close early the first day in order to restock! Eat in or out, or take home faves with raves. "The Phoenixville" roast beef sandwich with sauteed asparagus, "The Mont Clare" boasting turkey and bacon, and rib eye plus plenty of vegetarian cheesesteaks.
There's plenty of parking — a boon these days — but villagers young and old walk over for the nostalgic root beer floats among old black-and-white photos of co-owner Laura's Italian family and shelves of grab 'n' go meatballs, local honey and artichokes from Italy.
Out from Phoenixville's town center and into the woods, find Colonial Gardens. The same garden center, gift and floral shop that releases 400 butterflies at a festival each summer captures ghosts and goblins for haunted hayrides, a haunted hedge maze and grand pumpkin patch each October.
With so much back in the groove in Phoenixville, I'm pheeling up for a trip. How about you?
Phoenixville Events
Accelerate Career Students Craft & Car Show
October 1
Antique and classic cars, custom, military and muscle cars, diesel trucks, motorcycles and more at this annual event also featuring food, a craft fair, music and raffle. Benefits student scholarships. TCHS Pickering, 1580 Charlestown Rd. 9 to 2. PhoenixvilleChamber.org.
36th Annual Phoenixville Run
October 1–22
Oct. 1–22, Virtual Challenge — participate how you want, when you want, where you want. Oct. 22, in-person 5K and 10K events. Benefits Citizens Advocacy of Chester County. Reeves Park,  2nd Ave. & Main St. 8:30 a.m. $35. Phoenixville.org.
First Fridays in Phoenixville
October 7, November 4
First Fridays will operate within the weekly Bridge Street open-air closure to create the feel of a night market there. 5:30 to 8:30. Phoenixville.org.
The Colonial Theatre/Point Entertainment
October 7–November 26
Oct. 7, Jeff Allen: 2.0 Tour; Oct. 13, Rufus Wainwright: Unfollow the Rules; Oct. 30, "Nosferatu" (1922) with Live Theatre Organ Accompaniment; Nov. 26, Killer Queen: A Tribute to Queen. 227 Bridge St. TheColonialTheatre.com.

A Whole Lot of LuLu
October 8
Outdoor biannual flea market with local vendors selling handmade crafts, vintage items and more. Live music and kids activities. Bridge & Main Sts. 10 to 4. AWholeLotOfLuLu.com.
25th Annual FirstGlance Film Festival
October 14–16
See over 45 indie films, from shorts to features, documentaries to web series as Philadelphia's Independent Film Festival returns to the Colonial Theatre. Join FirstGlance in person for red carpet interviews, after-parties, dinner and brunch specials, and a live awards presentation. 227 Bridge St. $15–$20. FirstGlanceFilms.com.
Phoenixville Harvest Festival
October 27–30
Fun all weekend, including a market at the new Phoenixville Recreation Center, 501 Franklin Ave., a beer garden, pet events, trunk or treat, "The Nightmare Before Christmas" at the Colonial and more. Held throughout town. Check website for dates and times. PhoenixvilleHarvestFestival.com.
Wine, Wit & Wisdom
November 3
New York Times bestselling author Jasmine Guillory is featured at this annual event benefiting the Phoenixville Library. The event will include a silent auction, fine wine and food. RiverCrest Golf Club & Preserve, 100 Rivercrest Dr. 6 to 9. For tickets and registration, PhoenixvilleLibrary.org.
5th Annual Phoenixville Bed Races
November 5
Race teams will build, decorate and race beds on wheels to raise funds for two Phoenixville organizations that provide shelter for the homeless and to win the title of "Fastest Bed." Start at Reeves Park, 2nd Ave. & Main St. 11 a.m., race begins at noon. PXVBedRaces.org.
Phoenixville Chamber of Commerce Charity Gala
November 19
Dinner, dancing and silent auction with great items. Rivercrest Golf Club & Preserve, 100 Golf Club Dr. 5:30. Visit website to register, PhoenixvilleChamber.org.
Burn Off the Bird 5K
November 26
Held annually on the Saturday after Thanksgiving, the Jaycees 5K Race & 1-mile Fun Run begin and end at Franklin Commons, 400 Franklin Ave. Benefits the Phoenixville Jaycees Foundation to fund community events. 9 to 10:30 a.m. Phoenixville.org.
Feel the Holiday Spirit in Phoenixville
November 26–December 7
Nov. 26, Small Business Saturday, all day; Nov. 27, Artist Sunday, all day; Dec. 2, First Friday Holiday Edition and tree lighting downtown, 6 to 8 p.m.; Dec. 7, Luminaria Shopping Night, 5 to 8 p.m. PhoenixvilleFirst.org.
Annual Candlelight Holiday Tour
December 3
Decorates homes and churches, crafts, music, refreshments. Benefits Ann's Heart Blue, The Clinic, Phoenixville Area Senior Center, Firebird Children's Theatre and Phoenixville Children's Library. $25. 4 to 8. 610-933-9181; PHXHolidayTour.Weebly.com.
Firebird Festival 2022
December 10
Burning of the Firebird at Veteran's Field, 192 Mowere Rd. 5 to 10 p.m. $30–$140. FirebirdFestival.com.
A Taste of Phoenixville
January 19, 2023
A premier food, wine and beer event. Live music. Benefits the Good Samaritan Shelter. Franklin Commons, 400 Franklin Ave. 6 to 10. TasteOfPhoenixville.com.
back to top