PAWS for People Pet Therapy Provides Hope and Healing
It's amazing what the sight of a wagging tail and the comfort of a warm snuggle from a soft, furry pet can do.
From hospitals and skilled care facilities to chemical dependency centers, schools and worksites, thousands of individuals and groups are consoled, supported and loved by one-on-one therapeutic visits with PAWS for People volunteers and their gentle, affectionate therapy dogs (or cats or bunnies).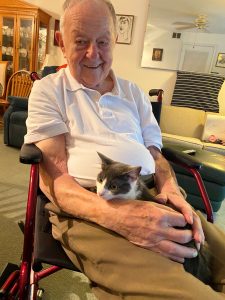 And today, the need and demand has become even greater.
"These are troubling times for many," says Lynne Robinson, PAWS executive director. "A cuddle with our therapy pets brings sunshine to everyone they touch."
Recently, while visiting the memory care unit of  life-care facility, a resident's wife told the PAWS for People volunteer that while her husband could never remember the PAWS cat's name (Mimi), the motion of his gentle petting of the cat and the vibration of her purr were extremely soothing to him — especially during the afternoon hours where Alzheimer's patients often experience agitation. He seemed to relax and smile, perhaps recalling memories of his childhood pets.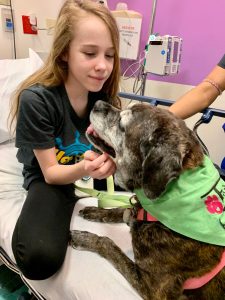 A young patient was hospitalized and undergoing treatment for a serious illness when a large dog appeared in her room. At first the child was bewildered. But when Trudy, the PAWS therapy dog, lumbered over and gently placed her head on the little girl's bed, her face lit up and all those worries disappeared. Trudy loved it, too!
Those are just two examples of the magic of pet therapy. Every day PAWS for People therapy teams are at work helping students with reading difficulties, calming children in courthouses, de-stressing employees as they return to the workplace and so many more cases where people need comfort and care.
Smiles and tail wags! That's what PAWS is all about.
PAWS for People serves areas throughout Delaware, in southern Pennsylvania and parts of New Jersey and Maryland. Do you have a gentle, affectionate pet? Learn more at PAWSForPeople.org or call 302-351-5622.
back to top