Pampered Pets
Pet Businesses to Treat and Care for Your Fur Babies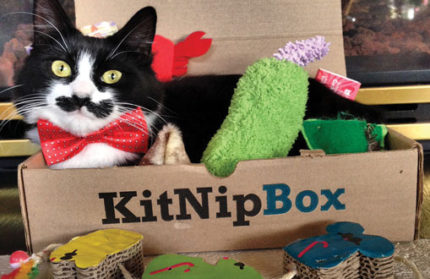 We love our pets. We spoil them with countless toys and treats. Play with them and take them for early morning walks, even if we're not morning people. Take pictures of them and go so far as to involve professionals—read our August 2017 article about pet photographers and portrait painters to understand.
And when we go on vacation, we send our pets to lavish kennels and daycare where they have just as much fun, if not more, than we do on our trip.
With all this attention and money spent on our animal companions, it's no wonder pet businesses are booming. Luckily, we're here to help you sniff out the interesting, creative and special ones in our area!
Shopping Around Town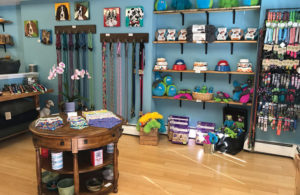 Drive down any major road or through shopping centers and you can't go far without passing a national chain pet store—or even a big local pet retailer like our photo contest prize-sponsor Concord Pet Foods & Supplies. But if you look closer, you may spot some one-of-a-kind, animal-approved gems tucked away in Chester County's shopping towns.
There's recently opened All the Dogs in West Chester. This doggie-tested shop sells everything from collars, toys, healthy treats, beds, blankets and even organic skincare for your canine friends. Many of their fan favorites are locally produced in PA—from Philly-based Mika & Sammy's dehydrated dog treats to custom-made bandanas courtesy of store manager Cori Hoffman's mom Judi in West Chester.
In addition to favoring local and made in the USA items, this shop cares about their environmental paw-prints. "We're dedicated to sourcing planet-friendly gear and toys made from sustainable or recycled materials," says Cori. So you can feel good about the health of your dog as well as the planet.
In Phoenixville, bring your pooch to Maddie's Castle Pet Boutique for goodies like their popular coconut milk Doggie Ice Cream, made in-store by owner Diane Klein. The bakery awaits with treats from Chadds Ford's Giggy Bites including iced cookies, birthday cakes, "pupcakes" and "liver muffins." Your dog will think "yum!" even if you don't. And you can dress up your pet in a locally made flower collar or bowtie so you can say "aww!"
Cats are catered to with an extensive selection of trusted food brands, toys, collars and more, plus you'll  find essentials for birds and
small pets. Check out the human gift section for pet owners who never have enough canine- and feline-themed drinkware, picture frames and pillows.
Special Delivery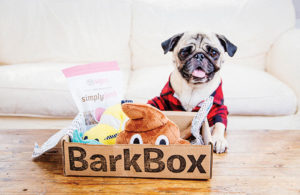 Want to make your pet feel like it's Christmas every month without leaving your house? A quick Google search takes you to pet subscription box services galore! Choose seriously adorable monthly bundles sent to your doorstep from BarkBox for dogs, KitNipBox for cats or Rescue Box to help pets in need. Then watch your dog destroy the pretty packaging—or your cat cozy up in it. (Watch videos on YouTube.)
Closer to home, West Chester-founded online store Veronica's Doggie Delights offers a "Droolin' Good Box" with samples of her all-natural, preservative-free dog treats, available for individual purchase online. And if your pooch has an allergy, no worries! Veronica's can accommodate almost any dog with gluten free, grain free and dehydrated varieties for the pickiest chewers.
Pet Pampering
Though they may struggle and resist bath time and nail trimming, pets can enjoy a little TLC as much as anyone in the right hands. A soothing spa bath, hair cut or massage from a pro can help relax  your four-legged pals and improve their mood, especially in times of stress or change. Plus you'll get to ooh and ahh at their spiffy new 'do.
At K9 Couture Pet Grooming in Kennett Square, your dog or cat has loads of natural and organic options to choose from, like a Full Service Groom, Bath & Brush or Puppies 1st Groom for newcomers.
If they can't stop shedding all over your furniture, opt for a DeShedding treatment with Furminator shampoo, conditioner and brush out. If their skin is sensitive, the Hypoallergenic Spa package with dead mineral mud bath conditioner might be just the thing. And if they're feeling extra sassy, treat them to K9's fun add-on services like pet-safe temporary tattoos and nail polish for the princes and princesses at heart.
Speaking of sassy, nothing says "I'm king of the jungle" like The Lion Cut from The Main Lion Cat Grooming Salon in Paoli. Let your feline friend be transformed from common house cat to royalty—a.k.a. their true form—with a creative hair cut that includes shampooing, hand drying, nail trimming, and ear and eye cleaning.
Pick from variations of The Lion, Liger and Tiger or go further with the Dragon Cut to turn your cat into an adorable mythical beast minus the fire breathing. Not enough? Try Feline Frosting add-ons like colorful soft claws to curb unwanted scratching, semi-permanent tail color, spiral tail sculpting and more for any special occasion like Halloween.
For our equine friends' special occasions—think Devon Horse Show—Olivia's Braiding and Clipping helps them get show ready with beautiful mane braiding and trimming. Groomer Olivia Shiner travels with just a ladder and braiding bag to her horse clients in Chester County and works her magic on their manes—offering mane pulling, shortening, training braids and show braids on both the mane and tail.
A rider herself, Olivia first started braiding her own horses at local shows, then got good enough to start her business. "I've spent thousands of hours practicing better ways to braid, groom, ride and everything in between," she says. Her job, though physically demanding, has been very rewarding for herself, her equine clients and their owners.
After the stress of a horse or dog show, many animals benefit from therapeutic massage. Mary Beth Moran of Fluid Motion Equine & Canine Massage uses her licensed massage therapy skills to help relax, soothe and treat pain that agility dogs and show horses may have during their career.
Moran also works with companion animals, elderly, injured or sick animals, as well as animals going through difficult transitions—moving to a new home or being adopted out of a shelter—giving them a special healing treat. Since her service is mobile, dogs and horses in greater Chester County, northern Delaware and northeastern Maryland can reap the benefits!
Preserving Memories
For those taking care of a sick pet or experiencing a loss, Day by Day Pet Caregiver Support offers many no-cost services—everything from a 24/7 hotline and individual counseling to Facebook and Yahoo chat groups and monthly in-person support groups in PA, DE, NJ and VA.
"By providing empathy and ongoing support, our team is able to help pet parents become more informed caregivers and cope with the grief that follows a loss," says Founder Kathryn Jennings.
And Kathryn understands how important that support is. The nonprofit was created to honor the lives of the Jennings family's beloved miniature schnauzers Pookie Poo, Hallie Boo and Sallie Lou—who all faced health challenges—and to help other families have access to customizable types of help so they don't have to go through caregiving and grief alone.
Similarly, there's no one-size-fits all solution when a pet passes. To find the right fit, the team at Pet Memorial Services offers options to say goodbye and pay tribute to your fur baby. Vice President Matthew Gale says, "The types of services you need are individual to you. Our compassionate staff of fellow animal lovers is here to help you to honor your beloved pet in the perfect way."
That perfect way could be individual or communal cremation, an attended service in the West Chester funeral parlor for extra goodbye time, or a beautiful urn, photo-etched memorial or keepsake jewelry piece to keep your pet close.
If a proper burial feels right, West Laurel Hill's newly opened The Laurels Pet Cemetery could be what you need. On the same beautiful grounds in Bala Cynwyd as their cemetery for human loved ones, The Laurels offers burial and cremation packages to suit your needs for your pet.
And in an effort to be eco-friendly, their water-based Aquamation alternative to flame cremation uses one-tenth of the carbon footprint of traditional practices. Wild animals everywhere will thank you!
Doggie Dining
Take your pup out to dinner with you, and order something special for your four-legged friend! Our area is home to many dog-friendly restaurants that allow leashed pups on outdoor seating areas, some offering special doggie menus. Here's just a few.
Appetites on Main – Exton
* Try different bite-sized options on their Doggie Menu
Christopher's: A Neighborhood Place – Malvern
Four Dogs Tavern – West Chester
* Ask about their Pup Burger
Iron Hill Brewery – Media, Phoenixville, West Chester, Wilmington & more
Levante Brewing – West Chester
Olive Tree Mediterranean Grill – Downingtown
Red Star Craft House – Exton
Side Bar & Restaurant – West Chester
SlyFox Brewery – Phoenixville
Starbucks – Nationally
* The Secret Menu has a whipped cream "Puppuccino" cup
Talula's Table – Kennett Square
Timothy's Riverfront Grill – Wilmington
World of Beer – Exton
Find more at BringFido.com.
Kitty Cafés
Want to hang out with a cup of coffee and pet adorable rescue cats? Our area is home to two kitty cafes where you can meet, greet and potientally adopt a kitty of your own, while enjoying café fare!
Kawaii Kitty Café – Philadelphia
Treetops Kitty Café – Kennett Square
A Pooches' Paradise: Dog Parks
Don't keep your pup cooped up in the backyard this summer. Head for one of Chester County's many dog parks or pet-friendly hiking trails that both you and your dog will love. Pick your favorite or try a new one each weekend. Ranked from largest to smallest, there are enough options to fill your furry friend's summer with non-stop fun!
Ridley Creek State Park – 1023 Sycamore Mills Rd., Media
This 2,606-acre state park, full of woodlands and meadows, offers 13 miles of dogs-on-leash trails from easy options such as Ridley Creek Park Loop Trail to more advanced options like the White or Blue Trails for dogs with lots of energy. You can even stay the night on the campgrounds for a weekend of fun!
Cheslen Preserve – 1199 Cannery Rd., Coatesville
This local favorite offers 1,282 acres of agricultural fields, woodland, stream corridors and trails drawing in both people and their furry friends. Leashed dogs are welcome to graze the hiking trails, ranging from 1.5 to 3.2 miles, or explore open areas where visitors can see nothing but nature for miles.
Okehocking Preserve – 5316 West Chester Pk., Newtown Square
This historic park has 180 acres of scenery to keep your and your dog's attention, including meadows, wetlands, uplands and wooded area. There are designated leashed dog trails for your pup to accompany you on a walk and even a leash-free field for dogs to play in.
Goddard Park – 568 Wickerton Rd., West Grove
Enjoy 125 acres of West Grove land open to vaccinated and licensed dogs—small and large—that includes 3 miles of walking trails, a special "barn" play area, community gardens and plenty of open space for both you and your dog to roam.
Anson B. Nixon Park – 405 N. Walnut Rd., Kennett Square
Though not a designated dog park, this Kennett Square gem welcomes leashed canine friends to accompany owners while they walk the 3 miles of hiking trails or relax in the pavilions and enjoy being surrounded by 106 acres of pure nature.
Barkingfield Park – 557 Bayard Rd., Kennett Square
Kennett Township prides itself on connecting both people and their dogs to nature and preserving open space and natural areas for them to enjoy. This doggy destination has designated areas for small and large dogs to ensure the safety and fun of all pups. Owners will enjoy the 45 acres of rolling hills and beautiful Osage orange trees gracing the park.
Everhart Park – 100 S. Brandywine St., West Chester
Bring your furry friend and the entire family to this 10.2-acre historic park offering playgrounds for the kids, picnic tables, a gazebo to keep cool and plenty of open space for your pup to play. This park is both dog-friendly and kid-friendly, offering plenty of activities for both.
Harford Park – 260 Gulph Creek Rd., Wayne
This 5 acres of open space in Wayne is surrounded by heavy brush that acts as a fence and is a friendly place for your dog to burn some energy off leash! Become a member to have full access to the park while supporting several rescue homes in the area and programs for rescued dogs.
Reynolds Dog Park – 100 Longford Rd., Phoenixville
As a part of Longford Park, this park for dogs has two fenced-in areas to separate small and large dogs to ensure pups of all sizes are safe to have fun! Since this is a place for dogs to roam free off leash, it's suggested that small children stay home to ensure safety for the whole family.
Talley Day Dog Park – 1308 Foulk Rd., Wilmington
Open play areas for both small and large dogs are mulched and well-maintained to keep the park safe and fun for dogs to spend quality time with their owners and to meet other pups. This was the first fenced in dog park in Delaware that allows off-leash fun for all dogs!
back to top