Off to the Mud Sales
Photos by Discover Lancaster
A rite of spring in Lancaster County
I'm off to a mud sale! It's a very cold, early- February morning as I set off on my drive just after sunrise. I'm headed to my first mud sale — this one about 40 miles away in Strasburg in Lancaster County — and I want to arrive early to take in the whole show.
What Is a Mud Sale?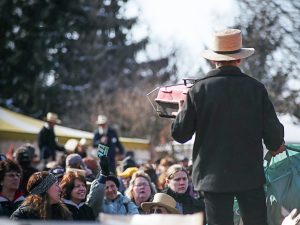 The Strasburg Spring Consignment & Mud Sale is one of about 20 such sales — eight in March, three in April, three in May, the remainder scattered through summer and fall — that take place this year in Lancaster County. This mud sale — getting its name from the seasonal thawing ground, churned by thousands of sale-goers' boots and buggies — is the first of the season.
For about 60 years, mud sales have provided much of the funding for the local fire departments' operations. Ivan Fisher, President of the Strasburg Fire Department sales committee, expects about four to five thousand people to attend today.
As I drive through Lancaster County, I catch sight of a horsedrawn carriage, clopping along, probably headed for the sale. Then another. Time to slow down and enjoy the journey. There are no road signs for my destination. Strasburg's not large, I figure.
Strasburg
When I arrive in Strasburg after about an hour, I drive down Main Street and notice a sign for the fire station, where the sale is located. I turn. A line of cars, trucks and straw-hatted, plain-clothed pedestrians and yellow-jacketed attendants tell me I'm there. A map tells me there are eight lots scattered around the town, several only for "teams." Of horses, I guess?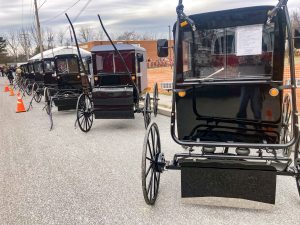 Still before eight, when the first of the auctions begins, the grounds of the firehouse are already crowded. Although I'm not shopping for anything in particular, I'm looking forward to getting close to the Amish, their food, their quilts, their crafts. I'm told there will probably be carriages, farm equipment and supplies, sheds and household items auctioned off as well. Not that I need anything, I remind myself.
Still, I register and get a bidding number, no cash required. You'll need this number to check out and pay for your items when you leave. I will need cash, though, for the whoopie pies, donuts, breakfast roll-ups, strawberry pies, barbecue chicken, sausage and brisket sandwiches, chicken corn soup, whole milk cheeses, hot dog-filled pretzels and coffee.
Sounds and Sights of an Auction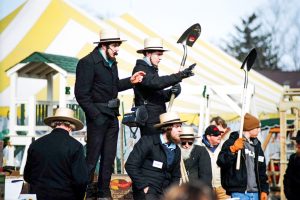 The murmur of the crowds subsides as the auctions begin. I stop first in the "crafts" tent, filled with antiques, dolls, birdhouses, chairs, all apparently used. About 80 people are seated, mostly "English" (not Amish), several chairs are empty, and more bidders are standing around the perimeter, near the space heaters, which are on full blast.
Standing on an elevated podium, the auctioneer calls quickly, rhythmically and continuously into his microphone. I think he's saying "what do you say" before each price increment as he gavels the winning bid, interrupted only for several seconds as he prepares for the next item.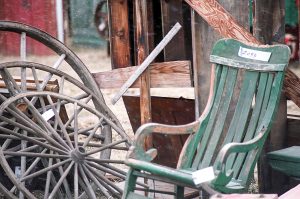 The auctioneer is surrounded by several assistants. One displays the item. Two spot bids — with a yelp to alert the auctioneer. Another records. A youth delivers the item to the winner. Others shuffle the merchandise in preparation for the next bids. The action proceeds quickly, each item considered for only a minute or two. I try to understand how, at this pace, the auctions will last into the late afternoon. But there is much to move.
It's time to head to the next tent where I spot furniture: tables, beds, chairs, bookcases and the like. The set-up is similar, although the number of participants is fewer, the auction team is smaller, and the bidding on each item longer.
Quilt Auction
Next I head into the fire station itself after stopping for a breakfast roll-up. A teenage girl at the food stand, wearing a white bonnet, greets me with a smile, asks me where I'm from, and points me toward the fire house. In the background, about five women are buttering pretzels, some with cinnamon or garlic.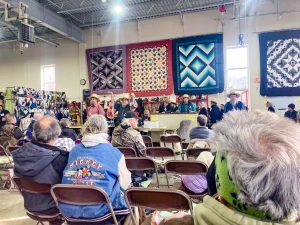 In the fire station, I discover the quilt auction. When presented, each quilt is hung with clothes pins and raised for viewing by the audience. Several large quilts are on the wall. This merchandise is new, handmade. Some quilts, called wall hangings, are small — about 3' by 3' and selling for about $30 to $80 — while large 10'-by-8' quilts sell for $700 or more. Many are striking, with colorful designs. True works of art.
About 250 to 300 people attend the quilt auction, which will last all day. Several bidders, checking and noting their itemized lists, are clearly shopping for resale at stores around Lancaster County and elsewhere. When sold, quilts are carefully folded by the auction team, carried to checkout and presented to their new owners.
Other Auctions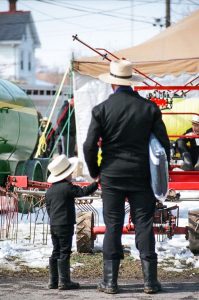 Around noon, I tour more sales, after sampling some irresistible strawberry and cream pie and buying donuts and whoopie pies to bring home. Several outside auctions — about twelve held at various times of the day, most conducted simultaneously — feature tools and supplies, sheds, farm machinery, building materials, electrical items, horse tack, hunting and fishing supplies, and shrubs.
In one tent, the auctioneer is hawking ammunition, fishing rods and camouflage wear. The bidders seem serious. At another site, butterfly bushes, roses and other ornamental plants are sold. In the yard, where perhaps a hundred straw hats have gathered, new and used farm equipment — tractor-drawn rakes, cultivators, large sprayers, manure spreaders — is being sold, often for several thousand dollars. Beyond that, truckloads of hay and straw are auctioned.
Personally, I'm attracted to the carriages — about 12 to be auctioned off today. A few are new, black, shiny. Inside they offer protection from the elements, upholstery, light switches, windshield wiper controls. Not much else. I'm told they'll sell for a few thousand dollars each. About ten Amish men stand around and wait. The auction is scheduled for 1 p.m. I wait until 2, but no auctioneer shows.
Gathering the Goods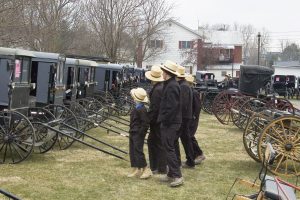 Amish boys, maybe 12 to 14 years old, scoot around the grounds with wagons … when they're not playing. They'll help carry the purchases to your car using carts filled to the brim. Larger purchases must be picked up within a week.
At about 4 p.m., the auctioneers will go silent, ending the mud sale for this year. On Monday, Ivan Fisher will declare the mud sale a success.
If you're interested in attending a mud sale, you can find a schedule at DiscoverLancaster.com/Amish/Mud-Sales.
back to top