New Moons
Newlyweds are finding new ways to honeymoon
It's no secret that weddings look different these days. In these changing (I won't say "unprecedented") times, couples are modifying and making new traditions that work for them.
The same goes for honeymoons. Newlyweds are finding unique ways to get away and redefining honeymoons as we have known them.
Here are three of the biggest trends we've seen in post- (and pre-) wedding travel.
Mini-Moons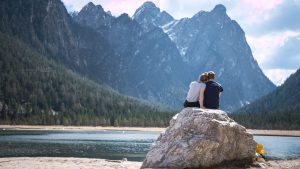 Many couples are opting for a mini-moon after tying the knot. As it sounds, mini-moons are small-scale trips taken right after the wedding, usually with a larger vacation planned later. Shorter than the traditional two-week honeymoon, mini-moons are more akin to a loooong weekend, stretching out to a max of around five days.
With USA Today reporting that 82% of newlyweds are taking a two- to five-day trip after their wedding, it's clear mini-moons are quickly becoming the standard for modern couples. Initially gaining popularity as a low-cost alternative to longer, traditional honeymoons, mini-moons may be the right fit for millennial couples. Many newlyweds find a grand vacation right after their wedding isn't doable—maybe its too big an expense after the cost of the wedding, or perhaps the couple can't take more time off from work.
Mini-moons are especially appealing to couples marrying during the pandemic. With ever-changing travel restrictions and safety guidelines, couples aren't able to take the honeymoon of their dreams now. A more modest but immediate mini-moon still allows them the chance to relax and spend time together after the wedding, with the promise of an exotic getaway when conditions improve.
Besides practicality, mini-moons are much less stressful to plan and take than traditional honeymoons. There's no pressure to cram in as many activities and experiences as possible. Instead, the focus is on relaxing and enjoying each other's company.
When planning your mini-moon, experts recommend choosing a destination that minimizes travel time. If you're already traveling out of town for your wedding, consider staying there a few extra days and indulge—upgrade your accommodations, order room service, splurge on a fancy dinner or two.
If you're staying local, a good rule of thumb is to keep your destination within train or driving distance—avoid the time, expense and hassles of air travel altogether. Visit a nearby city, or take a road trip to a local beach or mountains.
Or keep it hyper local—book a hotel or rent an Airbnb in your town and finally do everything you and your partner have been meaning to try. Be a tourist in your hometown!
Many Moons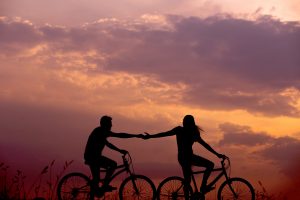 Other couples choose the many moon route. Instead of one long vacation or the one short mini-moon, this option is a series of shorter trips throughout the couple's first year—or years—of marriage. Around the same length as a mini-moon, many moons differ in a key way: while the mini-moon usually precedes a traditional honeymoon, couples who take many moons forgo the one big trip altogether with a series of smaller trips.
Many moons offer some of the same benefits as mini-moons. They're more practical for many couples whose work schedules don't allow them to get away for two weeks after time away for their wedding. It's often easier to make time to get away if you plan shorter trips, taking advantage of long weekends and work holidays. There's also less pressure: instead of trying to plan that memorable "perfect" honeymoon, newlyweds can try a variety of destinations and activities.
Another benefit is many moons can be customized to fit your and your partner's interests. Some couples jump around the map, trying as many globe-trotting experiences and exotic locales as possible. Others design their many moons around a theme, like visiting historic landmarks or focusing on national parks.
There's no wrong way to spend your many moons—the goal is quality time with your new spouse.
Early Moons
Another trending option is the early moon, when couples take a trip before the wedding. An attractive feature of early moons is that they can be combined with any post-wedding vacation—honeymoon, mini-moon or many moons.
The early moon is a cure for wedding planning stress, giving couples an opportunity to connect and decompress before the big day. Like many moons, your early moon can be as big or as small as you want it (and can afford!). Some couples take trips across the country, while others keep it simple. A weekend at the shore or the Poconos, or even a staycation, can be a great way to spend scheduled one-on-one time with your soon-to-be spouse without becoming another source of stress during an already hectic time.
Nowadays there are plenty of options for couples looking to get away together. Whether you choose a mini-moon, many moons or early moon, remember the point is to spend quality time with your partner. Wedding planning can be overwhelming and stressful, so plan to make time to unwind and live in the moment. Happy trails!
Local Getaways
Ready to start planning your own mini-, many or early moon? We have you covered. Check out these romantic destinations, only a road trip away from the Brandywine Valley.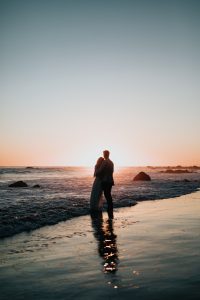 Annapolis, MD: Only a two-hour drive from Chester County, Annapolis is a great destination for couples looking for something new without traveling too far. Called "The Museum Without Walls," Annapolis is a contemporary city with a rich history. Visit museums and historic landmarks by day, and enjoy fine dining and nightlife in the evening. Located on the Chesapeake Bay, Annapolis offers plenty of outdoor activities—from fishing and sailing on the Bay to hiking and biking in the many parks and trails.
Hershey, PA: Hershey is home to more than the amusement park (though that's always fun, too!). Book a stay at the Hershey Lodge or Hotel Hershey and see what makes "The Sweetest Place on Earth" so special. Get a glimpse into the town's history at the Hershey Story Museum, or see how the chocolate gets made at Hershey's Chocolate World. Indulge in a chocolate-themed spa day with your partner at MeltSpa or The Spa at the Hotel Hershey. And visit Hershey Gardens to stroll among 500 butterflies at the Butterfly Atrium or come face-to-face with a falcon at the Hotel Hershey's falconry. 
Delaware Beaches: There's something for everyone among Delaware's beaches. After a long day of surf and sun, Rehoboth's famous boardwalk offers food, rides and live music at the Bandstand. Or dance the night away at Dewey Beach's nightclubs and bayside bars. For a romantic evening, visit historic Lewes for fine dining, shopping and a quiet stroll along the canal. Need to get away from it all? Walk the wildflower trails of Cape Henlopen State Park to one of Delaware's oldest lighthouses.
back to top