N. C. Wyeth: New Perspectives
Much more than book illustrations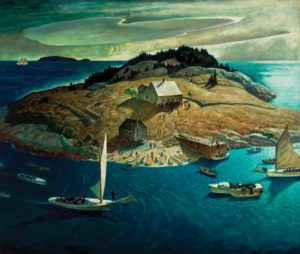 If the name N.C. Wyeth conjures up images of classic book illustrations, think again. Seascapes, portraits, murals and advertising images are more creations from this broadly talented artist.
Discover the breadth of his work at The Brandywine River Museum of Art's summer exhibit, "N. C. Wyeth: New Perspectives," the first exhibition in almost 50 years to do a deep dive into Wyeth's multifaceted career. Featuring over 70 works from museums and private collections, this exhibit brings a new perspective to Wyeth's work as an accomplished illustrator as well as a distinguished fine arts painter.
The father of generations of artists, Newell Convers Wyeth studied under noteworthy illustrator Howard Pyle. Not surprisingly Wyeth is best known for his imaginative book illustrations, including for Treasure Island, The Last of the Mohicans and The Boy's King Arthur.
C. Wyeth was a focused and fast painter, completing an amazing 17 full-sized illustrations for Treasure Island in just a few months—between late April and July in 1911. Several of these illustrations are in the exhibit.
While his book illustrations paid the bills, Wyeth also worked on more personal, fine arts works. This exhibit features some of these lesser-known paintings, including landscapes and figurative works.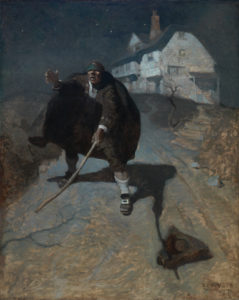 Wyeth drew inspiration and vision from his surroundings—his birthplace in Needham, Massachusetts, his home in Chadds Ford, and his summer home in Port Clyde, Maine. Images of landscapes and people from these places are woven through the exhibit.
A highlight: Island Funeral is a piece that used both the centuries-old technique of tempera painting as well as recently developed dyes from the Du Pont Company, creating rich and unique blues and greens (see photo above). The stunning painting was the centerpiece of Wyeth's 1939 Macbeth Gallery exhibition, a historic New York gallery specializing in American artists.
Add an extra dimension to your visit by taking a tour of the nearby N. C. Wyeth House & Studio, 18 acres of land in Chadds Ford that Wyeth purchased in 1911 with proceeds from his illustrations for Treasure Island.
A great way to appreciate the legacy of this iconic American artist!
If You Go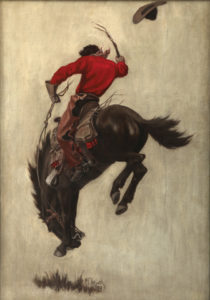 Where:
Brandywine River Museum of Art; 1 Hoffman's Mill Rd., Chadds Ford. 610-388-2700; Brandywine.org
When:
Through September 15, 2019
Hours:
Daily, 9:30 a.m. to 4:30 p.m.
Admission:
$6–$18
back to top