Movie Preview: "Maybe Next Year"
From Grit to Glory – A Story of Fandom
A documentary about Eagles fans during their Super Bowl victory season shows the passion of sports fans everywhere.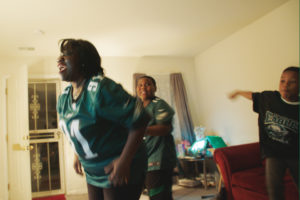 Maybe Next Year" had its world premiere at the Philadelphia Film Festival on Monday, October 21, yet the outcome of the 2017–18 Eagles' season—which is a springboard for this documentary's broader story—is already engrained in every Eagles fan's mind. Just as much as the mantra—and film title—that fans repeat at the end of every disappointing season.
Spoiler Alert: the film brings Birds' faithful back to when Carson Wentz was tragically injured, the Philly Special was born, and the Eagles underdog playoff run to the Super Bowl proved nearly every sports bookie and national commentator wrong.
But this film is about much more than the on-field heroics of Doug Pederson and Nick Foles. It's a story about fans and fandom. In fact, the feature-length documentary was going to hit the big screen no matter the outcome of that fateful football season. Clearly fate smiled on this project, from Wavelength Productions, by providing a storybook ending.
The film tells several stories, beginning with the often-stigmatized Eagles fans. They are the lunatics that (allegedly) threw snowballs at Santa, fought Bradley Cooper in the Linc parking lot in "Silver Linings Playbook," and had a jail cell in the basement of the Vet (not to be confused with the Flyers recently opened Rage Room). And for Director Kyle Thrash, a Philly native and Drexel alum, he simply "wanted to show where that passion comes from."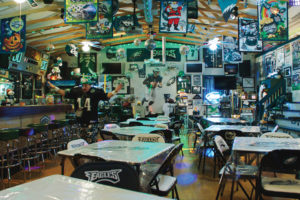 To do this Kyle follows four die-hard Eagles fans as their lives orbit around a magical Eagles season. There's Eagles Shirley, a local legend for her passionate calls to sports radio station 610 WIP; Barry "The Hatchet" Vagnoni, a super-fan who built an Eagles-inspired man-cave, called the Locker Room and big enough for 100 fans, at his home in Reading, PA; Jesse Callsen of Delaware County, a multi-generational fan, with a dying father and young son, who Kyle's production team met at a local pub; and Bryant Moreland, a YouTube personality in Los Angeles infamous for his profane rants about the Eagles.
Kyle found these four prototypical fans, embodying fandom's many dimensions, by casting a wide net. Shirley, Barry, Jesse and Bryant are shown throughout the season with families and friends sharing and celebrating their love of the Birds. We get to know them and the challenges that make each personify the grit and blue-collar spirit of Philadelphia and an Eagles team that was counted out too many times.
Inspired by documentaries "Heavy Metal Parking Lot" and "American Juggalo," plus sports films "Friday Night Lights" with a dash of "Rocky," Kyle and his team explore the day-to-day of being an Eagles fanatic. Eagles' wins inspire foolish behavior, shown by Barry driving doughnuts on his golf cart and ruining his lawn. Losses bring out the negativity: "Eagles are the scapegoat for all of my failures," laments Bryant in a profanity-laden post.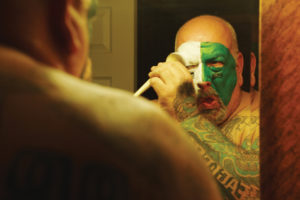 Non-game days offer other ways to engage with the team. Jesse tosses a football and teaches his autistic son to spell Eagles. Meanwhile, Eagles Shirley teaches a "Football 101" class—a community outreach to women trying to understand their significant others' Sunday rituals and the Do's and Don'ts of Eagles fandom. Shirley explains about the class, which is still alive and thriving, "It's important to pull back the curtain on that side of Game Day."
The movie's focus expands to show the tribal nature of Eagles fans—from the antics at the beer-centric tailgates to the crowds in sports bars of all sizes in all kinds of neighborhoods. When the NFC Championship kicks off, downtown streets are empty as the entire city shuts down. And fair warning: this documentary shows the full and not always admirable emotion of Eagles fans. As a policeman notes, "It's not good when the Eagles lose."
One early voice from the film suggests that a city gravitates towards sports as a way to find its identity. "Philly has always been an underdog," says Jesse before the NFC Championship game. Kyle and his film team lean into that identity.
The city of Philadelphia becomes another character in the documentary, captured by the use of local musicians and the film's cinematography. Kyle's team set up drone shots over Broad Street on Super Bowl Sunday, 2018, showing the extent of the mass celebration. Everyday shots from around the city convey the fans' spirit displayed by signs on overpasses, store windows and front yards.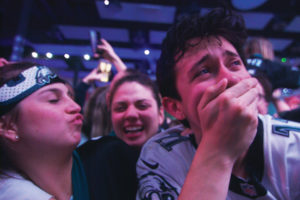 This understanding of place lifts the film from sports documentary to an exploration of what brings four vastly different people and a city of four million people together—to yell their faces off at the Birds every Sunday in the fall, and talk about it every Monday through Saturday in between.
Shirley, Barry, Jesse and Bryant persevered through their struggles along with the Eagles in this story about faith, hope and a shared vision—as believers, as underdogs, as part of the City of Brotherly Love. Fans of family, grit, happy endings and even of the Philadelphia Eagles will find something in this documentary full of heart.
Here's hoping it finds a distribution deal beyond its two local screenings in October. Fly Eagles Fly!
"Maybe Next Year,"  run time 83 minutes
Wavelength Productions
Directed by Kyle Thrash
Zack Malet, Associate Director of Content Distribution at Disney/ESPN, is a lifelong Eagles fan who traveled from Connecticut to join the Super Bowl 52 victory parade through Philadelphia on February 8, 2018—one of his top 10 memories.
back to top