Mamma Mia
*DUE TO COVID-19, EVENTS HAVE BEEN POSTPONED OR CANCELLED. PLEASE CHECK THE WEBSITE.*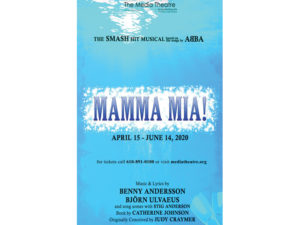 Join the Media Theatre for the final performance in its 2019–2020 season with Broadway's longest-running musical, Mamma Mia! Playwright Catherine Johnson and ABBA band members Benny Andersson and Björn Ulvaeus wrote this Grammy and Tony-nominated musical, inspired by the hits of ABBA.
An instant success, this musical premiered in 1999 and has been performed in over 40 countries and was adapted to the big screen in 2008. Remember Meryl Streep singing?
Mamma Mia! tells the story of Sophie and her former hippie mother, Donna, who live together in a crumbling, failing hotel built on a Greek island paradise. Sophie spent her whole life not knowing her birth father and decides impulsively to send letters to her mother's past lovers, inviting them to Sophie's upcoming wedding.
Drama, hilarity and revelations ensue to the tune of an ABBA soundtrack when Sophie's three possible fathers arrive on the island, to the surprise of Donna and Sophie's fiancé, Sky.
It's no surprise this incredibly popular musical is playing at Media Theatre, nationally known for its live orchestra and musical talent. The only professional theater in the Brandywine Valley, it's won 86 Broadway World Awards for 'Best of Philly Theatre' from 2012–2017, among other achievements. Since 1994, Media Theatre has been giving people of the Brandywine Valley a Broadway experience without the stress of going into the city.
See Mamma Mia! in its original form—on the stage! We dare you to go and not leave singing.
IF YOU GO:
WHERE: The Media Theatre. 104 E. State St., Media
WHEN: April 15–June 14
TICKETS: 610-891-0100; MediaTheatre.org.
back to top