Malvern on Your Map
History, art and community events make Malvern a place to put on your must-visit list. Even Atlas Obscura agrees.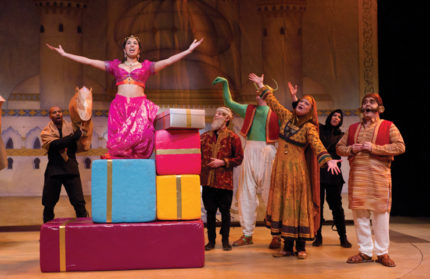 Yes, Atlas Obscura, the definitive guide to the world's wonderous and curious places, includes two Malvern sites among the 184 recommendations for Pennsylvania points of interest, alongside Philadelphia's Magic Gardens of mosaics and Pittsburgh's Robot Hall of Fame. (A side note: Malvern is the only Main Line town to make the cut and get on the list.)
During this most recent visit to Malvern, we're not returning to the unique boutiques, range of restaurants, community murals and delightful new-ish art gallery cum studio (that's you Gallery 222) that we've featured in past years.
Instead of strolling the half-mile main business district located off Lancaster Avenue and along Malvern's King Street—conveniently done during Third Thursday Malvern Strolls—we'll explore some sites beyond the downtown strip and highlight events that make Malvern a small town with, as they say, a big heart.
Atlas Obscura's #57 and #68 top PA spots
Along a stretch of railroad tracks south of Lancaster Avenue is Duffy's Cut, the site of the mass grave of 57 Irish immigrant workers who died in August 1832, of cholera—all within two months. According to the official state historic marker at the intersection of King and Sugartown Roads, the workers had recently arrived in the U.S. and were employed by a construction contractor named Duffy to work on the Philadelphia and Columbia Railroad.
Prejudice against Irish Catholics contributed to the denial of care and lack of proper burial for the workers. Their illness and death typified the hazards faced by many 19th-century immigrant workers and are being investigated by the Duffy's Cut Project.
Visitors can explore the Duffy's Cut Museum at Gabriele Library. Immaculata University, 1145 King Rd., Immaculata.
At number 68 on Atlas Obscura's list is the Wharton Esherick Museum. A National Historic Landmark for Architecture, Esherick's uniquely designed hilltop studio/residence, with more than 300 of his works, has been preserved much as it was when the artist lived and worked there. For those unfamiliar with his work, Esherick was called "Thoreau in wood" and inspired the Studio Furniture Movement, with works ranging from organic Arts & Crafts pieces, to sharp-edged Expressionists objects, to curvilinear free forms for which the artist is best known.
Visit Aug. 12, Sept. 8 and 23, Oct. 7 and 21 for Wine & Cheese Tours, 4 to 6 p.m., reservations required. 1520 Horseshoe Trail. WhartonEsherickMuseum.org.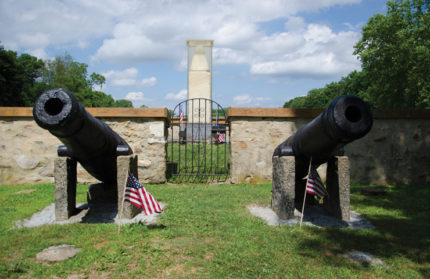 Malvern Historic Sites
Despite its name, the Paoli Battlefield Historic Park is actually located in Malvern. On the national Register of Historic Places and home to the second oldest war memorial in the U.S., this 40-acre park is the site of the Paoli Massacre where the British routed General "Mad" Anthony Wayne's troops on September 20, 1777.
Visit on August 10, when Town Tours & Village Walks hosts a free evening tour of the Paoli Battlefield, from 5 to 7:30, featuring re-enactors who portray Continental soldiers and their British counterparts and explain what life was like in the 18th century. Return September 23 for the 5th Annual Paoli Battlefield Heritage Day, 11 to 4 p.m. In 2018, come for the Malvern Memorial Parade, the oldest, continuously-held Memorial Parade in America, dating back to 1868. Monument & Wayne Aves., PBPFInc.org.
Malvern is also home to Historic Sugartown, a preserved 19th-century rural village providing an authentic experience of life at that time. Several buildings remain largely intact, so you can visit the 1880s general store, inn, 19th-century school room exhibit, bank barn, carriage museum and book bindery with bookbinding and paper marbling workshops offered by a bookbinder trained at Colonial Williamsburg.
Shugart's Sunday returns to Historic Sugartown on September 17, with BBQ & Bluegrass, plus country-style family festivities. Enjoy great food, music and family fun events including hayrides in the village originally known as Shugart's Town. 2 to 6 p.m. Guided tours Sat., 11 a.m. to 4 p.m.; Sun., 1 to 4 p.m. 690 Sugartown Rd. HistoricSugartown.org.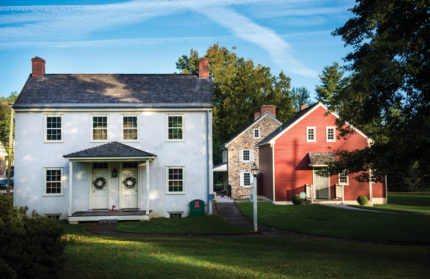 Malvern Landmarks
Many who live outside Malvern make regular visits to two top attractions for great theater performances and equestrian events.
People's Light is one of Pennsylvania's largest professional nonprofit theaters and is known for its resident company of artists, eclectic mix of productions and innovative work with young people. The theater produces about eight plays each season, mixing world premieres, contemporary plays and fresh approaches to classic texts. Running through August 13, Ken Ludwig's Moon Over Buffalo is the final show in the 2016–17 season.
A favorite holiday tradition is attending People's Light's Holiday Panto. Running for almost two months, from November 15 to January 7, this year's panto will be based on the story of Aladdin. Make your reservations early to see the hilarious adventure that ensues when the young ne'er-do-well Aladdin and his animal pals find a mysterious lamp. Cheer the heroes and boo the villains during a production full of audience participation and fun for fans from five to 105. 39 Conestoga Rd. PeoplesLight.org.
Different kinds of events happen at Radnor Hunt, surrounded by 6,000 acres of preserved open-space in the Willistown Township section of Malvern. Founded in 1883, Radnor Hunt hosts the oldest foxhunt in the U.S., recognized by the Masters of Foxhounds Association of America. Also the site of tennis, trap shooting and pony club events. Radnor Hunt hosts 20,000 fans each May for the Radnor Hunt Races, the spring tradition of steeplechasing in the open countryside. The timeless beauty and breath-taking views make this a sought-after venue for special events, including the upcoming Radnor Hunt Concours d'Elegance car show and fundraiser, September 8–10. 826 Providence Rd. RadnorHunt.org.
Come for Community Events
A small town with big charm, Malvern Borough is located off the beaten path of Route 30, making it different from most other towns on the Main Line. This former industrial railroad town has the feel of a warm community, with a growing list of amenities, including a refurbished train station, public art—a collection of outdoor murals and a future Arts on the Lawn project with life-size painted dog statues, Adirondack chairs and picnic tables—and a full calendar of events year-round.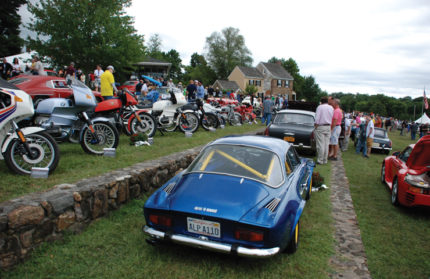 Malvern Events
Enjoy the community feel at these events, all year long.
Third Thursdays, Malvern Stroll
Sip, shop and dine while shops are open late, restaurants offer specialities and musicians dot King Street. GrowingRootsPartners.com.
Through Nov., Farmer's Market
Saturdays are market days with fresh, healthy and local fare. Check for specials and events.Burke Park, off of Warren Ave., south of King Rd. 9 to 1. GrowingRootsPartners.com.
Sept. 10, Malvern Harvest Oktoberfest & Bark in the Park
Enjoy a beer garden, music, shopping, kids activities (inflatables, games, prizes), delicious food from top area food trucks and more. Bark in the Park hosts pups needing good homes. Visit dog rescues and other dog-centric exhibitors. Along King St. and in Burke Park. 11 to 4. Malvern-Festivals.com.
Sept. 17, Shugart's Sunday BBQ & Bluegrass
See the article content above for details.
690 Sugartown Rd., 2 to 6 p.m. $12–$40. HistoricSugartown.org.
Dec. 1–2, Victorian Christmas
Begin in Burke Park for the tree lighting. Then stroll King Street, visit shops, enjoy music, children's shows, carriage rides, caroling, art show, Santa and more.
King St. and in Burke Park,
MalvernsVictorianChristmas.org.
Dec., A Sugartown Christmas
Explore the historic village and learn about Victorian Christmas traditions. Decorate cookies in the carriage museum and make Victorian-style ornaments and cards.
690 Sugartown Rd., 11 to 4. $6. HistoricSugartown.org.
May 2018, Malvern blooms
A community festival with music, arts and crafts, vendors, kids activities, food court, food trucks and more.
Along King St. and in Burke Park. 11 to 4. Malvern-Festivals.com.
Memorial Day Weekend, Malvern Community Spaghetti Dinner
Enjoy dinner in Malvern Memorial Park on Monument Avenue with Malvern Farmers Market as host and spaghetti and meatballs prepared by Anthony's. Then, on to the Malvern Memorial Day Parade and Family Fun Day, plus a patriotic concert.
Monument Park, Monument & S. Warren Aves. MalvernBusiness.com.
back to top