Make it Memorable
Planning an Epic Bachelor or Bachelorette Party in County Lines Country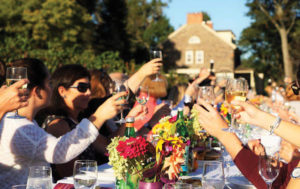 Your best friend is getting married. And so, as best man or maid/matron of honor, part of your role—maybe your most important role—is to plan a memorable bachelor or bachelorette party.
Sofie Grossman of Connoisseur Travel in Kennett Square says that the parties are getting larger, more elaborate, "different." Wine tasting in the Finger Lakes, golfing in the Caribbean, Essence Fest in New Orleans … Five days, perhaps 20 people. At some level, each "must outdo the last."
What to do? Where to go? So many choices … We plan modestly. And locally.
Ground Rules
We offer a few ideas, based on a party of six to 12, in the spring, lasting from three hours to three days, within a three-hour drive. Also, we suggest you consider combining the bachelor and bachelorette parties: the idea of separating the men and women seems a bit antiquated anyway.
As you consider the ideas here, think about combining activities. A vineyard visit followed by a ballgame. Spa in the morning followed by casino at night. Mix and match, in other words. Axe throwing, for instance, may be a blast, but we doubt your party wants to do it for a whole weekend.
Tasting Tours—and Cigars
Whether it's a winery, brewery or distillery, tours that include tastings are growing in popularity and are satisfying to most groups.
Gather your squad for a tasting at one—or more—of Brandywine Valley's fine wineries. Galer Estate Vineyard, near Kennett Square, has won over 100 medals and awards for its wines. It's close to Longwood Gardens, and a couple of guests can stay overnight at a cottage on the property.
In Glen Mills you'll find the charming Inn at Grace Winery. Besides tastings, you can play disc golf, horseshoes, billiards, ping pong, bocce and croquet. Swim in the pool, take a dip in the jacuzzi or exercise in the fitness center.
In Chadds Ford, Penns Woods Winery is highly regarded for its Cabernet Franc. It will set up a tent so your party also enjoys a beautiful view of the vineyard.
Nearly every brewery has a tasting room and you can generally, with enough notice, reserve it for a gathering. La Cabra in Berwyn is known for great beer and has a second floor party space. Braeloch Brewing in Kennett Square and Sterling Pig, either in Media or West Chester, are good choices. But there are plenty others. See the sidebar. It's Pennsylvania, after all.
No need to stop at beer. Several distilleries—Brandywine Branch and Pennsylvania Distilling—offer tours and tastings, serving whiskey, bourbon and rum, straight or in special cocktails. Again, see our sidebar and make your own itinerary.
Top your liquor off with a fine smoke. Pairings Cigar Bar in Media serves spirits, wine, beer and small plates. Cigar, Cigars offers convenience with about seven locations in County Lines country.
You'll definitely want someone else to do the driving on your tour. Consider one of the many van or limo services in our area instead of Ubering to each place.
Spas
Next, a classic—a spa day or getaway. The Spa at the Lodge at Woodloch is under three hours away, set away in the Poconos. Relax. Get a luxurious massage, facial, manicure or pedicure. Visit a sauna, steam room or whirlpool. Swim in the indoor pool, exercise in the cardio-weight room or bicycle in the woods. Golf and tennis, too. And, of course, bond with the wedding party.
Closer to home, choose from day spas. Joseph Anthony in Glen Mills has a variety of treatment options, generally starting with an Alpine herbal steam, moving on to a float service, and ending with one of its suite of brine services. For food, bring your own or cater. Toppers Spa in Wayne, La Difference in West Chester and Sanctuary Day Spa & Salon in Paoli also offer their own versions of luxury.
Game Day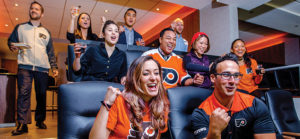 Is your bachelor or bachelorette a sports fan? Then head for Philadelphia. A sky-box at Wells Fargo Center to watch the 76ers or Flyers, or box seats at Citizens Bank Park for the Phillies will let them cheer in style. Cater the day with pretzels and cheesesteaks. Or something more sophisticated, if you like.
Also consider a soccer game at the Subaru Stadium in Chester. There's a deck with a perfect view of the pitch and the Delaware River. Or choose anything from field-side seating to private boxes. The Union soccer team, by the way, had their first playoff win last year.
Horses and Casinos
Maybe your party is too late in the season for a steeplechase, but horse racing is still on the agenda. Then Delaware Park is the ticket. Afterwards, the Park is right next to the casino, where you can try your luck at blackjack, craps, poker, roulette or other games of chance.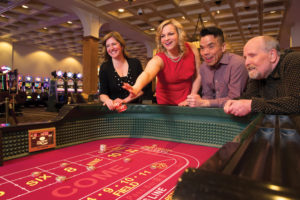 Mohegan Sun, up in the Poconos, is also a possibility. It has live racing and a casino, as well as a hotel, spa, restaurants, comedy club and live entertainment. It's about two and a half hours away.
For harness racing, go to Harrah's Philadelphia, located in Chester. There's something elegant about the trotters. Harrah's has a casino as well.
If the future bride or groom wants the casino without horses, head for the Valley Forge Casino. There are plenty of restaurant and entertainment venues, both within the casino and nearby in King of Prussia. Stay onsite, in one of their two towers, and enjoy their spa and outdoor pool.
Sail Away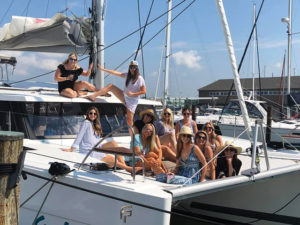 Rock Hall, St. Michaels, Annapolis … Feel the breeze. Marvel at the stars. Hear the geese honk. West Chester is only about two and a half hours from the Chesapeake Bay where you can charter a yacht. Cruise Annapolis, for instance, has a 54-foot dream boat. Sailing may not be for everyone, but the experience is magical and great for bonding.
You can meet the non-sailors in your party for a crab feast at the St. Michaels Crab & Steak House. Spend the night at the charming Inn at Perry Cabin—spa, pool, golf—and take advantage of their sail or power boats for a cruise of the Bay.
Chop 'Til You Drop
For an in-town party with some activity built in, join the trend of axe throwing. Our area has growing options: Tilted Axes and Stumpy's Hatchet House in West Chester, Bury the Hatchet in King of Prussia, and the Chop Shop in Kennett Square.
Generally, you'll want two hours for hurling hatchets. But, at Tilted Axes, you can also supplement your time with some pool, air hockey, giant jenga or any of about a dozen other games. Bury the Hatchet has an Escape Room next door for more group fun. Yes, axe-throwing. It's all the rage.
These are only a few ideas, intended more to stimulate your thinking than anything else. As we said, mix and match.
And finally, remember the fun must suit the bride and groom. It's their party, after all! 
Breweries
La Cabra Brewing; Berwyn. 14–16 beers, brewed in-house (hefeweisen, witbier, kolsch, stout, IPA) plus 2nd floor room with fireplace, couches for private events. Southwestern food.
Levante Brewing Company; West Chester (brewery) and Downingtown (beer garden). 15 beers, IPAs, stouts, pilsner, witbier and hard seltzer. Food trucks at brewery, farmhouse feel at beer garden.
Sterling Pig Brewery; West Chester and Media. Great food with 10–15 beers. Try shoat pilsner, IPAs, porters, lagers, weissbiers and ales, seasonally or on rotation. Spacious loft for private events.
Iron Hill Brewery; 5 in County Lines country, 20 over all. Great menu. Try award-winning Russian stout, Belgian tripel, plus many more. Also, spirits and seltzer.
Stolen Sun Brewing & Roasting Co.; Exton. 10–15 beers, IPAs, stouts, ales, Belgian tripel, cider and seltzers plus cocktails. Simple but good menu. Taproom or loft for private events.
Braeloch Brewing; Kennett Square. 7 beers, stout, porter, IPAs, ales and saisons. Taproom with living room section, private rooms for events. Brewery tours. Shareables food menu.
Victory Brewing Company; Downingtown and Kennett Square. 20–24 beers on tap including lagers, IPAs, sours, pilsners and stouts. Craft beer-infused menu. Brewery tours.
Distilleries
Brandywine Branch Distillery; Elverson. Known for Revivalist Gins including their award-winning DragonDance. Bistro and distillery tours available for private events. Pick up spirits at the shop.
Bluebird Distilling; Phoenixville. About a dozen spirits made on-site, whiskey, gin, vodka, bourbon, rum, brandy and Agave Blanco Salvaje. Cocktail bar and Barrel Room.
Manatawny Still Works; Pottstown. Rum, whiskey, gins and vodka. Bottling workshops, distillery tours and tasting room.
Boardroom Spirits Distillery; Lansdale. Vodka, flavored vodka, rum, gin and triple sec. Tasting room with about 60 cocktails and Foodie Fridays with food trucks or in-house catering.
back to top