Make a Difference
Turn your compassion into action and volunteer!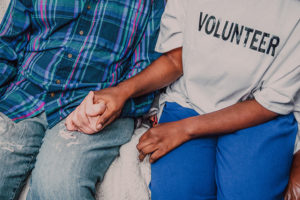 After a difficult year, it's important to make sure people in our community have the assistance they need. If you're in a position to safely lend a hand, consider volunteering at some of our many local organizations.
Our area is full of groups doing good work and making a difference. If you're not sure where to start, check out the information below of organizations with volunteer opportunities—there's something for every interest. And more at CountyLinesMagazine.com.
Many plans are still in flux, so be sure to check websites and social media for the latest on safety requirements and virtual events.
Animal Rescues
ALL 4 PAWS: Saving needy animals and finding them new homes and families. Chester Springs. 610-731-1086;  All4PawsRescue.com.
BRANDYWINE VALLEY SPCA: Providing a no-kill, open admission shelter and finding pets new forever homes. 1212 Phoenixville Pk., West Chester. 484-302-0865; BVSPCA.org.
MAIN LINE ANIMAL RESCUE: Eliminating issues that lead to animal abuse and pet homelessness and finding pets new homes. 1149 Pike Springs Rd., Phoenixville. 610-933-0606; MLAR.org.
RYERSS FARM FOR AGED EQUINES: Providing retirement for horses that served former owners or were rescued from abuse. 1710 Ridge Rd., Pottstown. 610-469-0533; RyerssFarm.org.
TREETOPS KITTY CAFÉ: Finding permanent homes for rescued cats from high-kill shelters.
305 W. State St., Kennett Square. 610-925-2908; TreetopsKittyCafe.com.
WOLF SANCTUARY OF PA: Protecting and rescuing gray wolves and wolf dogs and maintaining their wellbeing. 465 Speedwell Forge Rd., Lititz. 717-626-4617; WolfSanctuaryPA.org.
Education & Youth Services
BOY SCOUTS OF CHESTER COUNTY & GIRL SCOUTS OF EASTERN PA:  Serving young people in Chester County. 226 Exton Square Mall, Exton. 610-696-2900; CCCBSA.org. Headquarters, Shelly Ridge Serv Ctr, 330 Manor Rd., Miquon (Lafayette Hill).  215-564-2030; GSEP.org.
CAMP DREAMCATCHER: Providing a safe, therapeutic, tolerant environment for youth and families impacted by HIV/AIDS. 148 W. State St., Ste 104, Kennett Square. 610-925-2998; CampDreamcatcher.org.
CAMPHILL SCHOOL: Helping children and youth with developmental disabilities through education, extended family living and therapy. 1784 Fairview Rd., Glenmoore. 610-469-9236; CamphillSchool.org.
THE GARAGE COMMUNITY & YOUTH CENTER: Empowering middle and high school students in after-school programs. 115 S. Union St., Kennett Square. 610-444-6464; GarageYouthCenter.org.
OPERATION WARM: Providing warmth and hope to children in need through brand new winter coats. 50 Applied Bank Blvd,. Glen Mills. 800-730-9276; OperationWarm.org.
Preservation Programs
BRANDYWINE BATTLEFIELD PARK ASSOCIATES: Preserving and educating the public about this battle site. 1491 Baltimore Pk., Chadds Ford. 610-459-3342; BrandywineBattlefield.org.
GREEN VALLEYS WATERSHED ASSOCIATION: Protecting natural watersheds of northern Chester County. 1368 Prizer Rd., Pottstown. 610-469-4900; GreenValleys.org.
HISTORIC SUGARTOWN: Inspiring engagement with the past through a 19th-century village. 690 Sugartown Rd., Malvern. 610-640-2667; HistoricSugartown.org.
HISTORIC YELLOW SPRINGS: Sharing and preserving the living village of Yellow Springs. 1685 Art School Rd., Chester Springs. 610-827-7414; YellowSprings.org.
STROUD CENTER FOR WATER RESEARCH: Advancing knowledge and stewardship of freshwater systems. 970 Spencer Rd., Avondale. 610-268-2153; StroudCenter.org.
VALLEY FORGE AUDUBON SOCIETY: Preserving birds, wildlife and their habitats. 1201 Pawlings Rd., Audubon. PA.Audubon.org.
Health
CHESTER COUNTY HOSPITAL: Providing care for the health and wellness of the County. 701 E. Marshall St., West Chester. 610-431-5000; ChesterCountyHospital.org.
COMMUNITY VOLUNTEERS IN MEDICINE: Providing free healthcare to low-income individuals and families. 300B Lawrence Dr., West Chester. 610-836-5990; CVIM.org.
CONNECT THRU CANCER: Providing free services to individuals and families living with cancer.
20 W. Miner St., West Chester. 484-301-3047; ConnectThruCancer.org.
DE BREAST CANCER COALITION: Offering programs and services for those affected by breast cancer. 100 W. 10th St., Ste. 209, Wilmington. 302-778-1102; DEBreastCancer.org.
MATERNAL & CHILD HEALTH CONSORTIUM OF CHESTER COUNTY: Providing high-quality health care for pregnant and parenting women. 30 W. Barnard St., Ste. 1, West Chester. 610-344-5370; CCMCHC.org.
Humanities
CHESTER COUNTY ART ASSOCIATION: Educating, inspiring and connecting people through the arts. 100 N. Bradford Ave., West Chester. 610-696-5600; ChesterCountyArts.org.
CHESTER COUNTY HISTORY CENTER: Preserving and sharing the story of the County's past.
225 N. High St., West Chester. 610-692-4800; ChesterCoHistorical.org.
COMMUNITY ARTS CENTER: Offering opportunities for all to create and enjoy the visual arts. 414 Plush Mill Rd., Wallingford. 610-566-1713; CommunityArtsCenter.org.
PEOPLE'S LIGHT: Making and experiencing theater through plays and arts education programs. 39 Conestoga Rd., Malvern. 610-644-3500; PeoplesLight.org.
UPTOWN! KNAUER PERFORMING ARTS CENTER: Providing a home for live performance, film and community. 226 N. High St., West Chester. 610-356-2787; UptownWestChester.org.
WAYNE ART CENTER: Enriching the community through the arts, with education, exhibitions and outreach. 413 Maplewood Ave., Wayne. 610-688-3553; WayneArt.org.
Homelessness & Food Insecurity
BRIDGE OF HOPE: Ending homelessness through help from partners. 1 N. Bacton Hill Rd., Ste. 100, Malvern. 610-280-0280; BridgeOfHopeInc.org.
CHESTER COUNTY FOOD BANK: Addressing food insecurity in Chester County. 650 Pennsylvania Dr., Exton. 610-873-6000; ChesterCountyFoodBank.org.
FAMILY PROMISE OF SOUTHERN CHESTER COUNTY: Working to end homelessness by providing meals, shelter, resources and mentorship. 1156 W. Baltimore Pk., Kennett Square. 610-444-0400; FamilyPromiseSCC.org.
FRIENDS ASSOCIATION: Providing programs to prevent homelessness and promote independence of families with children. 113 West Chestnut St., West Chester. 610-431-3598; FriendsAssoc.org.
GOOD WORKS: Repairing homes for low-income homeowners. Main office, 544 E. Lincoln Hwy., Coatesville. 610-383-6311; GoodWorksInc.org.
HABITAT FOR HUMANITY OF CHESTER COUNTY: Serving low-income families by providing an affordable place to live. 1847 E. Lincoln Hwy., Coatesville. 610-384-7993; HFHCC.org.
Human Services
CHESTER COUNTY ANTI-HUMAN TRAFFICKING COALITION: Working to eliminate modern-day sex and labor slavery through public awareness, legislation, law enforcement and referral services to victims and survivors.West Chester. info@ccatofpa.org; CCATOfPa.org.
CARE CENTER FOUNDATION: Aiding low-income families through education and social uplift programs. 127–129 S. Matlack St., West Chester. 610-436-6226; CareCenterFoundation.org.
CHESTER COUNTY OPPORTUNITIES INDUSTRIALIZATION CENTER (OIC): Helping economically disadvantaged individuals. 22 N. 5th Ave., Coatesville. 610-692-2344; CCOIC.org.
DOMESTIC VIOLENCE CENTER OF CHESTER COUNTY: Programs, intervention and advocacy to combat domestic violence. 1001 E. Lincoln Hwy., Coatesville. 610-384-2774; DVCCCPa.org.
LA COMUNIDAD HISPANA: Supporting families with medical care, social assistance, education and job skills. 731 W. Cypress St., Kennett Square. 610-444-7550; LaComunidadHispana.org.
OXFORD AREA NEIGHBORHOOD SERVICES CENTER: Assisting people experiencing crisis or sudden hardship. 35 N. 3rd St., Oxford. 610-932-8557; OxfordNSC.org.
PHOENIXVILLE AREA COMMUNITY SERVICES: Helping people overcome food insecurity.
257 Church St., Phoenixville. 610-933-1105; PACSPhx.org.
Services for People with Disabilities
ARC OF CHESTER COUNTY: Advocating, educating and providing services to empower individuals with disabilities. 900 Lawrence Dr., West Chester. 610-696-8090; ArcOfChesterCounty.org.
CANINE PARTNERS FOR LIFE: Training service and companion dogs to aid individuals with disabilities. Cochranville. 610-869-4902; K94Life.org.
HANDI-CRAFTERS: Supporting individuals with disabilities be more independent. 215–225 Barley Sheaf Rd., Thorndale. 610-384-6990; Handi-Crafters.org.
QUEST THERAPEUTIC SERVICES: Providing pediatric horseback riding therapy. 461 Cann Rd., West Chester. 610-692-6362; QuestTherapeutic.com.
THORNCROFT EQUESTRIAN CENTER: Providing therapeutic horseback riding for children and adults with disabilities. 190 Line Rd., Malvern. 610-644-1963; ThorncroftEquestrianCenter.org.
Seniors
MEALS ON WHEELS: Supporting community-based programs to address senior isolation and hunger. 404 Willowbrook Ln., West Chester. 610-430-8500; MOWCC.org.
SURREY SERVICES: Helping seniors live with independence and dignity. Multiple locations. SurreyServices.org.
WEST CHESTER AREA SENIOR CENTER: Enriching the lives of seniors through friendship, activities, education and nourishment. 530 E. Union St., West Chester. 610-431-4242; WCSeniors.org.
Veterans
VETERANS MULTI-SERVICE CENTER: Providing comprehensive services for military veterans and families. 797 E. Lincoln Hwy., Ste. 12, Downingtown. 610-384-8387; VMCenter.org.
VETERANS OF FOREIGN WARS: Serving and advocating for veterans, the military and local communities. Locations in West Chester, Downingtown, Kennett Square and Media. VFW.org.
Women & Girls
CHESTER COUNTY FUND FOR WOMEN AND GIRLS: Ensuring women and girls have resources and opportunities to thrive. 113 E. Evans St., Ste. A, West Chester. 484-356-0940; CCWomenAndGirls.org.
HOME OF THE SPARROW: Supporting single women and mothers experiencing or threatened by homelessness. 969 Swedesford Rd., Exton. 610-647-4940; HomeOfTheSparrow.org.
WINGS FOR SUCCESS: Providing work-appropriate attire for women seeking jobs. Offices in Frazer and Kennett Square. 610-644-6323; WingsForSuccess.org.
YOUNG MOMS: Helping young moms build thriving futures for themselves and their families. 111 Marshall St., Kennett Square. 855-964-6667; YoungMomsCommunity.com.
back to top