Main Line & Beyond
What is the Main Line? The traditional definition comes from the Pennsylvania Railroad. In the late 19th and early 20th century, the railroad's executives and their friends built "summer cottages" east from Bala Cynwyd and west to Paoli. It is—or was—basically a land of mansions, opulent gardens and country clubs served by the main line of the PA Railroad. Now there's the looser definition of the area used by real estate agents and others. It's broader, ill-defined, and includes Newtown Square, Chesterbrook, Malvern, Frazer and King of Prussia. Perhaps Main Line Adjacent? No matter how you define it, the Main Line is a distinctive suburb worth a driving tour or a visit, conditions permitting.
The Cottages and their Gardens
Some of the old railroad mansions and grounds are gone, carved into smaller estates and housing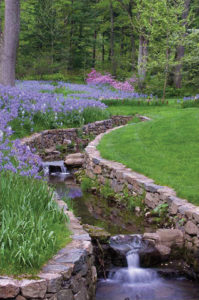 developments. But lovely examples remain.
On Dodd's Lane in Gladwyne, for instance, is the former home of Joseph Pew, founder of Sun Oil. Another, on Laurel Lane, belonged to Clement Griscom, an owner of the Titanic. Yet another, on Berwyn-Paoli Road, was owned by J. Gardner Cassatt, a relative of a president of the Pennsylvania Railroad and of artist Mary Cassatt.
And there are many others you can read about in The Main Line: Country Houses 1870-1930. Great house porn!
The mansions themselves are, of course, generally closed to the public but some have shared their gardens with the public, either free or for fundraisers.
The 12-acre Barnes Arboretum, now managed by St. Joseph's University, once belonged to Dr. Albert and Laura Barnes, donors of the Barnes Foundation. The arboretum in Merion has more than 2,500 varieties of plants.
The Haas family, of Rohm & Haas, donated Stoneleigh, their 42-acre estate in Villanova to Natural Lands. The gardens and main house blend horticulture, ecology and history based on designs by Frederick Law Olmsted's sons.
Jenkins Arboretum in Devon is home to many rare plants, including unusual azaleas, rhododendrons and kalmias. The Jenkinses weren't wealthy, but enjoyed the land immensely and bequeathed it to the community. Noted landscape architect George Patton developed the site plan.
Wayne's Chanticleer Garden was donated by Adolph Rosengarten, head of Merck Pharmaceuticals, and his wife, Christine. On the National Register of Historic Places, it consists of a dozen separate gardens, an open-air porch, and includes more than 5,000 plants. It's been called the "most romantic, imaginative, and exciting public garden in America."
We suggest you see them all for yourself.
Bicycling in Montgomery County
History, art attractions, trails, shopping, restaurants, breweries and wineries … If you're thinking of touring the Main Line by bike, now is a great time! The Valley Forge Tourism and Convention Bureau has posted 8- and 14-mile routes on ValleyForge.org for cycling the inner Main Line—basically Bala to Ardmore—and promises more to come. Do it now while the traffic is still light!
Golf and Cricket Clubs
Ardmore's Merion Golf Club's East Course, the five-time site of the U.S. Open, is ranked 7th in the U.S. and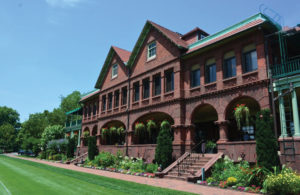 14th in the world and is maintained in virtually the same condition as when it was created in 1912—including the colored wicker baskets (instead of flags) to mark the holes. Many great players—Bobby Jones, Ben Hogan, Sam Snead, Phil Mickelson, Jack Nicklaus, Arnold Palmer, Tiger Woods—have played there. With about a $70 thousand initiation fee and $6 thousand in annual dues, that's only the beginning of getting in—you'll still have to get a member referral. It's all about tradition.
The Merion Cricket Club is over 150 years old. Like many Philadelphia area buildings—the Pennsylvania Academy of Fine Arts, the Baldwin School (formerly the Bryn Mawr Hotel)—it was designed by Frank Furness. It's hosted cricket, squash and tennis tournaments of state and national caliber, as well as croquet and paddle tennis plus events and galas in its grand ballroom.
Though it's hosted a few, the Philadelphia County Club in Gladwyne reportedly eschews big-name golf championships, styling itself as a "family place." Besides golf, it sports a beautiful swimming pool, tennis, paddle and squash courts—it's hosted international squash tournaments—trap and skeet shooting, a fitness center, four dining rooms, a bridge club … and a hefty admission fee. Historical note: Grace Kelly announced her engagement to Prince Ranier III of Monaco at PCC's Bala facility, a year before it moved to Gladwyne.
TIP: In October, Aronomink Golf Club in Main-Line-adjacent Newtown Square will host the KPMG Women's PGA Championship, adding to its long list of championships. Gary Player, Jack Nicklaus, Tom Watson and Arnold Palmer have played the course. Designed in 1926 by Donald Ross, it's ranked #9 in the U.S. and #36 in the world by the Platinum Club.
King of Prussia Mall
Minnesota's Mall of America wins with 2.9 million feet of space. But at 2.8 million square feet, the KOP Mall is America's second largest and a major shopping hub and attraction.
But what will our future mall experiences be like? Will our favorite stores be open? Time will tell. Some stores with exterior doors have started opening at press time. Keep checking the websites for updates.
Early news reports from parts of the country less affected by the pandemic where malls have reopened, show food courts with less seating, floor decals showing traffic flow, fewer entrances and limits on the number of shoppers (1 per 50 square feet). Masks, contactless payment and frequent sanitizing are also likely.
So, shop local?
Valley Forge National Park
George Washington slept here. Really. In fact, he had a nice house: a two-story affair. His 12,000 soldiers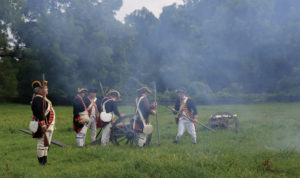 meanwhile slept in dirt-floor log huts, 12 to a cabin, about 1,800 of them. Many replicas of the Revolutionary War quarters have been built. Go for the history.
Another reason to visit the park is for the space and nature. The Valley Forge National Park offers 3,500 acres of rolling hills and green space, ideal for jogging, biking and enjoying. And remember: the heroes of Valley Forge did it for you.
back to top