Main Line and Beyond
Main Line homes, schools, country clubs, public gardens, shopping, dining and general lifestyle make it a very nice place to live and visit.
The Main Line is still a storied place—especially for real estate brokers—though many of its finest estates have been torn down or surrounded by somewhat smaller homes. (See our article "Found Mansions on the Main Line" in our May issue.)
One simple way to get to know the Main Line is to take the SEPTA R-5 train, now known as the Paoli-Thorndale line. As you head west from Philadelphia, recount the mnemonic "Old Maids Never Wed And Have Babies" as you pass the stops for Overbrook, Merion, Narberth, Wynnewood, Ardmore, Haverford and Bryn Mawr. That leaves out Gladwyne, Villanova, Wayne, Devon, Malvern and Paoli among others that have laid claim to Main Line status.
We won't attempt to settle the dispute here. Let's just note that Main Line homes, schools, country clubs, public gardens, shopping, dining and general lifestyle make it a very nice place to live and visit.
From City Line to Ardmore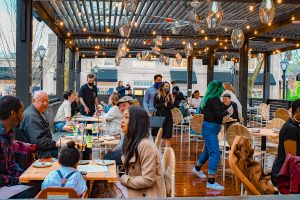 An easy way to visit the Main Line is to drive along Lancaster Pike, aka Route 30, picking it up at City Line Avenue and heading west.
First you'll see St. Charles Borromeo Seminary, which, at 75 acres, was one of most valuable piece of undeveloped land left in the area. In 2019 it was sold to Main Line Health, which owns Lankenau Hospital across the street. Plans for the property have not been disclosed.
About a mile down Route 30 is Ardmore. To the north, across the train tracks, is Suburban Square, one of the country's first outdoor shopping centers. Strawbridge & Clothier opened in 1930, but was replaced with a 70,000-square-foot athletic club in 2017.
Suburban Square now has more than 72 stores, including a farmer's market, Trader Joe's and more. Recently opened Lola's Garden is a trendy spot from the folks from Morgan's Pier and Harper's Garden. Its popular indoor/outdoor dining space seats 237 and is committed to sustainability with local food and a lineup of PA beer, wine and spirits.
To Haveford, Bryn Mawr, Villanova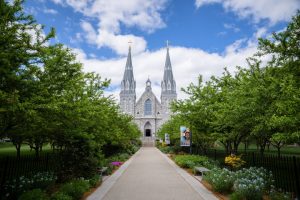 Next up are three college towns. Haverford College's campus has an idyllic duck pond and three-mile nature path, while Bryn Mawr College boasts one of the best sledding hills and striking dorms built by Louis Kahn. A Frank Furness-designed building at Montgomery and Morris Avenues is not part of the college, but is the Baldwin School, a top girls prep school.
The town of Bryn Mawr is stretched along Route 30 and consists largely of small shops and an international array of restaurants—Chinese, Japanese, Thai, Indian, Italian, Mexican and others.
You can't miss Villanova University, with its 260-acre campus marked by the twin spires of St. Thomas of Villanova Church. The stadium and gym are on the east side of campus. Inside the gym, the halls are lined with trophies of the school's athletic conquests. Keep your eyes peeled for the champion basketball team. If they're around, you'll notice them—they tend to be almost 7 feet tall.
The University's new-ish three-theater Joan and John Mullen Center for the Performing Arts is currently closed due to the pandemic, but should open in the fall.
On to Wayne & Devon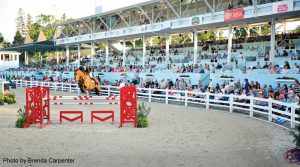 Known for its assortment of boutiques and many restaurants—Teresa's, Christopher's, Margaret Kuo's, White Dog—Wayne is worth a stop. Don't miss new-ish Rosalie, featuring Italian soul food, at the Wayne Hotel. This historic hotel was built in 1906 and hosted notables such as Norman Mailer, Jack Nicklaus, M. Night Shyamalan, Bruce Springsteen and Stanley Tucci.
At Eagle Village Shops, you should stop at the lovely Valley Forge Flowers for all things garden related. There are also several boutiques and interiors shops to browse. Again, you'll encounter some outstanding eateries, including Autograph Brasserie and Taste of Britain tea room.
Continue west and you'll come to a sky blue arena and a major landmark on the left: the Devon Horse Show grounds. If there's no current horse show, you can peek inside by turning left at Dorset Road.
For eleven days in most Mays (its been on hiatus the past two years), equestrians from around the world perform there at the Devon Horse Show and County Fair. In July, there's the Summer Series and Brass Ring; in September and October, the Devon Fall Classic and Dressage at Devon. A special place for equestrians.
End at Area Parks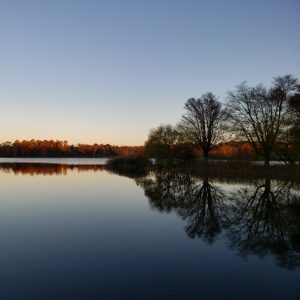 Valley Forge National Historic Park, where George Washington and the Continental Army spent the winter of 1777-78, is now a premier outdoor destination in the National Park System. It's a great place to walk or bicycle: 3500 acres of history and nature between the Schyulkill River and Valley Creek. Learn about our troops and about the park's 225 species of birds and 730 species of plants.
Farther west are two popular state parks. Marsh Creek State Park, near Downingtown, is 535 acres of tranquility with nearly 20 miles of trails, mostly open to horseback riding and mountain biking, a huge swimming pool, plenty of areas for picnicking. You can rent sailboats, kayaks, paddleboards and more.
French Creek State Park, near Douglassville, is on over 7700 acres, with 35 miles of trails and includes two lakes for fishing: 22-acre Scotts Run, stocked with trout, and
68-acre Hopewell, designated as a big bass lake. Rent boasts or cabins for overnight stays and play some Frisbee Golf!
Just a few of the wonderful places to enjoy a day in the country!
back to top