Look! A Hawk! A Kettle of Hawks!
Photos courtesy of David Brown, Bill Moses and Hawk Mountain Sanctuary
It's a short trip to visit Hawk Mountain.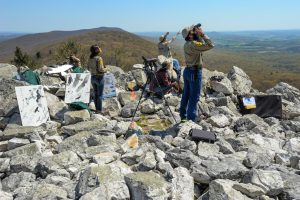 Called the Kittatinny — it means "endless mountain" in the language of the Lenni Lenape — the ridge runs northeast to southwest, extending 300 miles, starting 60 miles north of New York City to 20 miles west of Chambersburg, Pennsylvania. Every fall, from August through December, thousands of raptors — about 18,000 in all in an average year — cruise south along the ridge, often at eye level, riding thermals, seeking warmer climes for the winter.
You can visit the Kittatinny, too. The ridge is about an hour and a half drive north from West Chester. Now called Hawk Mountain, the area has been preserved as the world's first refuge for hawks.
Nearly 90 years ago, a New York conservationist named Rosalie Edge bought 1,400 acres — now increased to 2,600 acres — along the ridge, after having seen photos of the slaughter done there. Hunters had been shooting the birds for sport. The killing was stopped immediately. A few years later, Edge deeded the property to the Hawk Mountain Sanctuary.
Sanctuary Operations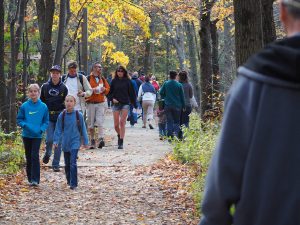 Today, Hawk Mountain Sanctuary is the site of the longest-running raptor migration count in the world, reaching over 3,000 birds in a single day. Since 1934, the Sanctuary and its bird-counters have kept records for 24 species, including hawks, eagles, falcons, osprey, kestrels and kites. Visit their website for a complete list, HawkMountain.org.
The Sanctuary, led by its president Sean Grace, has a small staff of 20 full-time and 15 part-time employees, as well as interns and trainees. It's also visited by scientists, who stay for a week to several months or longer and have produced over 400 publications — "an incredible output for a small conservation organization," says Grace.
Last fall, over 20,000 birds were counted, including about 12,500 broad-wing, 3,600 sharp-shinned and 1,300 red-tailed hawks. In all, for the fall migration of 2022, 19 species of raptors were spotted by the Sanctuary's staff, trainees and volunteers.
Hawk-Watching on the Mountain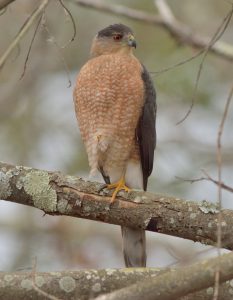 Head to the mountain this October for a unique bird watching opportunity. David Brown, a professional hawk watcher, says, "The best days to visit Hawk Mountain in the fall are days with northwest winds after a cold front. The wind hits the Kittatinny Ridge and is deflected upward, allowing raptors to glide along the top of the ridgeline with minimal effort." He suggests mid-to-late morning as prime time for seeing the hawks.
Check the weather before you go. Rain, fog or snow are never good for hawk-watching. Not so good for a walk in the woods either. There's about a mile of hiking to get to the North Lookout, longer for more remote views. On the other hand, the South Lookout is only about 175 yards past the entrance.
Bring binoculars, sunscreen, bug repellent, food and water. "A cushion can make sitting on the rocks more comfortable," advises Brown. Dress warmly and dress for a hike. If you've got one, bring a camera with a very long lens.
Hawks to See
The first thing you should know about hawks is that there are several types. We'll only describe a few here, focusing on the most common types found at Hawk Mountain. These include the broad-winged, red-tailed and sharp-shinned hawks. And this article will also largely ignore several other raptors — eagles, falcons, vultures and others — known to fly past Hawk Mountain.
Broad-Winged Hawks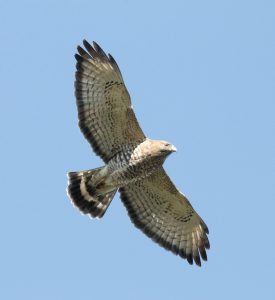 The adult broad-winged hawk is a relatively small bird, about 14″ to 17″ in length, with a wingspan of 32″ to 39″. Its head is reddish-brown, as are its wings from above. From below, this hawk is white or pale gray, with a brown strip bordering the trailing edge of its wings. Its tail is banded brown and white.
It's estimated that there are over a million broad-winged hawks, living primarily in forests, often near water, feeding on mice, birds, lizards, snakes, large insects and small fish. These hawks summer in Canada and the Appalachians and winter in Central and South America.
Until they migrate.
Last year the broad-winged hawks passed Hawk Mountain in early September to mid-October. Their "kettles" — that's what their massive gatherings are called — are huge. In 2022, over 12,000 were counted during a five-day period in September. But only 17 were counted that year during the rest of the season.
Sharp-Shinned Hawks
In 2022, the sharp-shinned hawks started migrating about the same time as the broad-winged (late summer), but these hawks continue to migrate past Hawk Mountain through the end of October and occasionally into November. This is a widespread species. The population decreased during the DDT years (mid-1940s to 1972) but has since rebounded somewhat. Summering as far north as Alaska, these hawks are estimated today to constitute over a million birds in the Americas.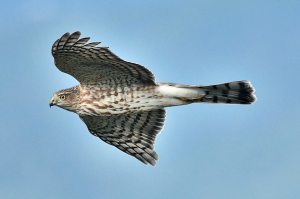 The sharp-shinned is tiny for a hawk, just 10″ to 14″ in length, with a wingspan of 17″ to 23″, though the females, like hawks in general, are about a third larger than the males. Gray and brown from above, this hawk is reddish-brown, speckled with white, from below. A sharp-shinned, as its name suggests, has very thin legs. In flight, they are very agile, preying on small birds.
Come October, large kettles of the "sharpies" migrate past Hawk Mountain, though their kettles are smaller and more dispersed over the season than the broad-winged. If you're patient, you can spot one in most years throughout November and until December. You'll see primarily adult sharpies, as the juveniles tend to migrate earlier and hug the coastline.
Red-Tailed Hawks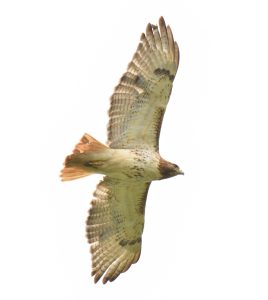 The red-tailed hawk is the largest of all the hawks, growing to over two feet in length, with a wingspan of about 4.5 feet. Diving, it can reach 120 miles per hour. To see one at close range is alarming!
From above, the red-tailed's feathers are dark brown or dark gray. Its underbody is lighter, outlined by brown and gray. Except for its distinctive tail feathers, which are — you guessed it — red.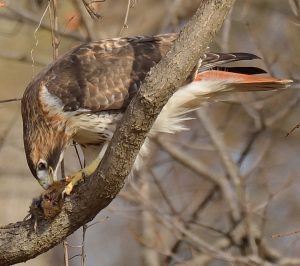 Common and familiar to even casual bird watchers, the red-tailed is found throughout North America. Known for their effortless soaring, they're often seen circling high in the air or sitting atop utility poles. They eat small mammals (mice, rabbits, moles) and snakes, toads and insects.
The red-tailed's migration is less concentrated in time — they don't fly south unless pushed by the snow. And their movement tends to occur later in the season than the broad-winged or sharp-shinned, though a lone bird may be spotted throughout the fall season. The best time to see a red-tailed is late October through early December. In 2021, for instance, more than a hundred were spotted during the last week of November.
Other Species, Some Endangered
Many other species of raptors will pass Hawk Mountain. The broad-winged and red-tailed populations are doing well of late. Bald eagles and peregrine falcons, once endangered, are also growing in numbers. Ospreys, also once endangered, are now off the endangered species list, although they may be slipping back on it again. The sharp-shinned and American kestrel are both declining slowly in numbers.
The northern goshawk, however, is in peril. Only one confirmed goshawk nest was located in 2022, down from about a hundred a quarter-century ago. It's not a good trend.
Meanwhile, however, treat yourself to the spectacle in the skies. Get out your hiking boots and binoculars, and make the trek to Hawk Mountain. Find a spot on the rocks. Mountain scenery, autumn colors, cool air. You'll be glad you did.
IF YOU GO:
Where: 700 Hawk Mountain, Rd., Kempton, PA
Prime Viewing Spots: Parking for the South Lookout is 175 yards from the entrance, or take a one-mile hike to the North Lookout for a better view.
When: Open year-round
Admission: $10, $7 for seniors, $5 for kids
Information: At the Visitors Center. 610-756-6961; HawkMountain.org.
back to top