Local Heroes: West Chester Food Cupboard
Because no one should go hungry!
Crisp green beans, juicy turkey in gravy, fluffy mashed potatoes and, of course, Grandma's special stuffing. Thanksgiving is around the corner, and many Chester County residents' mouths are already watering, thinking of the bounty to come.
Yet that reality is not shared by all our neighbors. According to the national anti-hunger organization Feeding America, in 2018 more than 43,000 individuals in Chester County experienced food insecurity. In the following years, the pandemic's economic impact has left thousands more Chester County residents struggling to put enough food on the table.
Fortunately, our area has service organizations working to end food insecurity throughout our county, not just at Thanksgiving but all year long.
For our Local Hero, we highlight the work of the West Chester Food Cupboard and their mission to provide fresh food and personal care supplies to those in need.
How They Started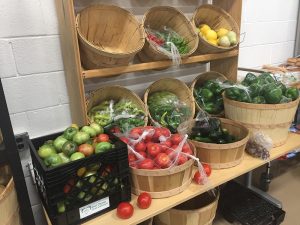 In 2009 a food cupboard previously run by Chester County Cares made the difficult decision to close their doors. Dismayed volunteers knew the resources that food cupboard provided were too valuable to lose, especially for families that depended on their support throughout the year. The volunteers banded together to open and run a new food cupboard themselves. And so the West Chester Food Cupboard was born.
Each year the number of volunteers increased, along with donations, as the community generously contributed to provide for the needs of low-income residents struggling to feed their families.
The Food Cupboard's considerable growth (now with over 200 volunteers), led to their big move in 2017 to an upgraded location on South Bolmar Street with twice the space. This large facility allows clients to stroll the aisles and shop as they'd do in a grocery store.
Despite changes over time, the Food Cupboard has stayed true to their roots—100% volunteer-run and no paid staff. The mission of providing fresh and nonperishable food to those in need continues, along with their new open-door policy to include all PA residents in need.
What they do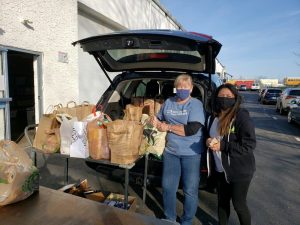 During client hours you'll find hardworking volunteers throughout the Food Cupboard, greeting clients, collecting orders, packing carts and distributing food. Each volunteer sports a light blue t-shirt with the message "because no one should go hungry!" accented with a huge smile visible even when wearing a mask.
"We see it as our responsibility to help [our clients] and serve them with a smile, dignity and respect," says Rob Necarsulmer, the organization's vice president.
Pre-pandemic, Food Cupboard clients could come in and browse the aisles. But with current safety precautions, the group pivoted to drive-up services where volunteers take clients' orders, collect items and bring the groceries to the client's car.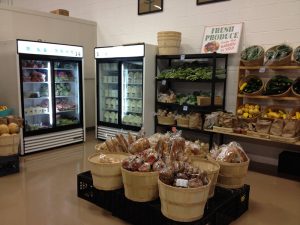 The Food Cupboard puts an emphasis on making healthy options available—not just canned goods—with a wide variety of fresh produce donated from local farms, including Pete's Produce and Rushton Farm. Plus clients can pick up everything from non-perishable products and pantry staples to personal care supplies like toilet paper and feminine care products.
Currently the Food Cupboard supports about 2,000 families and has distributed 1.2 million pounds of food and personal care items as of last year.
And with families to serve each week, volunteers have plenty of jobs to do. Some work directly with clients—getting information and gathering groceries. Others work unpacking produce, unloading trucks and driving. And of course, there's the cleaning, sanitizing and overall maintenance of the building to handle as well.
"It's like running a small business," explains Necarsulmer. "There are bills to be paid, inventory to be counted, donations to be processed, customers to help. And we do all of that."
Reaching Further
Helping the community isn't confined to the walls of the Food Cupboard's facility.
Volunteers take part in several outreach programs including the Food Cupboard's collaboration with the Mighty Writers El Futura, a nonprofit group supplying academic support in West Grove.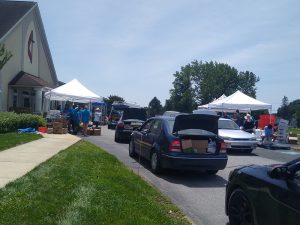 In the early stages of the pandemic when schools closed their doors, many students were left without the lunch the school provided, which for too many was their main meal of the day. Instead those children were at home with a family already struggling to provide enough food for everyone. Many students attended virtual classes hungry. This lack of food led to students losing focus in class and falling behind on their schoolwork.
Mighty Writers realized early on that students weren't going to succeed in their classes if they didn't have enough to eat. And that's where the West Chester Food Cupboard came in.
The Food Cupboard extended their reach by making weekly trips to West Grove to supply food for the Mighty Writers' distribution plan. This new program provides lunch to more than 200 children on Mondays and Wednesdays, while Fridays are reserved for distributing food and household supplies to more than 200 families.
With the Food Cupboard's weekly outreach trips, they've assisted more than 335 families in need and helped keep students fed and focused for school days ahead.
In addition to their work with Mighty Writers, the Food Cupboard also helped keep 200 students fed through a variety of after-school programs. The Food Cupboard expanded its mission by offering an open-door policy to all Pennsylvania residents. The more families they can help, the better, they say.
"The personal connection is what it's all about," adds Necarsulmer. "There are smiles of joy and sometimes tears of relief, and those connections are why our volunteers are so loyal to the Food Cupboard."
How to Help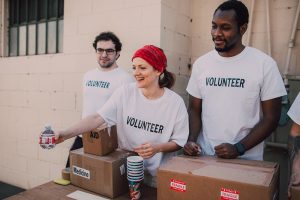 If you'd like to support the West Chester Food Cupboard—especially in the days, weeks and months after Thanksgiving that remind us of the pressing problem of food insecurity—there are several ways to help. To volunteer, Necarsulmer recommends visiting their website to learn more and contacting them by email at wcfood@gmail.com.
Can't make the time commitment? Consider donating money and food. Financial donations allow the Food Cupboard to purchase exactly what they need to stay open, while food donations keep the cupboard stocked and ready to help beyond the Thanksgiving season.
Our community benefits 365 days of the year from the helping hands at the West Chester Food Cupboard, and so we honor them as this year's Local Heroes.
To volunteer, donate or get more information, go to WestChesterFoodCupboard.org.
Become a Local Hero
Turn your compassion into action and volunteer!
We hope you'll be inspired by our November Local Heroes article and join one of the many groups in our area making a difference. If you're not sure where to start, check out the local organizations below that focus on fighting food insecurity and homelessness and helping seniors in our area. Volunteer, donate or both!
Food Insecurity and Homelessness
Bridge of Hope: Bridge of Hope serves families in Chester County who are homeless or at risk of homelessness. The families that they partner with benefit from a network of volunteers, rental assistance and intensive case management as they work to achieve long-term stability. 1 N. Bacton Hill Rd., Ste. 100, Malvern. 610-280-0280; BridgeOfHopeInc.org.
Chester County Food Bank: The Chester County Food Bank is a hunger relief organization in our area working to end food insecurity. They work to provide food and build support in the neediest communities while raising awareness and engagement in the community. 650 Pennsylvania Dr., Exton. 610-873-6000; ChesterCountyFoodBank.org.
Family Promise of Southern Chester County: Family Promise is a program that works to keep families together when they are experiencing homelessness and provides meals, shelter, resources and mentorship to help them get back on their feet. Because every child deserves a home. 1156 W. Baltimore Pk., Kennett Square. 610-444-0400; FamilyPromiseSCC.org.
Friends Association: Friends Association provides emergency shelter and prevention services for families facing homelessness or housing instability in Chester County. At Friends, they build family well-being by meeting the needs of children and parents together. 113 W. Chestnut St., West Chester. 610-431-3598; FriendsAssoc.org.
Good Works: Good Works is a nonprofit organization founded in 1988 and dedicated to repairing homes and restoring hope for low-income homeowners in Chester County. The repairs include roof repair, plumbing installation and repair, electrical rewiring, insulation, and window and floor repair. Main office, 544 E. Lincoln Hwy., Coatesville. 610-383-6311; GoodWorksInc.org.
Habitat for Humanity of Chester County: This branch of Habitat for Humanity has helped over 150 families achieve their dream of homeownership. Their goal is to ensure homeownership is available for all by collaborating with families and individuals to build and finance affordable homes. 1847 E. Lincoln Hwy., Coatesville. 610-384-7993; HFHCC.org.
Seniors
Meals on Wheels: Meals on Wheels is a national organization supporting more than 5,000 community-based programs across the country dedicated to addressing senior isolation and hunger. Take part in their "Let's Do Lunch" initiative, which encourages people to skip their daily lunch routine and instead deliver one lunch a month to those in need. 404 Willowbrook Ln., West Chester. 610-430-8500; MOWCC.org.
Surrey Services: After 40 years of nurturing and growth, Surrey Services has grown into a strong community-based organization serving thousands of individuals and their families each year. Their mission is to help seniors live with independence and dignity. Multiple locations. SurreyServices.org.
West Chester Area Senior Center: Founded in 1975, the West Chester Area Senior Center is an independent nonprofit organization chartered by the state. They work to enrich the lives of seniors through friendship, activities, education and nourishment. 530 E. Union St., West Chester. 610-431-4242; WCSeniors.org. Find other senior center locations at Chesco.org/Senior-Centers.
back to top