Little Red Robin Hood: A Musical Panto
Photos by Mark Garvin
"One humdinger of a story!" at People's Light, November 13 to January 5, 2020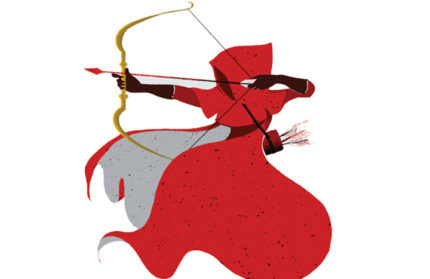 Fairytales collide in Little Red Robin Hood, a world premiere for People's Light's Panto this year!
Every holiday season, the Malvern theater stages a musical "pantomime"—a popular British theatrical tradition dating back to the 18th century. Typically, pantos take a favorite children's story like Snow White, Mother Goose or Jack and the Beanstalk and turn it on its ear. Familiar storylines form the basis for a musical extravaganza filled with outrageous characters, flamboyant costumes, original music, slapstick comedy and topical humor for both adults and kids of all ages.
Coming out of the commedia dell'arte, the Twelfth Night holiday and the Festival of Fools, the Christmas Panto remains the most popular theater form in Great Britain. In a single year, 19 pantos played in London along with 187 in the rest of the country.
Over the past 16 years, People's Light has tailored this British form into their own unique brand of holiday hilarity, attracting thousands of visitors each year. And for the first time ever, People's Light adapts not one, but two classic stories—the Robin Hood legend plus Little Red Riding Hood—to create a holiday show like nothing you've ever seen.
In the Panto, Robin Hood is dead, his Merry Men are in hiding and Nottinghamshire is taken over by greedy villainess Lady Nottingham. When young Amelia, a bow-wielding orphan raised by outlaws, is sent on a mission to save "the Granny in the woods" from Lady N's right-hand wolf, an epic adventure begins!
Set in the 1940s with a dash of the medieval, this hilarious, musical mashup is the most inventive panto yet to emerge from "the nation's primary creator of such specialized tomfoolery" (writes Newsworks).
Adapted from such source material as Howard Pyle's The Merry Adventures of Robin Hood, Grimm's Fairy Tales, the 1938 film The Adventures of Robin Hood, and more, Little Red Robin Hood combines elements from both folk tales with inspiration from 1940s gangster movies, the newspaper industry and current events.
Little Red Robin Hood marks the fifth People's Light Panto from the creative team behind fan-favorite Cinderella: A Musical Panto. Playwright Kathryn Petersen and composer/lyricist Michael Ogborn are joined by first-time Panto director Bill Fennelly, an award-winning director specializing in musical theater, whose work has been seen on Broadway, Off-Broadway and regionally.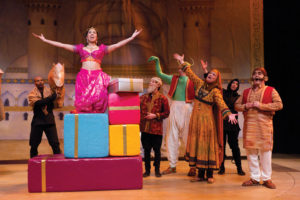 The cast is comprised of past Panto favorites Mark Lazar, Tom Teti, Susan McKey, Mary Elizabeth Scallen, Eli Lynn, Tori Lewis and Christopher Patrick Mullen, who are joined by newcomers Hanna Gaffney, Armando Gutierrez, Victor Rodriguez Jr. and Ebony Pullum, with Viveca Chow as Amelia (Little Red).
While Little Red Robin Hood delivers exciting new characters, music and adventures, People's Light audiences can expect those same signature Panto elements they know and love—the Dame, a boisterous yet benevolent matriarch played by a man in a fabulous dress, along with heroes to cheer, villains to boo, animal sidekicks, candy for the crowd, a "messy bit" and audience participation that brings everyone into the action.
Watch out, you might even get pulled onstage!
Every year, audiences of all ages gather in droves to enjoy the songs, dances, topical jokes and jovial camaraderie of this holiday celebration, only at People's Light.
If You Go
What: Little Red Robin Hood: A Musical Panto
Where: People's Light, Leonard C. Haas Stage, 39 Conestoga Rd., Malvern
When: November 13 to January 5, 2020
More Info: 610-644-3500; PeoplesLight.org.
Coming Soon: The Children, Shakespeare in Love
back to top