Learning to Live in the New Normal
New lessons for schools, parents and students
Our area's independent schools have shown the same high level of resilience in the face of recent events that they teach their students. A welcome sign in these times.
Even though it's been almost a year since coronavirus shut down our schools to in-person teaching and learning back in March 2020, school staffs spent the better part of the summer planning for a safe reopening. By September, most independent schools were ready for the new school year, but with changes.
And now, more than half way through the current school year, schools have learned important lessons.
Students Adjusting to the New Normal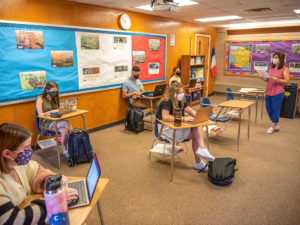 Schools have learned their students can and will adjust. They've had to. School facilities now are redesigned for socially distancing. In classrooms, students sit apart and wear masks. In hallways, movement is channeled along one-way paths. Between grades, students are often separated as well. Schools are doing their best to limit unnecessary contact and promote safety.
Students' schedules are also split—between in-person and virtual learning—as a precaution. And some students don't come to campus at all. Learning at home, using computers or by videoconferencing has become, for some, their primary way of interacting with other students and teachers.
In spite of this, independent schools have tried to maintain a level of community and togetherness. Rod Stanton, Head of School at the School in Rose Valley, for example, noted there is "limited opportunity for social connection" but continues, "our students … still exhibit a joy for learning. They act like children … Children are quite resilient, and we've tried to maintain a sense of normalcy, as best we can."
At West Chester Friends School, Head of School Brian Fahey notes, "The biggest missing piece is the social/emotional component of learning that's crucial in elementary education. Much of that happens in informal settings, such as class discussions, recess and quiet times during the day when children are interacting in a natural way."
"Socialization challenges" have also arisen at Archmere Academy, according to Gina Dzielak, its Marketing and Communications Director. She says many schools noticed "an uptick" of emotional and mental issues due to the isolation. Nevertheless, over time she's seen fewer issues.
Challenges for Young Students
In response to COVID, all our schools have adopted remote learning, using platforms like Zoom, Google Meets, videoconferencing and the like. And, as remote learning has become customary, it's also become more useful overall.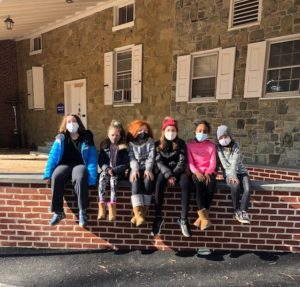 Special challenges do exist, however, especially for younger students. "We don't want children to be online all day," says Fahey at West Chester Friends. "Without question, the youngest students are most severely affected by having to learn online … but we rely on play and social interaction a great deal. That's harder to deliver in an online format."
Lori Yingling, Director of Marketing and Admissions at Upland Country Day School, says the "give-and-take between students and teachers online is not always as fluid as the classroom setting." She observes, "Remote learning presents more of a challenge with younger students, not only in the support they may need at home, but also for a classroom teacher simultaneously juggling an in-person class and online students."
At Delaware Valley Friends School, David Calamaro, Associate Head of School, has had concerns about the added demands on staff. Faculty have had to "teach two approaches at once," requiring additional emphasis on socialization and emotional learning. The result has been longer days and more exhaustion.
Page McConnell, The Tatnall School's Director of Marketing and Communications, agrees. "The teachers who have to prepare to teach in person and to our remote learners with every lesson—keeping all students engaged while masked and separated has added an extra level of stress for everyone." On the other hand, the faculty became more tech-savvy.
There's an Upside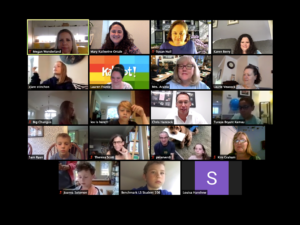 In general, all have been thankful for online technology in teaching. Most echo Natasha Solomon, Dean of Students at Linden Hall School for Girls in Lititz, who says that while students "miss their friends," online learning is a good compromise. She's "impressed by everyone's dedication to keeping our community safe."
Plus there are advantages to the broader use of online education. For instance, Alyce Callison, Director of Marketing and Communications at Benchmark School, reports that the "quieter students are opening up more." The school has explored creative online techniques, including using Zoom's polling features, launching an e-sports club, and having a "wildly successful Virtual Talent Show, cross-school games of Kahoot! [and] virtual contests and activities."
At Centerville Layton School, Elana Marks, who teaches reading and writing in middle school, says the "best part of teaching completely online is that students don't lose their papers anymore—everything is posted online!" She finds she can "build skills of maintaining a schedule, being punctual and becoming more comfortable using online tools." Especially gratifying, Marks adds feedback to student assignments while they work. "It makes the feedback so much more meaningful to the student."
Marks lauds the "interactive online activities and tools that help monitor the progress of each child. Since our classes are both online and in person simultaneously, class discussions can still happen. Students can be paired up with partners, talk together and ask each other questions regardless of their locations. It's pretty cool!"
Julie McNulty, an art teacher at Notre Dame Academy, has found an added benefit is the ease with which her students can make adjustments and improve their work. Her students may "receive feedback from me multiple times until they're happy with their creation and I'm confident they've learned the objectives of the project." The software she uses has been "a huge asset in this process, and made it much easier for me to have a 'conversation' with each student about their work."
Sports and Clubs
In general, during the pandemic, extracurricular activities—and particularly sports—have been significantly curtailed, if not cancelled. There are exceptions, particularly in Delaware, where the Delaware Interscholastic Athletic Association has allowed sports to continue.
Wilmington Friends, Tatnall, Archmere and St. Edmonds Schools have had relatively normal interscholastic sports seasons. Archmere has added "movie nights" in its efforts to promote a sense of community, while Tatnall is continuously looking for "safe methods to have the students come together, such as can drives and theme dress days."
In Pennsylvania, on the other hand, interscholastic sports have been cancelled. Instead, independent schools have provided in-person options to promote student health.
Coaches at Church Farm School provide training and exercise for students. "It was important for us to encourage outdoor activities as much as possible," says Stefanie Claypoole, Director of Marketing and Communications. "We continued to hold weekend activities … including bonfires, athletics, painting, a variety of board games, etc., while adhering to our rigorous health protocols."
The Westtown School has always maintained superb athletic facilities. For now, it puts greater emphasis on its strength and performance training than competitive sports. Similarly, athletes at Episcopal Academy, Haverford School, Malvern Prep, Baldwin School and Agnes Irwin School are largely training and planning for next year.
Teachable Moments in Current Events
The last year's teaching hasn't been only about the global pandemic. Church Farm School, for one, has found teachable moments in the legacy of Ruth Bader Ginsburg, the 2020 election, social justice and the Black Lives Matter movement.
Westtown School students have learned about mitigation, virology, epidemiology and development of therapeutics and vaccines, along with developing a greater appreciation for sound scientific reasoning. Art students captured the experience of quarantine orders in sketchbooks. Others discussed violence in the context of COVID-19.
Bottom Line
Although schools have struggled, they met the challenges. Independent schools retooled their buildings, reconfigured their classes, and reframed their curricular offerings and teaching methods. Parents, the partners in learning, have been understanding and supportive, taking comfort in their students' safety and health.
Students, for their part, have remained tolerant, flexible, resilient. In the words of Upland's Lori Yingling, they are as "happy as they have ever been."
back to top