Land Conservancies
A wealth of open space comes from private philanthropy.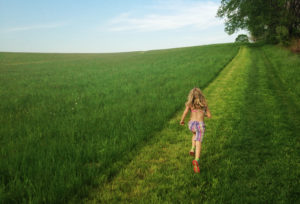 Private philanthropy has always been the heart and soul of the conservation efforts here in Chester County. Whether through personal giving, voter referendums or community support for government-led open space programs, Chester County is regarded as a leader in land conservation throughout the nation.
Before becoming Director of the Brandywine Conservancy, I was already aware of the preeminence of Chester County's conservation efforts from my experience as Secretary of the PA Department of Conservation and Natural Resources. Now that I live and work in the area, I've seen first-hand the conservation successes that were made possible by the astounding generosity and philanthropic giving of so many.
Early Organizing
Private philanthropy for conservation is what created the Brandywine Conservancy—then called the Tri-County Conservancy—as well as other conservation organizations. In 1967, a private company was planning to build a manufacturing plant in Chadds Ford that would have permanently altered the character of the community and created a negative impact on the environment.
A group of individuals—including the Brandywine Conservancy's co-founder, George A. "Frolic" Weymouth—rallied against this threat and organized to purchase the land and place it under conservation easement. Soon philanthropic landowners, including Harry G. "Hal" Haskell Jr., Jamie and Phyllis Wyeth, and Ford B. and Katharine Draper, joined the efforts to protect our area's critical land and drinking water, creating the beginnings of a conservation corridor along the Brandywine River.
First Philanthropists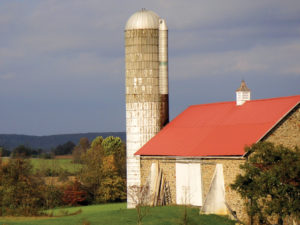 Stories like these are a reflection of the many conservation successes land trusts have achieved throughout the County. "We have witnessed firsthand the power that philanthropy plays in saving threatened places especially when time is short, and the stakes are high," says Blaine T. Phillips Jr. of The Conservation Fund.
Of the many major philanthropists whose land contributions have forever impacted the Chester County landscape, stories vary from John C. and Chara Cooper Haas, who donated their beloved 170-acre Waterloo Mills property to the Brandywine Conservancy to be forever protected as a preserve; Gerry and Marguerite Lenfest, who donated their 1,000+ acre property to Natural Lands to become what's now the ChesLen Preserve; and George Saalbach and Horatio Myrick, who contributed their 225-acre Saalbach Farm to the Brandywine Red Clay Alliance, becoming what's now part of its Myrick Conservation Center.
"These individuals donated their expansive lands with no direct benefit to themselves, just the assurance that these properties would remain much the same as they were," notes Jim Jordan, Executive Director & CEO of the Brandywine Red Clay Alliance.
Community-led philanthropy also has a far-reaching impact in this region. "Our community of conservationists has provided extraordinary levels of support for our initiatives," says Bonnie Van Alen, President and Executive Director of Willistown Land Trust. "In Willistown, the community has funded everything from an endowment for conservation interns, to a dedicated garden growing crops specially planted for the Chester County Food Bank, to an international electronic bird migration tracking system, as well as nature education programs for students of all ages."
King Ranch
One of our region's biggest community success stories was the protection of the land around Unionville. Still referred to today as the "King Ranch" lands, this property was previously a 10,000-acre, Texas-based cattle farm of the same name. When it was decided to shut down farm operations in Unionville, there was great uncertainty about the future of the land.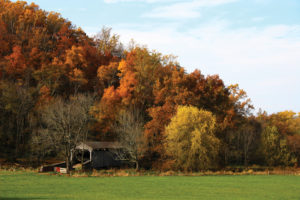 As rumors abounded about its fate—from being considered as a future theme park site to flooding the land to make way for a dam—the community rallied together to purchase and conserve the land with the help of the Brandywine Conservancy. Today the area is home to 43 square miles of contiguous and protected open space.
Support for Conservation
Whether it's an individual landowner or a community-led protection effort, there are a myriad of reasons people support conservation in the County. "A strong connection to the land is often a catalyst for conservation," notes Bill Gladden, Executive Director of French and Pickering Land Trust. "Whether that's based on a history of living in the area or a desire to preserve the sense of place that attracted them to the location in the first place—as was the case with The Thomas P. Bentley Nature Preserve that we recently opened to the public in Northern Chester County."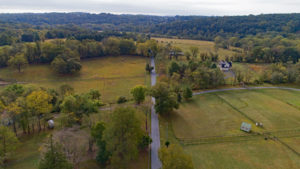 For some it's the idea of preserving the beauty of the landscape that's their main motivation. And it's easy to see why beauty is often at the heart of decisions to conserve land. One only needs to take a drive along the quiet, winding roads of Chester County to encounter its stunning vistas of rolling hills and valleys, contemplative views, rich agricultural lands and the omnipresent Brandywine River and tributaries.
As the late John C. Haas noted of his Waterloo Mills property, "It's beautiful land and just driving by is nourishing. We have a deep satisfaction knowing that people will be able to use it for years to come."
Another key factor that often motivates landowners to conserve their land is a desire to preserve what has been in their family for generations. This was certainly the case of the Haas family and their Villanova home, Stoneleigh, which had been in their family for three generations. "After their parents placed the property under conservation easement two decades ago, the Haas children decided to go a step further and gift the property to Natural Lands," says Oliver P. Bass, President of Natural Lands. "Stoneleigh: a natural garden, is now open to the public free of charge to all."
Community Partners
Partnerships between land trusts, community groups and local government is also a driver of conservation in the County. "While municipal help was involved, the acquisition of Stateline Woods Preserve—now one of the most popular woodland preserves in the area for its trails, meadows and wildlife watching—was largely due to overwhelming support coming from a local community group," notes Todd Pride, Managing Director of The Land Conservancy for Southern Chester County.
Combined together, these efforts to preserve key natural, cultural and historic resources have had a direct, positive impact on the environment and the quality of life for all citizens and wildlife.
Bountiful benefits
Without the conservation accomplishments that have protected the character of Chester County as we know it today, one can't help but wonder what this landscape would have looked like had suburban sprawl been left unchecked. The environmental impact alone of Chester County's protected lands has served us all in both tangible and intangible ways.
Studies have shown that open space promotes cleaner water and air, which we all benefit from every day. It also reduces the hidden costs associated with development, both to people and the environment.
Today, thanks to the work of the land trust community, residents and local government, nearly 30% of the County is protected open space—totaling over 140,000 acres of parks, historic sites, agricultural and privately held lands. Over time these cumulative efforts have resulted in the overall beauty and preservation of the Chester County we call home. 
Local Land Conservancies
The Brandywine Conservancy protects water, conserves land, preserves historic sites, and engages communities. As one of the oldest land conservation organizations in the state, the Brandywine has facilitated the permanent preservation of more than 66,000 acres of open space to date. Brandywine.org/Conservancy
Brandywine Red Clay Alliance is the oldest small watershed organization in the country, celebrating its 75th anniversary this year. It concentrates on watershed conservation efforts and environmental education for school children and adults. BrandywineRedClay.org
The Conservation Fund is a national nonprofit organization that has protected over 8 million acres across the country, including more than 140,000 acres in PA and over 18,800 acres in DE. The Fund works closely with public and private partners to permanently protect America's land and water legacy. ConservationFund.org
French & Pickering Creeks Conservation Trust is a community-based organization whose mission is to preserve, steward, and connect people to the land in northern Chester County. FrenchAndPickering.org
The Land Conservancy of Southern Chester County is a regional conservation organization focused on land protection and stewardship, historic preservation and STEM-focused environmental and wildlife education to encourage the next generation of diverse stewards. TLCforSCC.org
As the Greater Philadelphia region's oldest and largest land conservation organization, Natural Lands has preserved more than 125,000 acres, including 43 nature preserves and one public garden totaling more than 23,000 acres. NatLands.org
Pennsylvania Land Trust Association helps people conserve land by defending and improving conservation law and by providing organizations and local governments with models, guides, training, and technical assistance to accomplish conservation effectively and efficiently. ConserveLand.org
In addition to conserving land in Chester County, Willistown Conservation Trust takes a unique and integrative approach that uses our protected land for research, education, and outreach programs in bird conservation, agroecology and regenerative farming, watershed protection, and habitat management. WCTrust.org
back to top