Lancaster Unplugged
Photos by Discover Lancaster
No matter your family's vacation style, Lancaster has a no-device-necessary day for you!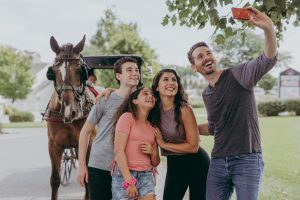 A horse-drawn buggy edges down the road, slowing your car and the traffic behind to a speed not seen for a century. You have entered Lancaster County, home to one of the oldest Amish communities in the country. While Lancaster retains its reputation as a sleepy destination bound to another time, there's a surprising amount of activity going on here.
From back-in-time tours to roller-coaster thrills, miniature horses, ziplines and enough putt-putt golf to support a windmill-filled PGA, Lancaster has something for every family vacation style — from the thrill seekers to the chill seekers. Not only that, it's an easy drive from Chester County.
Sometimes it takes a literal roadblock to get us to take a beat in our hectic lives and slow down.
One with Nature
Time spent surrounded by nature's wonders can be an excellent way to recharge those internal batteries. Get your bearings on the 14-mile Northwest Lancaster County River Trail, which traces the Susquehanna River northwest from Columbia to Falmouth. Then hike up the short (0.5 miles) but rewarding Chickies Rock Overlook Trail for a spectacular view of the river and the rural landscapes beyond.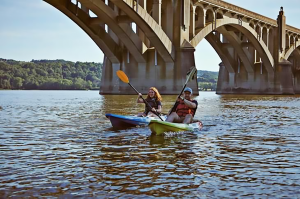 After seeing it from above, get up and close and personal with Pennsylvania's second-longest river. Kayak LanCo will help you build a water tour customized to your family's skills and confidence in the water. Their Conestoga River Tour is a good option for adventurers of all ages.
Have anglers in the family? Then you'll want to carve out some fishing time. For something different, arrange a wade trip with an expert guide to help navigate your group through famous fishing streams to a truly immersive experience. Guide and gear provided — just remember your fishing license for casters over 16.
If your family is still going strong after a morning of hiking and an afternoon on the water, get out those bikes and tackle the county's popular 29 historic covered bridges bike tour. Visit the Discover Lancaster website for details (and you can drive it, too).
Adventure Seekers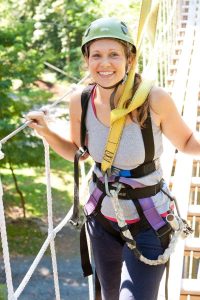 If your family likes a thrill, you probably already know Dutch Wonderland, Lancaster's award-winning theme park. But have you checked out Cherry Crest Adventure Farm? Just outside Paradise (got to love those Lancaster town names), Cherry Crest is part amusement park, part farm tour, plus 25 acres of low-tech family fun. Conquer the Amazing Maize, climb the Straw Bale Tower, or visit the chick hatchery. And pull up a feed sack and slide down the Straw Bale racer.
Another must is a stop at Refreshing Mountain Zipline. Take in stunning views while zipping high over Lancaster County farmland. Choose from three different zipline courses and other challenges, like the 22-element elevated obstacle course.
Aspire to even greater heights? Then Lancaster Balloon Rides is for you. The hot air balloons rise nearly a mile in the air, delivering a spectacular view of the rolling countryside.
Know-It-All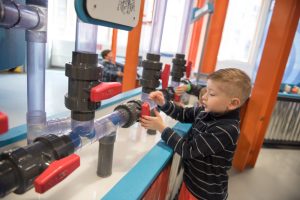 Does your family live by the motto, "you learn something new every day?" Lancaster can help you meet your daily quota and then some with a variety of hands-on educational experiences.
Start at the Lancaster Science Factory in downtown Lancaster City. The museum features 75 interactive STEM exhibits for kids in grades K–8. Plan at least two hours here as the kiddos work their way through the exhibits.
Note: the museum is free on the first Friday of each month and is a short walk from the Lancaster Brewing Company, so you can make an evening of it.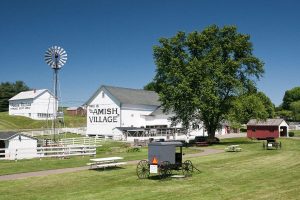 Another fun learning experience is the Landis Valley Village & Farm Museum, which provides an authentic look at early Pennsylvania German life. For something unique, plan ahead and reserve space in a one-of-a-kind class — Basic Bake Oven Cooking or Intro to Blacksmithing.
And what would a trip to Lancaster County be without a look at Amish life? As you head west past Soudersburg, take a left onto Route 896 and drive to Amish Village. Settled on 12 acres, the Village ground provides an insider's look at, and appreciation for, a way of life that has changed little over the last 300 years.
Animal Lovers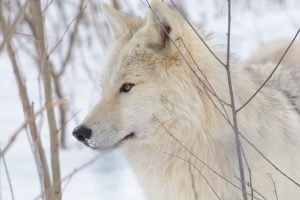 For animal lovers, Lancaster offers several ways to see nature's creatures, starting with the big, bad wolf. Kidding. Wolves are majestic creatures with a storied if sometimes misinformed history. The Wolf Sanctuary of PA, the 80-acre home in Lititz to more than 50 gray wolves and wolf dogs, is committed to correcting that story. This nonprofit sanctuary's mission is to ensure this endangered species is around tomorrow. As their website says, "Extinct is forever."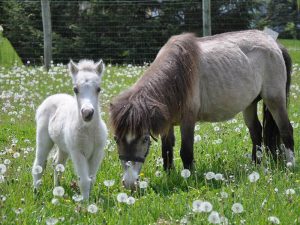 Not sure little legs will be up for a wolf adventure? Let Eastland Alpacas introduce you to the gentle, lovable alpaca. After your tour, stop by the Farm Store Boutique and commemorate your visit with a pair of cozy socks. Fiber from the alpaca, similar to that of a sheep, can be woven into a variety of products.
Note: both Wolf Sanctuary and alpacas require you to book a tour ahead of time.
Another option is the Lancaster Miniature Horse Farm. Admission to the farm and petting zoo is free. Miniature horse rides are $7 per child.
The Competitors
While some families like to stroll, others like to score. If that sounds like your crew, Lancaster County offers plenty of ways to one-up each other, starting on the putting green. Among the many traditional miniature golf courses, Village Greens is a local favorite. Tucked among 13 acres of countryside gardens, Village Greens weaves two courses — one 18 holes and one a challenging 23 holes — through spring daffodils, natural obstacles and a dramatic waterfall.
To watch some competition, put away your tiny pencil and catch a game at Clipper Magazine Stadium, home to the Lancaster Barnstormers — or "Stormers" as they're known to their fans. Did you know Clipper Magazine Stadium has been voted Best MLB Partner League Ballpark for three years in a row? Now that's something to brag about.
Family Foodies
Home to the Pennsylvania Dutch and the country's largest Amish population, Lancaster has more than a few local delicacies to try. Shoo fly pie, anyone? A stop at any farm stand will provide a good selection of local treats, but maybe you want to get the backstory on your favorite goodies.
Pennsylvanians' obsession with pretzels can be traced back to their German heritage. German immigrants who settled here in the late 18th century would bake the twisted dough treats at home, just like their ancestors.
That was until Julius Sturgis decided the savory treat deserved a larger audience and opened the country's first commercial pretzel bakery in Lititz. The Julius Sturgis Pretzel Bakery is still open for tours and pretzel-twisting lessons. The region is so pretzel obsessed they host an annual Lititz Preztel Fest on the first Saturday in May.
Next, wash down that dough with farm-fresh milk. Kreider Farm Tour has an inside look at modern dairy farming. Kids, and maybe adults too, will be amazed at the journey milk takes before it hits their cereal bowls each morning. It's worth a visit just for the look on the kiddos' faces when they taste real farm-fresh milk for the first time.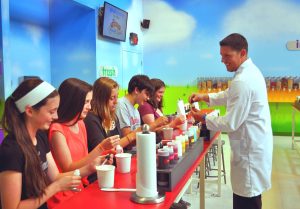 Continue your dairy journey with a trip to the Turkey Hill Experience. Located 30 minutes west of Lancaster City, near the banks of the Susquehanna River, the Turkey Hill Experience invites you behind the scenes of one of the country's most popular ice cream brands. While you're there, design your own virtual ice cream flavor, milk a mechanical cow and star in your own TV commercial. Plus, each tour comes with samples!
While your brain is buzzing with plans and ideas for your next family outing, remember the real joy of Lancaster is in the doing. So, get ready to slow down, unplug and enjoy the wonder.
For more, visit DiscoverLancaster.com.
back to top