July Events in and Around Chester County
Our top picks for events this month
Philly Balloon & Music Festival
July 1–4
A high-flying event featuring the launch of dozens of big, beautiful balloons that paint the Chester County skyline. Enjoy live entertainment on the main stage from local bands, fireworks on Sunday, hay rides, bounce houses, kids tent, refreshments including beer and wine and a balloon glow on Fri., Sat. and Sun. at 9 p.m. This is a family-friendly event, suitable for all ages. Ludwig's Corner Show Grounds, 1326 Pottstown Pk., Glenmoore. Gates open Fri., 3 p.m.; Sat.–Mon., noon. $10–$40. PhillyBalloonFest.com.
The Museum of Illusions
Ongoing
Are you ready for an adventure? At the Museum of Illusions, you'll enjoy more than 60 visual and educational exhibits featuring holograms, stereograms, optical illusions and immersive rooms that are designed to tease the senses and trick the mind. You can truly experience the impossible! 401 Market St., Philadelphia. Mon.–Fri., 10 a.m. to 9 p.m.; Sat., 9 a.m. to 10 p.m.; Sun., 9 a.m. to 9 p.m. $14.99–$19.99. MOIPhilly.com.
Friday Night Lights at ChesLen Preserve
July 8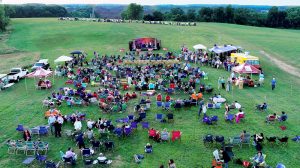 Live music, wine and beer, s'mores toasting, stargazing and sunset socializing at one of the most beautiful settings in Chester County. The Flying Komorowski Brothers and Sweet Lizzy Project perform, local craft beer from East Branch Brewing Company and Animated Brewing Company, wine provided by Stargazers Vineyard and yummy food truck fare available. 1199 Cannery Rd., Coatesville. 7 to 10 p.m. Advance tickets only, $35–$85. NatLands.org.
Fine Craft Fair — Summer Chase Center on the Riverfront
July 30–31
Featuring 100+ artists, many of whom do not exhibit at outdoor venues, with an audience of 2,000+ savvy patrons. This Fine Craft Fair appeals to the shopper looking for cutting edge, contemporary and upscale home furnishings, jewelry and accoutrements. Chase Center on the Riverfront, 815 Justison St., Wilmington. Sat., 10 a.m. to 5 p.m.; Sun., 10 a.m. to 4 p.m. $10. PACrafts.org.
Charitable Fund Brandywine Horse Shows
June 29–July 3, July 5–10
Two weeks of premier hunter/jumper/equitation horse shows happening at the prestigious Devon Show Grounds. The family-friendly equestrian competition includes Pony Hunter Classics, National Hunter Derby, Green Hunter Incentive Regional Championship and more. This year's show benefits the Domestic Violence Center of Chester County and Equus Survival Trust. Devon Show Grounds, Rt. 30, Devon. Gates open 8 a.m. Free. BrandywineHorseShows.com.
back to top