It's (Still) a Wonderful Life
75 years later, this holiday classic is getting a fresh new take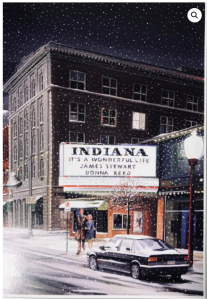 Nothing conjures up the holiday spirit like lounging on the sofa in your most festive Christmas pjs and sipping a steaming cup of coco (extra marshmallows, please) as a holiday movie marathon plays on TV.
And as any Christmas movie fanatic knows, the holiday season isn't complete without a viewing, or two, of Frank Capra's It's a Wonderful Life. This American classic withstands the test of time through powerful messages on family, greed, integrity and ambition—all of which seem extremely fitting during the Christmas rush and holiday madness.
To celebrate 75 years of It's a Wonderful Life, local author and artist George Rothacker is revisiting the film's message in a futuristic setting in his latest novel, It's a Wonderful Life 2060. Rothacker transforms the black and white film into a science fiction story filled with holograms, robots and artificial intelligence, while staying true to the original themes of preserving relationships and appreciating your blessings.
The novel focuses on a George Bailey-esque character (played by Jimmy Stewart in the original film) named Juniper Blakely. Juniper dreams of building the most complex model train layout ever imagined. Along the road to his dream, he veers off in a direction that blends robotic technology into the story by developing life-like animated robotic characters to populate his model train layout of Bedford Falls—the movie setting of It's a Wonderful Life.
Through a series of life-changing and eye-opening experiences, Juniper realizes life isn't about the amount of money you have or the things you own. Instead, it's about being close to those you love and following your passions.
"Ambition, greed and dishonesty can turn a whole life sour, while making and keeping relationships are riches one can't buy," explains Rothacker. He hopes the themes of the film are evident in the novel's fresh take on the story.
This isn't Rothacker's first Jimmy Stewart-inspired venture. Anyone who's visited the Jimmy Stewart Museum in Indiana, Pennsylvania may recognize the posters, Christmas cards and ornaments in the museum gift shop depicting Rothacker's painting "First Snowfall."
That painting was a collaborative project with the Museum back in 2002 and features the local Indiana Theater at night bedecked in snow, with buildings trimmed with lights and large bells reminiscent of the fictional town of Bedford Falls.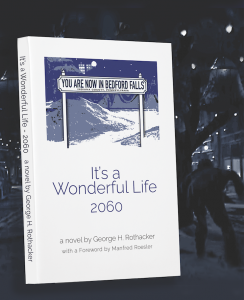 Rothacker has worked with the Jimmy Stewart Museum ever since. He's contributed other projects including a painting of Stewart's boyhood home, a new poster for It's a Wonderful Life and a biographical film documentary of Stewart titled Always Be Nice to People.
All of these projects have led to his latest venture, It's a Wonderful Life 2060. "[The book] is not just about history, classic films and model trains, but is a story about how tenacity, moral courage, hard work and dedication to duty are universal guideposts that can lead every generation to a sense of purpose, dignity and fulfillment," Rothacker says.
Whether looking back on the past or gazing towards the future, it's clear that It's a Wonderful Life's legacy will continue to reach generations to come, especially with a nudge from Rothacker's new adaption.
This holiday season, skip the movie marathon for a weekend and curl up by the fire with a copy of It's a Wonderful Life 2060. And don't forget to order copies for friends and family to find under the tree on Christmas Day.
The Jimmy Steward Museum, 835 Philadelphia St., Indiana, PA. Jimmy.org/store. Signed copies of It's a Wonderful Life 2060 are available for order at the Museum and other book sellers.
back to top