Homage to Horace Pippin
Renowned artist with a West Chester connection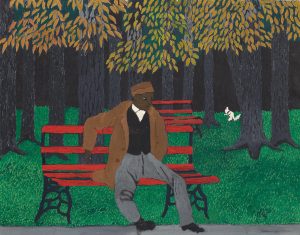 If you've lived in Chester County, and West Chester in particular, for any length of time, you've likely heard the name Horace Pippin. An early 20th-century artist, Horace Pippin (1888–1946) was a self-taught Black painter who became a favorite son of the American modern art community. Although his work has been described as simple, naive and unaffected, it highlights important social issues surrounding his generation.
A plaque at the historic Charles A. Melton Arts and Education Center in West Chester, where Pippin had his first exhibition, states that the "injustice of slavery and American segregation figure prominently in many of his works." Pippin's paintings are part of many important collections, including the Metropolitan Museum of Art, the Philadelphia Museum of Art, the Barnes Foundation and the Brandywine River Museum of Art.
Local Connections
Born late in the 19th century in West Chester, Pippin was later raised in Goshen, New York. In 1917, Pippin saw his duty to serve his country during World War I and enlisted in the U.S. Army. He was sent to France as part of the 369th Infantry, a unit made up of African Americans known as the Harlem Hellfighters. On the battlefield he was wounded by sniper fire that shattered his right shoulder blade, all but paralyzing his right arm.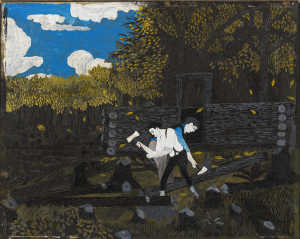 When Pippin returned to the U.S., he was able through physical therapy to restore some use of his hand. But his most important therapy came from his art, he said, observing that war "brought out all the art in me." He'd never forget suffering, but would also never forget sunsets. "I came home with all of it in my mind, and I paint from it today," he wrote.
In 1920, Pippin married Ora Jennie Featherstone Wade, a widow with a son. They moved to a row home located at 327 West Gay Street, West Chester, where Ora Jennie earned a meager income taking in wash for residents while Horace collected disability payments as a wounded veteran.
Today you can see a historical marker at the row home recognizing Pippin as a great artist. It was placed and dedicated on June 9, 1979. A few blocks away at Market and Everhart Streets, Horace Pippin Park was dedicated in the 1990s.
Pippin's Art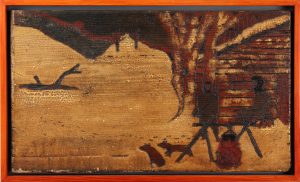 Art was part of Pippin's life beginning in early childhood. He'd regularly doodle images on school papers, to the annoyance of many of his teachers. What he didn't know was how important artistic expression would be later in his life, both for income and emotional therapy.
By 1925, Pippin had developed a pyrographic technique, where he'd burn designs into wood with hot pokers. Surprisingly, the effect is multi-dimensional, as paint is layered within burnt lines in such a fashion that a snow scene is created against a background of a forest and mountain. There are two of these early wood plates — one called The Bear Hunt — on display at the Chester County History Center.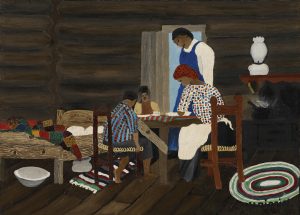 Pippin's career took off in 1937 when he submitted two paintings for a local art exhibition at the Chester County Art Association. The Art Association's cofounder and art critic Christian Brinton took note of the originality of the work, showed it to artist N.C. Wyeth, and they quickly arranged a one-man exhibit at the West Chester Community Center, an interracial organization which is now the Melton Center. Through their support, Pippin's art became popular with collectors, galleries and museums throughout the world.
In all, Horace Pippin created some 140 works. Within this relatively small collection, he expressed the horrors of war from his own experiences, made honest depictions of poverty among African Americans, and celebrated everyday life. At the same time, he gave a voice to a new style of expression.
Today, his popularity in the art world continues to gain well-deserved acclaim and attention. He's buried at Chestnut Grove Cemetery Annex in West Goshen Township.
---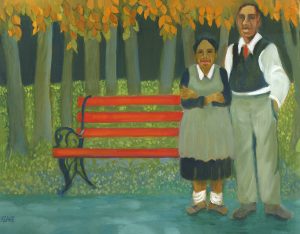 In 2008, Wilmington artist Kathleen Keane paid homage to both the great artist and his wife, Ora Jennie, who supported Horace Pippin's career in the early days. Keane painted the couple at the red bench in the style of Pippin to capture the essence of this remarkable American painter. This is one of two paintings Keane did of the subject.
Today, the Friends of Everhart Park maintain what's now called the "Horace Pippin Bench" on the north side of the West Chester park. A plaque was dedicated for the bench on May 24, 1997.
---
Malcolm Johnstone is the Community Engagement Officer for Arts, Culture and Historic Preservation for the Cultural Alliance of Chester County, an initiative of the Chester County Community Foundation.
back to top