Ho, Ho, How About a Book for the Holidays?
There's bound to be a fit for everyone on your list.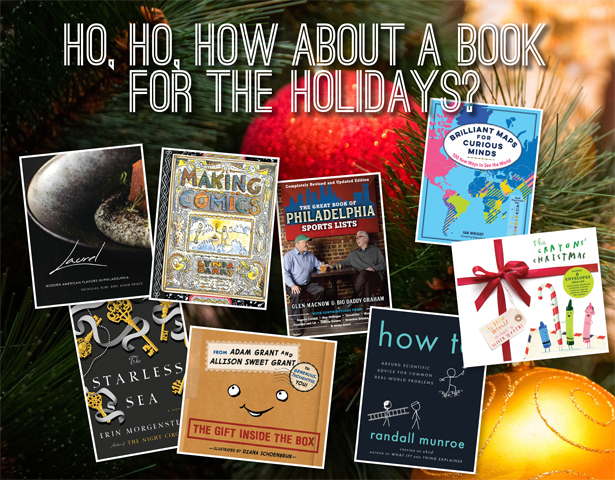 Let's be honest. Holiday gift giving can be an incredible pleasure or an incredible chore. I really enjoy finding the perfect present, but I know not everyone shares that feeling. Plus satisfying the ones we love the most and those we know the least can be quite stressful.
Hopefully, the following suggestions will help you pick the ideal gift for everyone from your great-aunt to your youngest cousin. And let you enjoy a little more of that holiday cheer!
Can you imagine doing a good chunk of your holiday shopping at just one store?
Laurel: Modern American Flavors in Philadelphia
by Nicholas Elmi
If you can't get a reservation at Top Chef-winner Nicholas Elmi's 22-seat gem on Passyunk Avenue in Philadelphia or just want to spend a little less money, this cookbook might be perfect. Plus, there's the added bonus that you might get to try the results! Elmi's book focuses on recipes for the four seasons in nine separate tasting menus. The chef/author will be signing his cookbook at Main Point Books in Wayne on Small Business Saturday, November 30th at 1 p.m. Stop by for an extra special gift. Extra signed copies will be available while they last.
Making Comics
by Lynda Barry
Got an artist in your life? This book could be the perfect choice. An influential indie cartoonist and winner of a MacArthur "genius" grant, Barry condenses her visual storytelling courses into an instructional book that doubles as a work of art. Through her signature comics and collages, Barry provides guidelines for creating characters, drawing comic strips and the mechanics of making mini-comics. This one is for teachers, students and aspiring artists alike. Or someone who just loves comics.
The Great Book of Philadelphia Sports Lists, Completely Revised and Updated
by Glen Macnow and Big Daddy Graham
What true sports fan doesn't salivate over stats and lists? I've got at least four in my life who will be getting this book. Passionate Philly fans will be able to dominate holiday dinner conversation with topics like what local athletes gave the best performance in film or TV? What are the top area sports bars? And who are the most overrated and underrated players in Philadelphia history? Inquiring minds want to know!
And that brings us to the next suggestion …
Brilliant Maps for Curious Minds: 100 New Ways to See the World
by Ian Wright
We all know someone who gets lost in maps. This beautiful book features one hundred full-color maps; some serious (the distribution of the world's major religions), some more humorous (countries where there aren't any McDonald's). It's full of surprising connections that may change the way the reader sees the world.
Or maybe you or someone you know needs inspiration planning a special trip? A coffee table book from DK Eyewitness Travel Guides, Where to Go When: Unforgettable Trips for Every Month, is another suggestion on my holiday wish list.
The Starless Sea
by Erin Morgenstern
Here's a shocker. I can't buy a book for someone without buying one for myself! And this might be my pick. If you're looking for an escape this holiday season, you can't do much better than Erin Morgenstern's new book, The Starless Sea. Morgenstern, author of The Night Circus, takes you to a magical, underground world filled with books, lovelorn prisoners and magic. This novel should be read on a snowy weekend in one long gulp.
The Gift Inside the Box
by Adam and Allison Grant
Local author Adam Grant, psychologist and Wharton professor, and his wife, Allison, have the perfect antidote to holiday madness with The Gift Inside the Box. This wonderfully illustrated children's book tells the tale of a mysterious package that wants to get into the hands of someone deserving of it. The book asks the reader "what would you give and to whom?" It's the perfect holiday message for the young ones in your life.
The Crayons' Christmas
by Drew Daywalt and Oliver Jeffers
Looking for a new holiday classic to add to your child's collection? Check out the spinoff to the popular kid's book The Day the Crayons Quit. In The Crayons' Christmas, young readers will learn how the crayons and their families celebrate the season. It features real, folded letters from the crayons, games, punch-out ornaments and even a pop-up tree! It's sure to be a holiday hit!
Absurd Scientific Advice for Common Real-World Problems
by Randall Munroe
This book might be perfect for the lover of science or of the absurd in your life—or possibly both. The former NASA roboticist behind the popular webcomic xkcd proposes unusual and unnecessarily elaborate ways of accomplishing mundane tasks—such as, to cross a river, freeze it. I have an 80-year-old uncle and 12-year-old cousin, both of whom will absolutely love this book.
Have a very Happy Holiday Season and Happy Shopping!
Cathy Fiebach is the owner of Main Point Books, an independent bookstore with a handpicked selection of books for every member of the family. Please check out the great events, book groups and children's activities at MainPointBooks.com or on Facebook, Instagram and Twitter. 116 N. Wayne Ave., Wayne.
back to top