Head to Maryland
Our favorite spots are those clustered along the Chesapeake Bay, which bisects the state.
Ready to venture beyond our tri-state area? Then head for Maryland, our neighbor to the south. It's close enough for a day trip or easy weekend getaway with a full range of options—from ocean beaches to mountains. Our favorite spots are those clustered along the Chesapeake Bay, which bisects the state.
Located along the I-95 corridor, midway between Baltimore and Philadelphia and close to the southern Pennsylvania border, Cecil County is a quick and easy-access tourist destination. Beautiful scenery, outdoor attractions, vibrant small towns, waterfront recreation, plus shopping, history and authentic Chesapeake Bay-inspired cuisine attract plenty of visitors each year.
Outdoor Fun in Cecil County
With five rivers, the C&D Canal and Chesapeake Bay, Cecil County has 200 miles of shoreline to explore. Want to get out on the water? Book a tour boat ride, rent kayaks, stand-up paddleboards and pontoon boats, or charter a yacht—options for all tastes and budgets. At the end of the day, get a front row seat to sunsets bursting across the horizon at one of the many waterside eateries and tuck into fresh-caught Chesapeake blue crabs.
Outdoor enthusiasts can enjoy 100 miles of mixed-use trails for hiking, biking, bird watching and horseback riding at State and local parks. Outdoor activities also include paint ball attractions, foot golf, and making furry friends at Plumpton Park Zoo.
History, Farms, Towns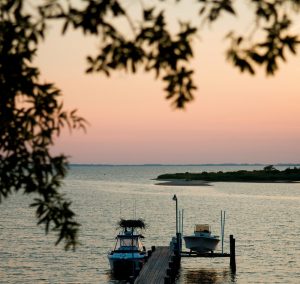 History lovers will want to visit Mt. Harmon Plantation & Nature Preserve, along the Chesapeake Country Scenic All American Road, located at "World's End" in Earleville. Tour the manor house, hike the grounds, and enjoy beautiful scenic waterfront vistas.
Local farms in Cecil County offer homemade ice cream, U-pick adventures, farm markets and stands, hayrides, home-made cider doughnuts, trail rides and some make local beer and wine.
The canal-side historic town of Chesapeake City lets you see huge commercial ships from around the world pass through the C&D Canal and beneath the iconic bridge on their way to distant ports. This charming town features 1800s architecture, shops, inns and restaurants.
The town of North East offers specialty shops, antiques, award-winning restaurants, and for those with a sweet tooth, a candy shop and bakery. Other inviting small towns including Port Deposit along the banks of the Susquehanna and Elkton, the County seat with an arts district.
More at SeeCecil.org.
TIP: Mark your calendar for the 2021 Cecil County Fair, July 23–31, at the Fair Hill Fairgrounds in Elkton, for its carnival midway, tractor pulls, demolition derby, rodeo, livestock shows, cow chip toss, pie eating contest, vendors, food, music and much more.
Eco-conscious Travel in Kent County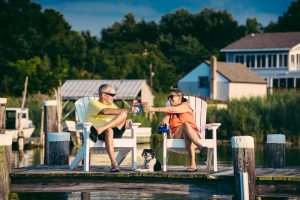 Outdoor adventures and sustainable eco-travel attract visitors to Kent County. Sustainable local cuisine—drawing from the bounty of the Bay—and environmentally friendly lodging pair well with sweeping water views and open parklands.
A crown jewel of the area, Eastern Neck National Wildlife Refuge offers 2300 acres of sanctuary for migratory birds, including bald eagles. See ospreys, ducks, songbirds, geese, shorebirds and more from the many observation platforms and trails. Two favorite trails with panoramic Bay views—Tidal Marsh Overlook and Bayview-Butterfly Trail—take you to waterfowl on a pond and a butterfly garden filled with painted lady butterflies.
For sustainable accommodations—from the BayShore Campgrounds, to the Farmstay B&B at Crow Vineyard, to the historic Thornton Estate, check KentCounty.com/Visitors.
Finally, in Annapolis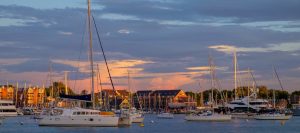 A final Maryland destination and top pick is the state capital and Sailing Capital of the U.S., Annapolis in Anne Arundel County, back on the western shore of the Chesapeake Bay. Called "a museum without walls," the town boasts four centuries of architecture adapted to 21st-century living, where all roads lead to the water and a nautical heritage—the Naval Academy is here.
The historic district's brick-lined streets are meant for wandering and browsing eclectic specialty stores. Tour Maryland's State House or enjoy a concert at the City Dock. Cap your visit with a cruise of Annapolis Harbor for memorable water views of this distinctive town.
For more, VisitAnnapolis.org.
Eastern Shore & More
The Eastern Shore of the Chesapeake Bay is another must-see area of Maryland, and one of our favorite destinations is Kent County, just south of Cecil County. Bordered by the Sassafras and Chester Rivers, Kent County is bursting with waterfront views and boating fun along with historic buildings, military sites, art galleries and artisan markets.
In this prime sailing and boating territory—there's even a tall ship in Chestertown—make sure to visit Rock Hall, a former fishing village turned tourist destination, and top stop for July 4th celebrations and the party on the Bay in August.
back to top