Growing Rainbows: Local Flower Farms
There's more than golden blooms at these local treasures
A friend who cuts summer flowers woke before the birds. "The sunlight was pale. Leaves were dewy. Goldfinches flew among sunflowers. Often when cutting zinnias, I'd find a bumblebee sleeping in a curled petal. It would drowse a moment, then buzz away."
Mara Tyler, owner of The Farm at Oxford, calls sunset "the magic hour" for its blue and cotton-candy pink skies that light up her sherbet-hued dahlias. Bluebirds sing goodnight, while bees are quiet.
Local flower farms are complex ecosystems, busy businesses—farmers work dawn to dusk—and sites of unparalleled beauty. Each has unique personality and offerings: cut bunches, plants, wedding blooms, venues for events, fields that welcome artists. All revolve around Nature's beautiful blossoms.
Magic Gardens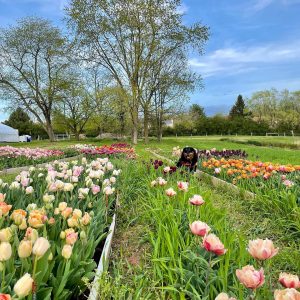 The Farm at Oxford produces stunning bouquets and buckets of exotic blooms—frilly daffodils, peonies flaunting explosions of petals, extraordinary rainbows of ranunculus, parrot tulips, glamorous as macaws, and so much more. Customers clamor for bouquets and CSA shares, pre-ordered for pick-up at five Chester County locations.
Part of a local flower movement, the farm uses sustainable practices for growing bulbs, corms, plugs and seeds.
To boost pollination, last year Tyler collected caterpillars in danger of being devoured by birds and gave them safe haven for their metamorphosis. The monarchs emerged during summer and were released into the gardens. But some swallowtails were slow, she said. Using netting in her guest bathroom's tub, she housed the chrysalides through winter—then released the butterflies in spring.
Farm to vase
Peek and poke your nose into simple brown paper wrapping. Depending on the season, organically grown blue bachelor's buttons, orange lilies, yellow yarrow, purple dame's rocket, and charming white deutzia delight the senses. Thanks to Farm and Garden Flowers, artisanal markets including Carlino's and Kimberton Whole Foods offer farm-to-vase blooms alongside farm-to-table food.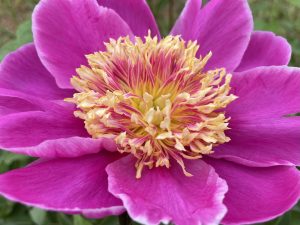 Owner-farmer Madeline Frankel describes her work as "exhaustion and passion." She tends rows, drives truckloads of stems from a cow-pasture-turned-flower-field to a cooler room and manages administrative tasks.
Through succession planting—sowing seeds at regular intervals—fields produce gems of different textures and hues nearly continuously spring through fall.
The rewards of her passion are visible. Down a lane along a brook, the farm welcomes visitors with landscapes of rhododendrons, tall trees, lush ferns and pale green hellebores. A former chicken yard is a bed of bearded iris, and the coop now stores spades.
By appointment, small groups attend flower classes under the pavilion, as photographers and plein air artists revel in glorious views.
For more spectacular sights, mark your calendar for Styer's Festival of the Peony next May. Walk or drive the Chadds Ford's farm's vast acreage of nodding peonies: coral, magenta, red, white and rare pale yellow named Garden Treasure. Arrive early.
Red-wing blackbirds call. Blooms on the rolling green hills bedazzle as morning mists rise. Buy buds that become fluffy petal clouds when hydrated.
Fields of flowers
Pete's Produce Farm has dedicated some of its acreage for flowers for more than 20 years. Celosia, tall verbena and purple Persian cress started in garden rows, brighten the market's counters and land on customers' tables.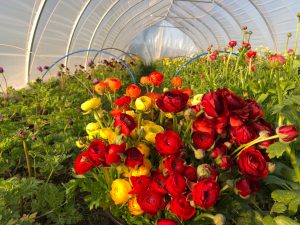 Shoppers aren't the only ones who love them. Flower rows are also habitats for flying critters. Goldfinches, bluebirds, purple martins and hummingbirds—attracted by seeds, nectar and feasting bugs—flock to the farm. Bees work the brilliant yellow wild mustard that grows like a weed.
This summer enjoy Pete's sunflower field where birds, bees, butterflies and families wanting portraits keep cameras clicking for weeks.
Beyond the stresses of Main Street and Corporate Boulevard lies Hickory Grove Gardens. Farmer Julia Bull uses natural fertilizers and releases beneficial insects including lacewing larvae and ladybugs in hoop houses. In hoops, she grows five shades of stock, ten of ranunculus, yellow and orange poppies.
Outdoor violet Canterbury Bells and other fresh flowers go to Seven Stars Farm store, Phoenixville Farmers' Market and West Chester's TWIG Gardens florist who arranges solely with local blossoms. Julia's dried florals appear in everlasting bouquets and wreaths.
Life isn't always rosy for flower farmers—it's "grunt work" and sometimes a battle with storms and droughts. Julia's dog, Ranger, patrols her rows for groundhogs. "Puppy" sometimes digs up what she has just planted. Little Martha, the goat, ate her first year's entire lily crop—600 heads (and stayed around to bleat about it). Still, the beauty is astounding.
Cut Your Own
In the heart of Chester County's Amish countryside, take Oxford's backroads across railroad tracks and past beehives to discover Toot Valley Farm. Pick up spring bouquets of purple allium, yellow iris and blue sweet peas or manure for mulching—thanks to the horses you'll likely see in a nearby paddock or pulling a buggy.
In July pack scissors, water jar and floppy hat. Wander the cut-your-own bloom garden. Breathe. Snip a painter's palette of zinnias, ruffly lisianthus, black-eyed Susans and more. While at the friendly market, stock up on honey from the hives, plus fruits and vegetables so fresh they must have been picked ten seconds ago.
A Taste for Bouquets: Red, White and Lavender
To feed mind and body, head to the charming family-owned Mt. Airy Lavender Farm, where horses graze and seasonal lavender waves in summer breezes before it's harvested and distilled for bath and body products.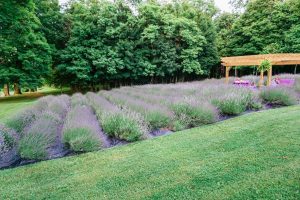 Farm events are creative and fun—Sunday morning yoga in the field, micro-weddings, "glamping" weekends, celebrations in the enchanting springhouse and flower and wreath workshops by its floral designer trained at Longwood Gardens. Join occasional wine strolls through the gardens with tastings provided by another family business: Santa Barbara's Luna Hart Wines.
Back home, please your palate with lavender simple syrup, frosting mix and culinary buds purchased at the farm or online.
Want more? Visit Peace Valley Lavender in neighboring Bucks County for breathtaking fragrance and seasonal views of pale purple stems in front of the Southern yellow pine barn. Buy essential oil, shampoo, honey lavender shortbread and lavender soda. BYO basket: on special summer days when the crop is robust, cut lavender to fill your Provençal basket.
Experience the abundance brought to you with kudos to local farmers. Fleeting blooms await.
Visit the Farms
Find out more about what the flower farms have to offer by visiting their websites and social media. Please remember these are working farms and businesses, so check if you need to made an appointment. Not all farms have pick-your-own days.
The Farm at Oxford; TheFarmAtOxford.com
Farm and Garden Flowers; FarmAndGardenFowers.com
Styer's Peonies; StyersPeonies.com
Pete's Produce Farm; PetesProduceFarm.com
Hickory Grove Gardens; HickoryGroveGardens.com
Mt. Airy Lavender Farm; MtAiryLavender.com
Peace Valley Lavender; PeaceValleyLavender.com
And for another lavender adventure, head to Warwick Furnace Farm in Glenmoore for handmade lavender essential oils, botanical beauty products and pick-your-own lavender events. We discovered them at the recent Philadelphia Flower Show, when they spritzed us with their lovely scents. WarwickFurnaceFarm.com.
back to top