Green Resolutions
Resolve to live more sustainably this New Year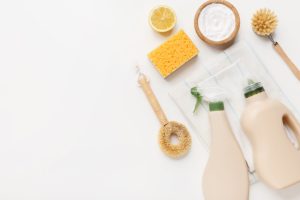 Another January. The time when many of us resolve to make big changes in our lives, from reevaluating career goals to living a healthier lifestyle.
This year, why not make a resolution that helps everyone? Resolve to help the planet. There are so many ways to reduce our environmental impact and make the world a better place to live in — now and in the future.
Here are some ideas to help jump start your resolution to live a more sustainable life.
Reduce Single-Use Products
We all know plastic waste is extremely harmful to the environment. Plastic never breaks down, pollutes waterways, kills wildlife and even ends up in our food supply. We also know the most popular ways to cut down on plastic use — drink tap water instead of bottled, avoid plastic straws and so forth.
These steps are all important, but there are even more ways to reduce our contribution to the plastic problem.
First, something familiar: reusable shopping bags. Americans use 100 billion plastic bags every year, which require 12 million barrels of oil to produce. The movement to switch to reusable bags is growing fast. In fact, plastic shopping bags are banned in 10 states and hundreds of municipalities across the U.S.
Plastic bag bans are gaining popularity in our area, too. Four Chester County towns have banned them, starting with West Chester and growing to include West Goshen, Easttown and Tredyffrin (which also banned plastic straws and Styrofoam containers). Some bans were enacted last year and go into effect this January or later in 2023, so now is the perfect time to make the switch!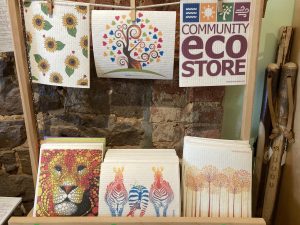 Another way to reduce your plastic consumption is to replace single-use household items with reusable alternatives. Besides keeping the products themselves out of landfills, this also decreases packaging waste.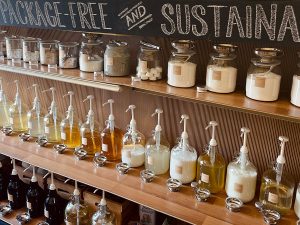 Many local stores have solutions for you. In Kennett Square, you can find fabric dish covers (an alternative to plastic wrap) and all-natural, organic wool dryer balls at Clean Slate Goods. Hilltop Flower Co. offers Goldrick Eco Sponge Cloths, a compostable and biodegradable alternative to paper towels. Phoenxville's Community Eco Store stocks a variety of sustainable products, including SWEDEdishcloths (made from wood pulp cellulose) and Bee's Wrap (a reusable, fully biodegradable food wrap). Also in Phoenixville, Threads Marketplace offers flour sack tea towels from Noon Design. And Harvey Oak Mercantile in Swarthmore carries reusable linen coffee filters and tea bags, as well as Bee's Wrap.
Another way to reduce packaging waste is to visit a bulk refill station. These stores encourage you to bring your own container to fill with household and personal products, such as shampoo and conditioner, dish soap and laundry detergent. Find refill stations at the Community Eco Store, as well as SHIFT Sustainable Goods + Services in Narberth.
Shop Smart
Shopping is another area where you can start new habits and make a difference. We always encourage shopping local, and it's for several good — and sustainable — reasons. Not only does it boost the local economy, but it's better for the environment. Free two-day delivery may be tempting, but it comes at a high cost to our environment. Shipping and returning products comprised 37% of greenhouse gas emissions in 2020.
When you go shopping, be mindful of what you're purchasing. Buy only what you need, and look for products with minimal packaging. According to the EPA, American throw away over 82.2 million tons of packaging every year — that's millions of tons of trash!
Buying secondhand is another effective way to reduce your impact on the environment (and your wallet!). When we think about shopping secondhand, we usually think about clothing. There are plenty of great consignment stores in our area, like Christine's Upscale Resale in West Chester and Bella Boutique Consignment in Exton, where you can get stylish clothes sustainably.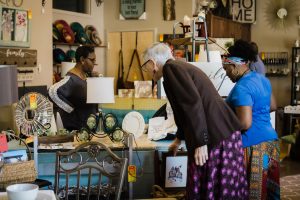 But clothing isn't the only product that can have a second life. Furnishing your home with antique and gently used pieces from Downtown Thrift in Downingtown comes with the added benefit of supporting the Cystic Fibrosis Foundation. And books can have longer lives at Second Reading Bookstore, with two locations supporting the West Chester Area Senior Center, and the historic Baldwin Book Barn, specializing in rare and out-of-print books.
And, of course, be sure to donate or give away clothes, furniture and other items you no longer use rather than tossing them in the garbage and landfill. National charities with local branches (such as Goodwill or GreenDrop) accept donations, or you can find local organizations to donate to. The FreeStore in Media accepts everything from knick-knacks and home decor to small appliances and electronics, available for anyone to take what they need. Or check if your neighborhood has a Buy Nothing Facebook group, where community members find good homes for items they no longer need or want.
Eat Sustainably
From the amount of land and water required to produce it to the greenhouse gas emissions to get it to you, the food we eat has a major impact on the environment. Changing your eating habits is one of the best and easiest ways to live more sustainably — and it's good for your health!
For starters, around 30% of the world's food supply is never eaten. In the U.S., this food waste comes primarily from consumers who buy too much food and retailers who discard it for aesthetic reasons. Do your best to buy only the food you need, and eat the food you buy. For food that does go uneaten, resolve to compost it.
It's also important to consider the kinds of food you're consuming. Meat, for instance, is much more environmentally taxing than plant-based alternatives. Livestock production accounts for about 15% of global greenhouse emissions and 75% of all agricultural land use. Because of this, environmental activists encourage people to cut back on meat.
Started in 2003 by the Johns Hopkins Center for a Livable Future, the Meatless Monday campaign encourages people not to eat meat one day each week. The Center reports that skipping one serving of beef every week for a year saves the equivalent emissions to driving 348 miles in a car. Just imagine the impact of three meatless meals per week! Plus, you get a personal bonus of health benefits, like better kidney health and reduced risk of heart disease and type 2 diabetes.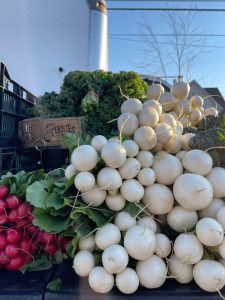 Don't know how to start? Visit one of the vegan restaurants in our area, including Love Again Local, a vegan deli and sandwich shop in West Chester, HipCityVeg with locations in Radnor and Ardmore, and SuTao Café in Malvern, a vegan Chinese restaurant. Lots of mainstream restaurants offer vegan and vegetarian options, too.
Another change is choosing more local, in-season produce. Buying local uses less energy to transport food, promotes sustainable growing practices, and helps preserve green space — if local farms go out of business, that land often gets developed. Plus, in-season produce tastes better and tends to be more nutritious.
Resolve this year to become a regular at the many farmers markets in our area, even in winter. Shop Growing Roots Partners' markets in Eagleview, Downingtown and Malvern, the Kennett Square Farmers Market and West Chester Growers Market. You'll find more farmers market locations listed in County Lines' Events section every month.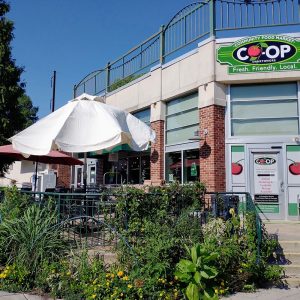 Or visit a food co-op, a community-owned grocery stocked with local foods. One of the oldest in the country, dating back to the Great Depression, Swarthmore CO-OP has a full butcher and seafood counter, deli with chef-prepared foods, large produce and grocery departments, and a variety of local cheeses and specialty products. And look for the West Chester Cooperative at local events while it searches for a permanent store location. Consider becoming a member-owner to help make this a reality.
Finally, the most sustainable way to eat is to grow your own food. It's the best way to reduce energy use and ensure your food doesn't come into contact into pesticides or other contaminants. Growing your own food is also incredibly satisfying! Check your local farmers market for seeds and advice on getting started this spring.
There are so many ways you can help the planet, both big and small. Resolving to adopt just one of these ideas can make a big impact.
We wish you a happy, healthy and greener New Year!
For our part, County Lines is printed on Sustainable Forestry Initiative-certified paper, meaning our paper is sourced using sustainable foresting practices, with rigorous standards to protect wildlife and water quality as well as sustainable harvest levels. More at SFIProgram.org.
back to top