Giving Experiences
Tired of giving the same predictable gifts? This year gift an experience—and memories that will last.
We've all been there. Looking over our holiday shopping list, we come across that name that stumps us. Every year. Maybe she insists she doesn't need anything, or he already has everything he wants. Or maybe you just can't think of a gift worthy of someone that special to you.
What to do?
Experience gifts are gaining traction, and are special presents for the trickiest folks on your list. More pluses: these gifts involve less wrapping, less waste and are less likely to be re-gifted.
For experience gift ideas to fit everyone on your list—and to fit every budget—read on.
One-Night Only Experiences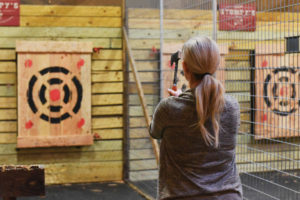 For adrenaline-racing fun, brain-racking mysteries and all-star performances, County Lines country has a lot to offer!
Axe throwing is all the rage, with throwing lanes at The Creamery in Kennett Square and at brand new Stumpy's Hatchet House in West Chester. "It's an exhilarating, safe activity that can be enjoyed by a large demographic," says Brad Wurtz of Stumpy's. So grab tickets for you and a friend for an axe-citing night!
Another idea for someone looking for something new—get their heart racing with indoor skydiving at iFLY in King of Prussia or enter a brand new reality at West Chester's Neverland Virtual Reality. For the amateur detective on your list, give a visit to an escape room. You'll find them everywhere, including Xscape The Room in Media or Escape Room Mystery in King of Prussia.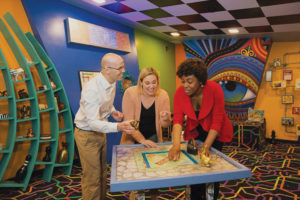 "Escape rooms are those experiences that people may want for themselves, but often put it off, maybe because they have never done one or for budget reasons," says Noel Keen of Escape Room Mystery. "Gifting it truly gives them something they might never have bought for themselves."
And you can't go wrong with a classic—dinner and a show. Buy tickets to an upcoming performance at Malvern's People's Light, Media Theater or the Resident Theater Company in West Chester, and make dinner reservations for two nearby.
Travels & Tours
Trekking through dense forests, sunbathing on a relaxing cruise, tasting your way through the cuisine of a new country—wanderlust is nothing new. So for the boldest on your list, why not give a once-in-a-lifetime travel experience?
"Gifting an experience is very different because it's something the person will be doing versus receiving," says Scott Masciarelli of Connoisseur Travel. "They get to experience it, be involved in it, and learn from it."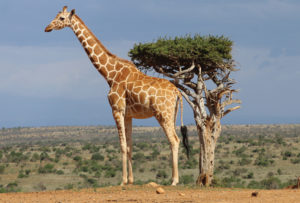 When considering the gift of a trip, think about the recipient's likes, dislikes, schedule and tolerance for novelty. Does the person enjoy going to a spa and wants to see Iceland? An Icelandic cruise hits both interests while also adding the fun of a cruise.
Consider adding on to a pre-planned getaway. "Paying for a part or a supplement to a trip makes this option more available to more people," says Masciarelli. Schedule an excursion, like a tour of a historic winery if Italy is the destination, or book a wildlife safari as part of a trip to Africa. These add-ons are more affordable than an entire trip, and still give the recipient unique and lasting memories.
For the homebody, keep it local. Try tickets for the Berks County Wine Trail, reservations for a tour at Pennsylvania Distilling Company in Malvern or a gift certificate for a hot air balloon ride with the US Hot Air Balloon Team in Pottstown.
Pampering
Who doesn't enjoy a bit of pampering?
The holidays are a busy time—filled with shopping, family visits and holiday parties. So a day at the spa may be exactly what's needed to unwind—either mid-holiday madness or later.
If you don't know if a massage or facial is the right choice, get a gift card to spas like Cole Wellness Spa in Wayne, or West Chester spas Balance Hair Spa or Remedi Day Spa. All offer full menus of services, from hair styling and conditioning, facials, massages, waxing, to make-up services and more.
And some men enjoy pampering, too. While most salons and spas serve everyone, others cater specifically to men. Glen Mills' The Ultimate Shave and Berwyn's The American Male offer services tailored to men, like haircuts and shaves, coloring and waxing, and massages and facials.
Paying for a trip to the nail salon, an appointment for eyebrow shaping or eyelash extensions, or a session or two of airbrush tanning are also great options for a relaxing "me" day for someone special.
Classes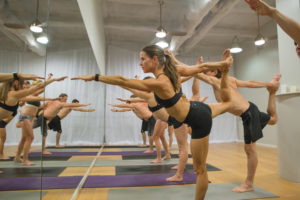 For the life-long learner, a class is an experience gift that gets an A+.
"The big thing is when you gift a material item, it's relatively finite and maybe even limited in a way," says Paul Downie of the Community Arts Center. "But when you gift a class, it's like a door opening."
Culinary classes like those offered at the Paoli Kitchen Workshop, the Inn Keeper's Kitchen in West Chester and Haneeda's Kitchen in Glen Mills can teach basics to a beginner and elevate the palate of an expert. You may even benefit the next time you're invited for dinner!
Or consider art class—drawing, painting, ceramics, jewelry, metals. Both the Community Arts Center in Wallingford and the Wayne Art Center hold classes lasting several weeks, as well as one-day workshops that give that special someone a chance to try something new without making a long-term commitment.
Shopping for someone who's not into cooking or art? No problem. Consider dance lessons from West Chester's Carousel Ballroom, yoga and fitness classes at Bryn Mawr's Focus Fitness Main Line or acting classes from WC Studio for the Performing Arts held at Uptown!
Not only will the recipient get the gift of the class, they may find new friends and a new passion. "Classes are a way to create new friendships and enter a whole new community who connect around this shared interest," says Paul Downie of the Community Arts Center. "And it all starts from 'let's try something new.'"
More Ideas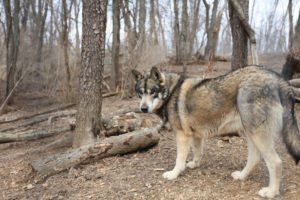 Sponsoring an animal lets you do good while you gift. Typically these sponsorships involve monetary donations that provide care for the animal, while you receive an "adoption" certificate, photo and other goodies.
Try the Adopt A Wolf program with the Wolf Sanctuary of PA in Lititz, or the Sponsor-A-Horse program with Ryerss Farm for Aged Equines in Pottstown for the animal-lover in your family.
Or come up with a new family tradition and give the gift of family this holiday season. Gather the troops and head to the movie theater for a holiday movie or buy the whole family tickets to your favorite event of the year—a horse show, restaurant festival or film festival.
That's a gift of an experience that will keep giving for years to come.
back to top