Give 'Em Pumpkin to Talk About
Pick, play and prep your pumpkins for loads of seasonal fun
Fall is here in County Lines country, and nothing captures the season like picking out that perfect plump pumpkin! Continue the tradition of pumpkin picking with your little ones this year and add something new with pumpkin games and an unexpected recipe to enjoy.
Head to your local farm or farm market, pick your pumpkin and get ready for endless possibilities.
Pick it out
Pay a visit to an area farm to scout out that perfect pumpkin. And while you're there, grab a cup of cider, run through a corn maze, or take a leisurely hayride.
Here are a few of our favorites to visit for fall fun.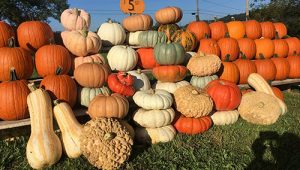 Celebrate everything pumpkins have to offer at Glen Run Valley View in Atglen. Kids can head for the playground or play pumpkin-themed games like pumpkin putt-putt, Jack Slide and Ring-a-Pumpkin. Come back in November for the annual Pumpkin Olympics, Nov. 2. 280 Lenover Rd., Atglen. 610-593-5656; GlenRunValleyView.Farm.
You might have to go to the Milky Way to find your perfect pumpkin—Milky Way Farm in Chester Springs, that is! Jump on a hayride to the pumpkin patch, or take the road less traveled on the walking path. Visit nearby Chester Springs Creamery for ice cream made with farm-fresh milk and try fall flavors like Apple Cinnamon and Maple Walnut. 521 E. Uwchlan Ave., Chester Springs. 610-827-1484; MilkyWayFarm.com
Sugartown Strawberries in Malvern is as sweet a spot as can be. Snap the perfect Instagram as you pumpkin-pick on 200+ acres of gorgeous farmland. Stock up at the Country Store with honey harvested from Sugartown hives, local smoked meats and cheeses, and, of course, Sugartown strawberry preserves. 640 Sugartown Rd., Malvern. 610-647-0711. SugartownStrawberries.com.
With over 100 tons of harvest fun on display, Pumpkinland is open until November to pick and play at Linvilla Orchards. Climb on a hayride, take a train ride, or test your navigation skills in the straw bale and cornfield mazes. Just make sure you pick out your pumpkin in-between all the fun. 137 W. Knowlton Rd., Media. 610-876-7116; Linvilla.com.
Come to pick, stay to eat and drink at Highland Orchards in West Chester. Fall festival weekends feature pumpkin picking, food trucks, a face painter and more. Don't stop at picking pumpkins. Grab some homemade apple cider and apple cider donuts at the bakery. 1000 Marshallton-Thorndale Rd., West Chester. 610-269-3494; HighlandOrchards.com.
Family-owned since the days of William Penn, Yeager's Farm in Phoenixville has a long history of autumn traditions. Stroll through the decorated greenhouse and pick up colorful mums to take home. Then sip cider as you search the pumpkin patches for your jack-o-lantern candidate. 1015 Pike Springs Rd., Phoenixville. 610-935-8244; YeagersFarm.com.
Play Around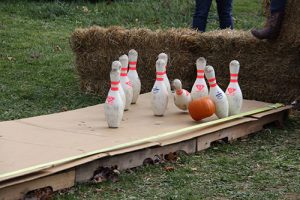 After you've found your pumpkin, keep the fun going with pumpkin games that are sure to keep the whole family entertained.
Pumpkin Carving Contest. Kids and adults can participate together, working as a team to create the best carved pumpkin within a time limit. Use categories like funniest, spookiest and most creative, with prizes for each winner. Got young kids? Have a pumpkin painting contest instead—no knives!
Musical Pumpkin Pass. Think of it as a seasonal hot potato. Have the players sit on the floor in a circle and pass the pumpkin as the music plays. Whenever the music stops, whoever is holding the pumpkin is out until the last player is left. The winner gets a candy prize.
Pumpkin Bowling. Paint 6 or 10 empty plastic bottles or paper towel rolls with orange paint. Line them up like bowling pins and have kids roll a small pumpkin like a bowling ball to knock them down. To make the pumpkin roll more easily, you may have to remove the stem.
Eat Up
Skip the traditional pumpkin bread and pureed pumpkin soup this year and try something new. This pumpkin sage gnocchi is filled with the perfect combination of fall flavors. Recipe adapted from Delish.com.
Pumpkin Sage Gnocchi
2 (17.5-oz.) packages of gnocchi
3 Tb. extra-virgin olive oil
4 cloves garlic, minced
1 Tb. tomato paste
1½ C. pumpkin puree
1½ Tb. fresh sage, chopped
2 Tb. heavy cream
Kosher salt and ground pepper to taste
Freshly grated Parmesan, for serving
Finely chopped chives, for serving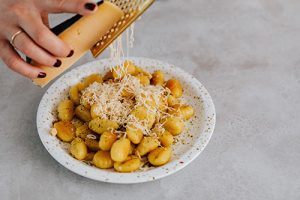 In a large pot of boiling, salted water, cook gnocchi per package instructions until al dente. Drain.
In a large skillet over medium heat, heat oil. Add garlic and cook, stirring for about 1 minute. Add tomato paste and cook, stirring 1 minute more.
Whisk in chicken broth, pumpkin puree and sage, and bring to a boil. Season with salt and pepper. Reduce heat to medium-low and simmer until slightly thickened, for about 7 minutes.
Stir the gnocchi and heavy cream into the skillet and cook, tossing until coated, for about 2 minutes. Season with salt and pepper.
Remove from heat and garnish with Parmesan, black pepper and chives.
Serves 8.
back to top