Getaway Beyond PA
From beaches to mountains and horse races to music festivals, there's plenty to explore during a weekend getaway in our neighboring states!
Asbury Park, NJ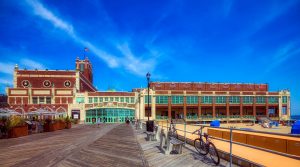 Get away from it all at this historic New Jersey shore town. Spend your days under the sun on Asbury Park's sandy beaches — known as some of the best in the state. In the evenings, stroll along the mural-adorned boardwalk for tasty food, eclectic shops and vibrant nightlife. Be sure to include a visit to the restored Paramount Theater and Convention Hall!
Include a trip to the historic downtown district along Cookman Avenue, lined with shops and art galleries. Asbury Park has become the Jersey Shore's hottest dining destination with over 65 restaurants, many headed by renowned chefs, including James Avery's Bonney Read and Black Swan.
Of course, any trip to Asbury Park must include its famous music scene. Since Bruce Springsteen put it on the map, the town has been named one of the top ten places to listen to music by USA Today. Drop by the legendary Stone Pony, where Bruce has been known to show up for surprise performances.
In September, the Sea.Here.Now Festival hosts 25 performances across three stages on the waterfront. Stevie Nicks and Green Day are headlining, joined by My Morning Jacket, Cage the Elephant and others. In between sets, watch a professional surfing contest and visit Danny Clinch's Transparent Gallery for immersive art experiences. CityOfAsburyPark.com.
Somerset County, NJ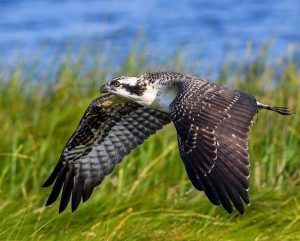 Enjoy nature's beauty in stunning Somerset County in north-central New Jersey. Paddle through Delaware & Raritan Canal State Park or explore Colonial Park's arboretum and award-winning gardens. Then visit the Scherman Hoffman Wildlife Sanctuary, which fields teams each May in the World Series of Birding. (Yes, really! Think The Big Year, but over 24 hours.)
Sports fans will find plenty to do, too. Play a few rounds at Fox Hollow Golf Club, one of the county's prestigious courses, then head for the U.S. Golf Association Museum in Fair Hills. Golf not your thing? Enter the Sourlands Smackdown Bouldering Competition or the four-day Tour of Somerville, the country's oldest major bike race. Or see the Somerset Patriots play at TD Bank Ballpark.
The U.S. Equestrian Team Foundation Headquarters in Gladstone is home to the U.S. Olympic Training Center and hosts the annual Garden State Horse Show at the end of April. The Mars Essex Horse Trials is a pre-Olympic qualifying event, and the Fair Hills Race offers the highest purses on the National Steeplechase Association circuit.
History buffs will love the Revolutionary War sites, like General Washington's headquarters at Rockingham. Somerset County also hosts many cultural events, including the Central Jersey Jazz Fest in September, the Downtown Somerville Oktoberfest and festivals throughout the year at scenic Duke Farms. VisitSomersetNJ.org.
Saratoga Springs, NY
Upstate New York's Saratoga Springs was named one of Travel Magazine's Most Charming Small Cities. As the name suggests, the town is famous for its 21 naturally carbonated mineral springs, each with its own health benefits and unique taste. Visit Saratoga Spa State Park to drink from State Seal Spring or soak in a mineral bath at Roosevelt Baths and Spa, named after FDR, who helped preserve the springs.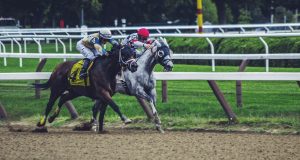 Saratoga Springs is also known for the Revolutionary War battle fought there. See the battlefield at Saratoga National State Park, then climb the 155-foot Saratoga Monument and look out on the bucolic Hudson River Valley.
Today, Saratoga Springs is a cultural hub. The Saratoga Performing Arts Center hosts a diverse array of performances each summer, including a renowned jazz festival, summer residency of the New York City Ballet Company, and concerts by Dave Matthews Band, Sting, Kings of Leon and more. Art lovers should visit the galleries on Beekman Street, while theater lovers should watch Shakespeare in Congress Park.
Equestrians will know the Saratoga Race Course, the country's oldest thoroughbred racetrack. Join over a million spectators during racing season, July through Labor Day, then visit the nearby National Museum  of Racing and Hall of Fame. For more, come in June for the Skidmore Classic Horse Show or drop by Saratoga Casino's harness track to watch and wager. DiscoverSaratoga.org.
Woodstock, NY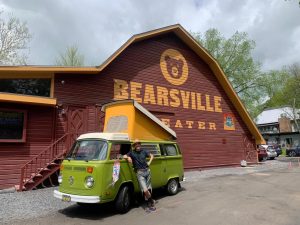 At the foot of the Catskill Mountains, Woodstock is known for its artistic community and emphasis on peace and love. Surprisingly, the iconic 1960s music festival didn't actually take place here — it happened in Bethel, New York, about two hours away. But come to Woodstock and you'll find this little town has been a haven for artists and musicians long before that historic festival.
Back in 1903, the Byrdcliffe Arts Colony was established here, where artists working in every medium came together to hone their craft. Today, the Woodstock Byrdcliffe Guild hosts exhibitions, performances, classes, workshops and artists' residences. Learn more about the village's beginning at the Historical Society of Woodstock.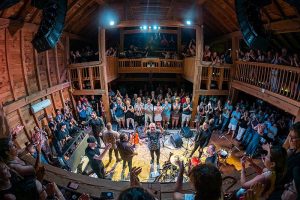 Woodstock's current art scene resides along Tinker Street, where you'll find art galleries and shops, musicians performing on the village green and, in the summer months, plenty of outdoor markets. There are concerts all over, from local acts at the Bearsville Theater to the Maverick's summer music festival. Be sure to catch a Midnight Ramble show at Levon Helm Studio, a renovated barn turned music venue by The Band's drummer. Fans of Bob Dylan and The Band will want to visit Big Pink, where the musicians recorded The Basement Tapes. WoodstockNY.org.
back to top