Get Your Beach Read On!
'Tis the season for summer reading
While many of us think of beach reads as fluff, there are lots of books that are entertaining and still have plenty to say. These new releases have substance and style. In other words, great summer reads!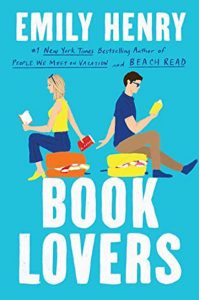 Let's start with one of Oprah's most anticipated books of 2022. At first glance, Book Lovers by Emily Henry seems like your standard rom-com: one summer, two rivals in the publishing world, and a mismatched romance. But Taylor Jenkins Reid (Malibu Rising) says it's a breath of fresh air, "razor-sharp and modern, featuring a fierce heroine who does not apologize for her ambition and heartfelt discussions of grief."
What if you could take a vacation to your past? Bestselling author Emma Straub offers up This Time Tomorrow, a unique story with a time-traveling twist. After her father gets sick, Alice wakes up one morning and finds herself reliving her 16th birthday, when she meets a charming and vital, 40-something version of her dad. How does it affect her and their future relationship? Would she change anything if she could? Would you? Our store owner, Cathy Fiebach, highly recommends this one. "A smart, funny, loving, time-hopping NYC-centric book. This is my definition of a perfect summer beach read."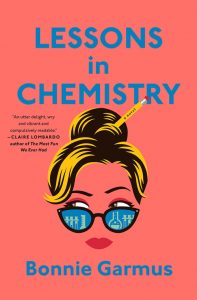 Lessons in Chemistry by Bonnie Garmus introduces us to Elizabeth Zott, a scientist in 1960s California. Her career takes a major turn when she becomes the star of her own TV cooking show. If quirky is your style, my co-worker Anmiryam Budner says this one's for you. "Populated by brilliant, awkward scientists who defy social norms, a precocious and charming child, a brilliant dog named Six-Thirty, and sleazy villains — which could in lesser hands veer into kitsch — become a highly diverting fable of overcoming the sexism and social repression of the 1950s and 60s. There are plenty of laughs, but mostly you'll cheer for Elizabeth Zott and the people whose lives she transforms, just by being herself."
If you loved A Man Called Ove (and who didn't?) check out Remarkably Bright Creatures, by Shelby Van Pelt. It's a sweet tale of reckoning and hope, told through a widow's unlikely connection with a giant Pacific octopus. Think My Octopus Teacher. Kirkus Reviews calls this one "a charming, warmhearted read."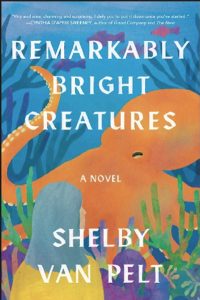 Want something a little more hard edged? I've got you covered. Don Winslow gives us City on Fire. Two criminal empires in New England are shattered when a modern-day Helen of Troy comes between the Irish and the Italians, launching an all-out war that sets a city ablaze. Stephen King raves. "Superb. This is storytelling with a keen edge. City on Fire is exhilarating to read."
Villanova professor Alan Drew brings us The Recruit. A series of strange crimes terrorizes an idyllic California town and they may be linked to a white power movement. The question is — why this town and why now? Jeffery Deaver, author of The Bone Collector says "I can think of no other thriller that portrays its vital themes — all relevant to our times — in such a riveting and up close and personal way. Bravo!"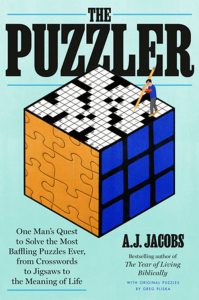 For our nonfiction fans, David Sedaris is back with his first new collection of personal essays since Calypso. In Happy-Go-Lucky, Sedaris captures the new reality of pandemic life: the unexpected, hilarious and poignant. If we must muddle through interesting times, who better to guide us through than David Sedaris? I've got this one on my reading list.
What makes puzzles — jigsaws, mazes, riddles, sudokus — so satisfying? In The Puzzler, A.J. Jacobs sets off on a lively journey to find out. Jacobs introduces us to some serious puzzle people, travels to interesting competitions, tries to get through the hardest corn maze in America and solve the most sadistic jigsaw. You may even pick up ideas for solving puzzling situations in life! Not a bad goal for these odd times.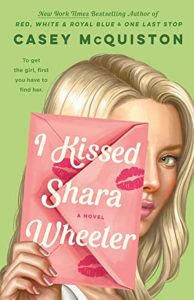 Let's not neglect the younger set. I Kissed Shara Wheeler by Casey McQuiston is a YA novel about chasing what you want, but getting what you need. This one gets a big thumbs up from Publisher's Weekly. "Crisp writing, humorous asides, and fully fleshed characters and relationships — many queer — keep things fresh, leading to a genuinely hopeful ending that centers themes of authenticity and autonomy."
Little ones will love Where Do Diggers Take Vacation? by Brianna Caplan Sayers. It's a charming, rhyming board book about going on vacation, perfect for summer reading! If your youngster liked Where Do Diggers Sleep at Night? this is a natural choice.
This is just a small sampling of what's available for the summer season. Visit your local independent bookstore for more great suggestions. We all have our favorites and can't wait to share them with you
Shelley Laurence is a bookseller at Main Point Books, an independent bookstore with a handpicked selection for every member of the family. Check out their events, book groups and children's activities at MainPointBooks.com or on Facebook, Instagram and Twitter. Order online for delivery or pick-up. 484-580-6978; 116 N. Wayne Ave., Wayne.
back to top