Get the Picture
Contemporary Children's Book Illustration at the Brandywine River Museum of Art. On view through October 9.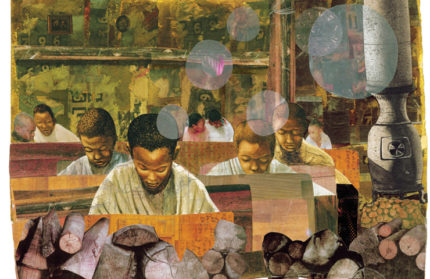 From the sublime to the ridiculous, the remarkable creativity and wit of contemporary children's picture book art appeals to the young and young at heart. Featuring the work of renowned artists working in the field, the exhibit, "Get the Picture! Contemporary Children's Book Illustration," brings the Museum's long-standing commitment to the history and traditions of children's illustration to the present day.
The artists represent an exciting diversity in subject matter, reflecting the increasing inclusiveness in today's field, and a remarkable range of working methods, styles, and mediums that serve the artists' creativity.
While you're there, you may also enjoy visiting the permanent collection, which includes works by N. C. Wyeth (1882-1945), one of America's foremost 20th-century illustrators. His renowned images of swashbuckling pirates, armor-clad knights and hard-riding cowboys fired the imaginations of readers for generations.
Bryan Collier
Collier works in a collage style evocative of Romare Bearden, and his books often chronicle important figures of the African American experience, such as Martin Luther King, Jr., Booker T. Washington and Trombone Shorty, for which Collier won a Coretta Scott King Award.
Image (top right) from: Fifty Cents and a Dream: Young Booker T. Washington, written by Jabari Asim.
Sophie Blackall
Blackall creates marvelous books for the very young and for more advanced readers. Among her many awards, Blackall received the 2016 Caldecott Medal for Finding Winnie: The True Story of the World's Most Famous Bear, about Winnie-the-Pooh.
Image (right) from: Finding Winnie: The True Story of The World's Most Famous Bear, written by Lindsay Mattick.
Raúl Colón
A master of jewel-like color and organic form, Colón brings important Latino/Hispanic stories to the page, celebrating influential role models such as Leontyne Price and Sonia Sotomayor. Draw!, based on Colón's childhood, is an imaginative and wordless book that takes the reader on an exciting adventure through a young boy's mind.
Marla Frazee
Frazee understands the mind of the child and imbues her characters—a farmer and a clown, or a bossy baby—with a wonderful blend of whimsy, wit and touching tenderness. In The Boss Baby, with its playful use of humorous text and watercolor illustrations, Frazee describes a young couple's newest arrival.
Melissa Sweet
Often working with historical subjects, Sweet constructs her collages with a vast assortment of visual and cultural references that enrich and enliven her images. Her recent book, A Splash of Red: The Life and Art of Horace Pippin, tells the story of the West Chester artist, many of whose works are on view at the Brandywine River Museum of Art.
David Wiesner
Wiesner's meticulous paintings show the artist's unparalleled ability to conceive the twists and turns of a story, seeding a child's imagination. He's won three Caldecott Medals and Caldecott Honor Awards, including one for Mr. Wuffles! (2013). The book tells the almost wordless story of a cat who ignores new, expensive toys and plays with one that turns out to be a space ship full of tiny aliens.
Mo Willems
Willems, who comes out of animating and writing for Sesame Street, knows how to tickle funny bones of all ages. His drawings depicting the trials and tribulations of an irascible pigeon and the comedic duo Elephant and Piggie, deftly convey his grasp of juvenile humor.
---
If You Go
Get the Picture! Gallery Talk
September 21, 2 p.m.
Join curator Christine Podmaniczky for a discussion of contemporary children's book illustration included in the "Get the Picture!" exhibition.
PNC Arts Alive First Sunday for Families: Art Off the Page
October 2, 11 a.m. to 2 p.m. 
Find inspiration in award-winning illustrations, enjoy hands-on creative art activities and engage in interactive storytelling. Free admission all day.
Imagine Brandywine Exhibition
Through October 9, 2016 
Work by students taking after-school art classes at elementary schools and Art Partners Studio in Coatesville will be on display. Creative art techniques and styles based on the work of illustrators included in "Get the Picture!" serve as inspiration for this exhibition.
1 Hoffman's Mill Rd., Chadds Ford
610-388-2700; BrandywineMuseum.org
Daily 9:30 a.m. to 5 p.m.
back to top