Gallery RoundUp
From casual browsers to serious collectors, art lovers everywhere are invited to discover what local galleries have to offer this season. Enjoy, appreciate and buy local art!
Spring Fling Open Artist Studios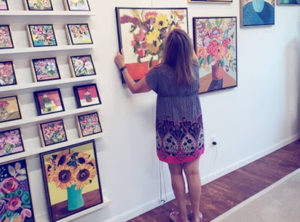 Celebrate spring at aptly named Spring City Mills Studios' Spring Fling Open Artist Studios event on May 4th. Explore three floors of art for a behind-the-scenes look at the creative process.
Meet the artists, visit their studios and take something home—a great opportunity to find the perfect Mother's Day gift! Featuring painters, sculptors, photographers, weavers, printmakers and more, this show encourages art appreciation in all media.
A community of 20 artists, Spring City Mills Studios opened a year ago in the renovated 122-year-old knitting mill. The building also houses the Creative Light Factory, which includes a hub for writers along with offering writing workshops, classes, coaching and community.
Enjoy readings, demos and workshops, plus wine and cheese, as you see where artists do their magic.
May 4, 10 to 6. Facebook.com/SpringCityMillStudios.
West Chester Gallery Walk
First Fridays in West Chester are always fun for the whole family, and the First Friday in May has something extra to enjoy. Presented by Sunset Hill Jewelers and Fine Arts Gallery, the West Chester Gallery Walk will take place on May 3rd.
Wander through charming downtown West Chester for an evening of art, dining and shopping, with free parking beginning at 5 p.m. Peruse six art galleries along with "one-night-only" show venues. One must-see stop is Sunset Hill's father-daughter exhibit by the Schallers, titled "Agape," in the second-floor gallery.
Not sure how to begin? Pick up a walking map showing the participating galleries and other venues at the Chamber of Commerce office on North High Street. Enjoy this brush with local art!
May 3, 5 to 9 p.m. GreaterWestChester.com.
Yellow Springs Art Show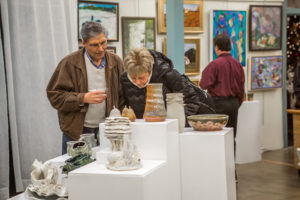 Art lovers young and old are invited to the 46th Annual Yellow Springs Art Show held in the historic Lincoln Galleries at Yellow Springs. From April 27 to May 12, visitors can experience the gallery's works from over 200 artists—including recurring favorites, Brad Earl and Joe Jacobs, plus dynamic newcomers. Very young art enthusiasts can search for hidden prizes in the treasure hunt organized by the studio.
On Friday, May 3, adults are invited to unwind at the Wine and Cheese Happy Hour from 5:30 to 8, sponsored by Cedar Hollow Restaurant and Inn. This entirely volunteer-driven event has a little something for everyone to celebrate art.
April 27–May 12; Sat.–Thurs., 10 to 4; Fri., 10 to 8.
Chester County Studio Tour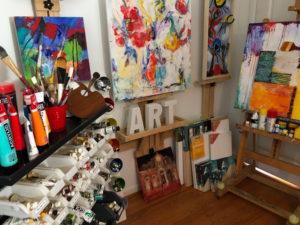 Ever wonder about the creators behind the creations? The Chester County Studio Tour presents a chance to meet artists in their studios. On May 18th and 19th, 144 artists in 63 studios exhibit their works in a variety of mediums, such as painting, sculpture, photography, ceramics, jewelry and glass. Plan your driving tour online for a stress-free experience.
Visitors can vote for their favorite piece for a chance to earn the winning artist a $500 prize, plus a chance to bring the artwork home. Check the tour's website to learn more about the artists and design your own itinerary.
Mark your calendar for another studio tour this fall—the Delaware County Studio Tour on September 28–29.
May 18, 10 to 6; May 19, 11 to 5. ChesterCountyStudioTour.com.
Wayne Art Center's 13th Annual Plein Air Festival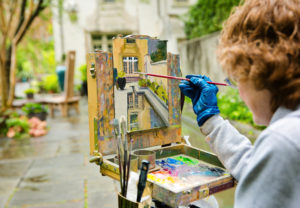 Get ready for another celebration of the Wayne Art Center's Plein Air Festival! Enjoy more than 250 works fresh off the easel at the Collectors' Sale and Soirée on May 18 from 6 to 9 p.m. for an evening of fine art, hors d'oeuvres, live music and open bar.
The festival has been dedicated to increasing awareness of painting en plein air—French for outdoors—since 2007. Artists gather from near and far on May 18 to capture on canvas the ambience of spring in the Delaware Valley.
Paintings are on display from May 20 to June 29.
May 18–June 29. Gallery hours: Mon.–Fri., 9 to 5.: Sat., 9 to 4. WaynePleinAir.org.
Art Gallery at Devon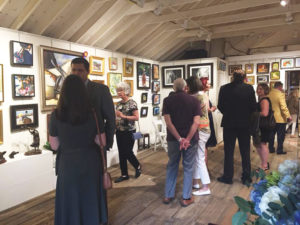 In a quaint cottage in the midst of the Devon Horse Show grounds, the Art Gallery at Devon is a peaceful oasis in the bustling County Fair. It's where you'll find art covering virtually every surface!
Kick off the celebration on May 22 at the "First Night" party from 6 to 9 p.m., hosted by the Art Gallery. On the evening before the official opening day of the Devon Horse Show, First Night presents a popular fundraiser featuring an open bar and gourmet fare. Some 200 guests, including exhibiting artists and art lovers, are among the lucky first to see the artists' creations.
The Art Gallery features over 500 paintings by 60 local and national artists. From the pastoral and equestrian to more contemporary subjects, these works represent a variety of subjects.
Since 1999, the Art Gallery's work has raised over $250,000 in sales for Bryn Mawr Hospital.
May 22–June 2. ArtGalleryDevon.org.
Crafted at Eagleview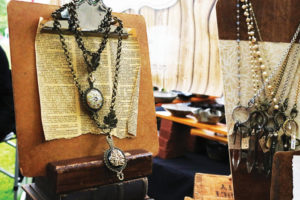 Get your craft on at CRAFTED Crafts and Arts Festival on June 9 at Eagleview Town Center in Exton. The festival features over 50 artists, live music, exhibitions, children's crafting table and a songwriter providing plenty of fun. With chefs from Eagleview's Restaurant Row and other vendors offering specials all day, treat yourself to food, local spirits and craft beer tastings at Suburban Restaurant and Beer Garden.
June 9, 10 to 3. Crafted-Eagleview.com.
For more art galleries and events, check out our Art & Antiques Events page.
back to top