Food News / July 2018
A few of our favorite things to share this month about local food and drink.
MAIN & VINE on the Main Line
Villanova's recently opened MAIN & VINE adds California-styled cuisine to our local dining options. Fresh, approachable food on the menu includes "Sociables" for sharing, "Family Table" specials occurring nightly, and their signature Napa-style sourdough pizzas served at the 12-person pizza bar. Also of note: Main & Vine has a garden-to-glass cocktail program plus a 100-label wine list with top California producers. 789 E. Lancaster Ave., Villanova. MainAndVineBistro.com.
Patriotic Pasta-bilities
Amp up your July 4th menu with festive red, white and blue pasta that's a breeze to make. Here's how: cook pasta, divide into thirds, add two tablespoons of water to two of the portions. Add red food coloring to one portion, blue to the other, and blend until colors are fully absorbed. Mix your tri-colored pasta together and you've got a patriotic dish! Try local artisan dried pasta from West Chester's Vera Pasta. 19 Westtown Rd.,West Chester. VeraPasta.com.
Time Flies When You're Having Rum
Need an excuse to break out the rum … on weeknights? July features several national drink days to celebrate this summer. Enjoy frozen piña coladas on July 10th, chilled mojitos on July 11th, and flavorful daiquiris on July 19th. Sip one (or all) of these drinks on their celebratory days at a favorite local bar or in your home. These July drinks don't require many ingredients and are easily prepared in assorted flavors. Check out 3-ingredient rum drink recipes on Thrillist.com.
Think Pink ... for Chocolate?
From trending pink houses in California to rose gold iPhones, millennial pinkness is ubiquitous. Now it's expanded to become a "ruby" chocolate trend. Forget everyday milk, white and dark chocolates. The berry-fruitiness of pink chocolate—created by Barry Callebaut, a Belgian-Swiss cocoa company—complements its luscious smoothness. Ruby cocoa beans are the source of pink chocolate's intense sensorial delight and naturally pink aesthetic. Try a ruby chocolate KitKat or order online from your favorite chocolatiere.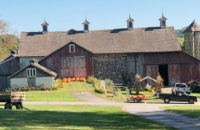 Field to Fork
Savor just-picked produce in an idyllic setting during Wednesday night Field to Fork dinners sponsored by SIW Vegetables. SIW Vegetables grows old-fashioned and newfangled vegetables and fruits on its family-owned Chadds Ford farm. Each distinctively different dinner features a guest chef—Marc Vetri, Jeffrey Miller, Nick Farrell—and is served family style. Dress for BYOB farm dinners and prepare to savor on site! 6 to 9:30 p.m., $75+ per person, 4317 S. Creek Rd., Chadds Ford. SIW-Vegetables.blogspot.com.
back to top