Follies: Architectural Whimsy in the Garden
At Winterthur Museum, Garden & Library through January 5, 2020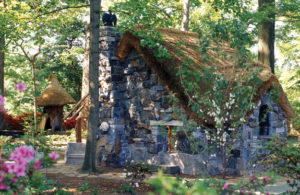 From gothic towers to faerie cottages, 13 fantastical structures—some old, some new—await you at Winterthur in their first-ever garden exhibition, Follies: Architectural Whimsy in the Garden.
So what exactly is a folly? In architecture, a folly is a whimsical or extravagant structure placed in a garden or landscape for decoration but may appear to be used for some other purpose. Follies are intended to amuse observers, frame a vista, pique the viewer's curiosity, and in Winterthur's case, inspire exploration of the landscape.
Some of the follies at Winterthur are relocated historic structures that have been in the garden for years thanks to founder Henry Francis du Pont's resourcefulness and imagination. Others are new additions based on classic and contemporary follies at other estates.
As you explore the curving paths of the 60-acre garden—with the help of their handy and informative app if you're so inclined—the follies add yet another delightful point of interest to the already breathtaking landscape.
Come see for yourself!
If You Go: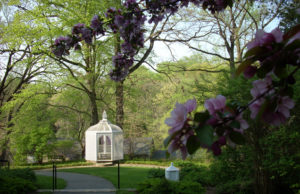 5105 Kennett Pike (Rt. 52), Winterthur. Admission $6–$20. More information at Winterthur.org or call 302-888-4600.
Find the full list of all 13 follies at Winterthur.org/Follies.
Take a tour with Winterthur's Museum App!
Find maps, a guided tour, fun facts about the follies and information about the museum grounds on the interactive app. Available on the Apple App Store and Google Play.
back to top