Fields of Bliss
Warwick Furnace Farm photos by Claire Rosen
Breathe in summer's most glorious Pennsylvania lavender blooms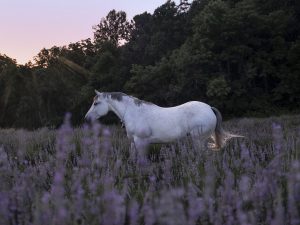 Early on a summer morning, the sun rises and mist lifts at Warwick Furnace Farm to reveal a stunning panorama of lavender buds and blooms. The fragrant purple crown of a hill is the joy, hard work and passion of the Rosen family and a gift to visitors who come for harvests, lavender aromatherapy yoga, plein air art sessions or who bring a picnic to the lavender harvest.
Family Passion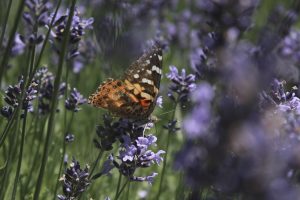 At the northern reaches of Chester County, a Rosen family member and the scent of lavender greet you before arriving at the field. Behind the gracious home and garden laid out by Thomas Sears in the early 1900s, pass orchard trees, an apiary and the family's "Lilac Alley."
Wend your way up the hill to the site where birds call, butterflies flit and a sea of blooms delight your senses. Pale yellow and white butterflies flutter from row to row. An occasional monarch wings its way through English and French varieties of lavender. Bumblebees hum and crickets chirp as afternoon becomes summer evening.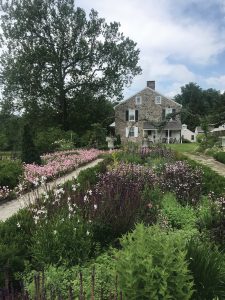 At the top of the field, guests ooh and ahhh over essential oil, hand salve and floral water spray. Products from the farm's distilled harvest conjure mental images of the countryside or a luxurious spa even in the darkest winter. Other visitors engage in the Victorian craft of making lavender wands — sachets woven in soft ribbon to hang in closets as moth deterrents or in rooms as decorations with a calming aroma.
When the farm — originally established in the 1700s alongside the Warwick Furnace — was for sale, Rosen family members who viewed the estate realized that they had an opportunity of a lifetime to create a new legacy with the land and buildings.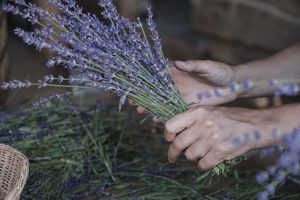 Each member brings a special, soaring talent to the family's endeavors. Dolly — "our beautiful mama" described by a daughter, is a culinary historian; winter's Instagram photos show her lavender cookies and cakes made with vintage molds. Ed, the father of their four daughters, is known as the "boss."
Lillie, an expert in native plants, serves as an entrepreneur who comes up with new products. Charlotte — into fitness and dance instruction — and Camille — into sustainable living and cooking — can also be found at events including the Philadelphia Flower Show and upscale garden festivals.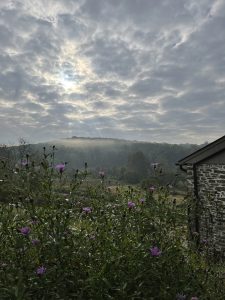 Eldest daughter Claire — with the eye of an international artist, photographer and communicator — celebrates, connects and shares the beauty of each aspect of farm life. She designs, decorates and photographs life on the farm: fields in sun and snow, Dolly's elegant baked goods, a horse among rows of lavender, charming gift boxes of lavender products, her sisters as models in period clothing and arrangements fresh from the gardens.
Reserve tickets for a harvest picnic spot overlooking lavender, the barn and rolling hills. Participate in craft lessons. Come home with a lavender bunch to hang upside-down and dry for wreaths or to grace your table with a touch of the beloved blue flower.
Destination: Paradise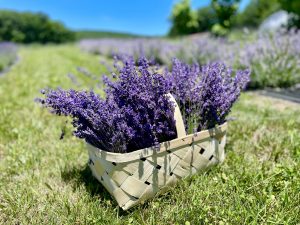 For a transcendent day trip head one and a half hours northwest from Chester County to find additional acres of heaven on earth — Hope Hill Lavender Farm.
A sign at the top of a winding lane speaks adventurous travelers' truth: "Difficult roads often lead to beautiful destinations." Standing in the gazebo at the peak of a hill, every view is sublime. In season, sights include row after row of purple lavender and a two-acre pollinator garden against a background of green hills.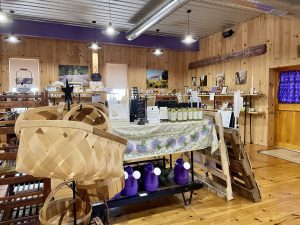 The day I visited, Wendy — co-owner with her husband Troy — was hand-cutting baskets of velvety dark purple stems headed to the drying shed where harvested bunches hung to dry. She took time to point out creatures who also made the farm their home: bluebirds and their nests, some with chicks and others with eggs; purple finches that took up residence in a lavender plant earlier in spring; honey bees around a row of bee boxes; a trio of donkeys who provide year-round entertainment for social media followers and wild turkeys that roam the fields near the valley.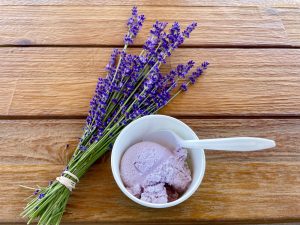 In 2004 Wendy and Troy bought the 33-acre former Christmas tree farm for horses. They hadn't originally intended to plant lavender, but it grew… as did the farm. In addition to the gazebo, drying shed and donkeys' stalls, the beautiful landscape holds a greenhouse and a pretty farm shop.
The shop is filled with bath and body products as well as artisans' wares not always found elsewhere: woven baskets and the best lavender ice cream I've ever eaten.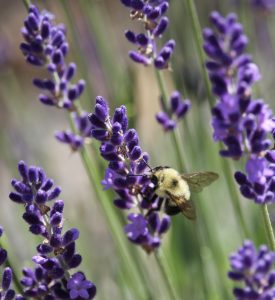 Visit. Take time to relax and take in the views. Take home bouquets of lavender and some culinary delights.
Lavender awaits.
Warwick Furnace Farm, 810 Warwick Furnace Rd., Glenmoore. WarwickFurnaceFarm.com
Hope Hill Lavender Farm, 2375 Panther Valley Rd., Pottsville. HopeHillLavenderFarm.com
back to top