Fall Sports Season Highlights
Area Independent Schools Find Success in Fall Sports Season
The fall season yielded a mix of successes for the independent schools in our area. The Haverford School was outstanding in water polo. Bishop Shanahan High School had a great volleyball team, as did Padua Academy. Episcopal Academy was tops in tennis and had a preeminent quarterback on its football team. Westtown School and Friends' Central School fielded winning cross-country runners.
Dominant in Water Polo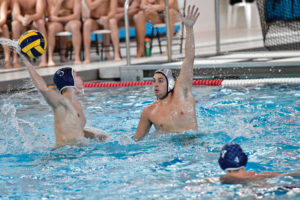 For the second straight year, The Haverford School dominated water polo—it won the Inter-Ac championship and ended its season 27-1. It was the best team in the Commonwealth, winning the Eastern Prep Water Polo Tournament and finishing 3rd in the Beast of the East Tournament.
Four seniors, Matej Sekulic, David Gobora, Koby Degenhard and Ryan LaRocca led the team. Sekulic hopes to continue his water polo career at one of the several Ivy League schools recruiting him. Gobora is applying to the U.S. Naval Academy and Air Force Academy and plans to study economics. Also hoping to continue with water polo, Degenhard is applying to schools like Indiana, Northeastern and Pittsburgh, while LaRocca is interested in several schools including Georgetown and the University of Pennsylvania.
A Winning Football Season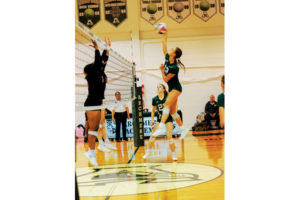 Episcopal Academy won the Inter-Ac title and was 9-1 overall, losing only to Germantown Academy in a hard-fought overtime, 56-55. Senior Maurcus McDaniel, Episcopal's quarterback, was a standout—passed for 1311 yards, completed 67% of his passes, and averaged 9.3 yards per completion. Plus he rushed for 1329 yards and scored 21 touchdowns. A "great kid," according to Coach Todd Fairlie, McDaniel is planning a major in architecture and considering Brown, Princeton and William and Mary for college.
Senior Matt Bush played both sides of the ball. At defense, he was responsible for a team-leading 77 tackles; on offense, he averaged over 6 yards per carry. Business, he assumes, will be his college major.
The leading receiver for Episcopal was junior Malcolm Folk, pulling in 29 receptions for 428 yards. Army has made him an offer, but other colleges have shown interest.
In Delaware, Wilmington Friends School was ranked 10th in the state, completing a 7-3 season and shutting out four of their ten opponents. Senior Manny Adebi has been an "outstanding" lineman at both offense and defense, according to Coach Bob Tattersall, and is considering MIT for college. Senior Will Davis at wide receiver has also been "very consistent."
Volleyball Champs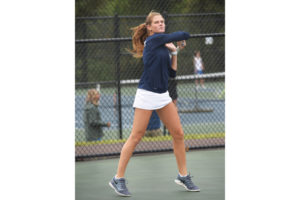 Finishing 1st in Delaware—14th in the nation—with a 12-3 record, Padua Academy was led by Jess Molen, who was selected to the state's 1st Team. She signed with Jefferson University. Also selected for 1st Team was junior Mackenzie Sobczyk, who made the American Volleyball Coaches Association list. Michelle Kozicki made 2nd Team All-State and signed with LaSalle University to play basketball.
Ranked 5th in Delaware, Archmere Academy completed its volleyball season 5-1 in the Diamond State Conference. Senior Julia Kochie recorded 197 kills and 150 digs. She was named 1st Team All-Conference and 1st Team All-State. Abigail Kates recorded 68 kills and 45 blocks this season and was named 2nd Team Diamond State Conference. She signed a letter of intent at Bucknell for track and field. Junior Hannah Wright had 34 aces and 201 digs, and was named 1st Team All-Conference and 2nd Team All State. Looking ahead, she has committed to the University of Delaware.
Coach Greg Ashman, head coach of Bishop Shanahan's Eagles, is very proud of his team, ranked 3rd in the Commonwealth and 55th in the nation. The team came very close to winning the state championship, falling just 2 points short in the final set. It had a record of 34-2-1 overall.
Cara Schultz, member of 2018 state All-Star team and headed to Yale next year, led the team with a hitting percentage of .400, 370 kills, 100 aces and 318 digs. Setter Mia Caporellie accumulated 585 assists, 67 aces and 345 digs. Libero Grace Casagrande had a team high 433 digs and 29 aces.
Coach Ashman declared, "Cara was the power, Mia was the elegance and Grace was the glue that … allowed it all to work!" All three are seniors.
Prevailing in Tennis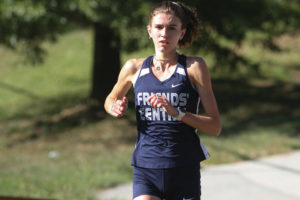 Whitaker Powell, girls' tennis coach for Episcopal Academy, called it a "very good season." That's an understatement! The team won the league and the league tournament. Ashley Kennedy is the school's #1 player, the Inter-Ac's MVP, and was selected as All-League. Although only a sophomore, she's also the top player in the area, having gone undefeated this season—and undefeated the past two seasons—at first singles.
Senior Cara Harty and junior Eliza Aldridge were paired at 1st doubles, where they were undefeated in the Inter-Ac, and were named All-League for the second time.
Coach Powell commented, "I'm proud of the girls … more for who they are as students and young women than I am about winning a title. Of course winning makes it more fun!"
Leading the Pack in Cross Country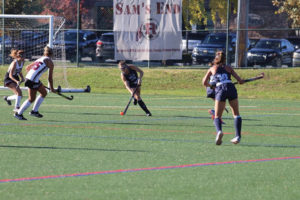 At the PAISAA state championship, Westtown School beat perennial champs Germantown Friends, which had won the last four times and won the Friends School League only 10 days before. The 5000-meter state championship was a serious team effort. Sophomore Constantin Carls was the 5th to cross the line at 16:45. But team members sophomore William Nagy, senior Aiden Morrison, junior Kari Gandi, and senior Nichols Hanchak finished in 18 minutes or less. This team effort was just enough for Westtown's 7-man team to beat Germantown Friends by one point, 69 to 70.
On the girls' side of PAISSA, Lydia Russell of Friends' Central School set a course record of 18:06 for the 5000-meters and won the race by 36 seconds! The team ran away with 1st place and 3 of the top 6 spots. Next year Russell plans to continue running for the University of Oregon. Micah Trusty, who finished 2nd on the team, and 5th overall, is a sophomore. Rebecca Wusinich, who finished 3rd on the team and 6th overall, is a senior.
Field Hockey's Surprising Sticks
At 15-10, it would appear that a young Villa Maria Academy team had room to grow in field hockey. Nevertheless, it made the state semi-finals!
Coach Katie Evans called Kate Perretta a "tremendous asset" to the team's campaign: a "solid defender," "our rock" and always "cool, calm and collected." She was voted Team MVP and a league all-star in 2018 and 2019.
Evans also cited two sophomores. Forward Lindsey Roberts has "incredible fast hands, a great shot and speed that allows her to be dangerous in every situation." Roberts was responsible for 20% of the Hurricanes' goals. Midfielder Maia DeChairio, Evans said, has "very good instincts" and "the skills to win the ball." DeChairio is "very clinical and controlled but plays with a level of toughness beyond her years."
Congratulations are due to all the coaches and players who participated in the fall sports season. We'll watch the student-athletes as they move on.
back to top