Fall into Books
Another season and reason to pick up a great book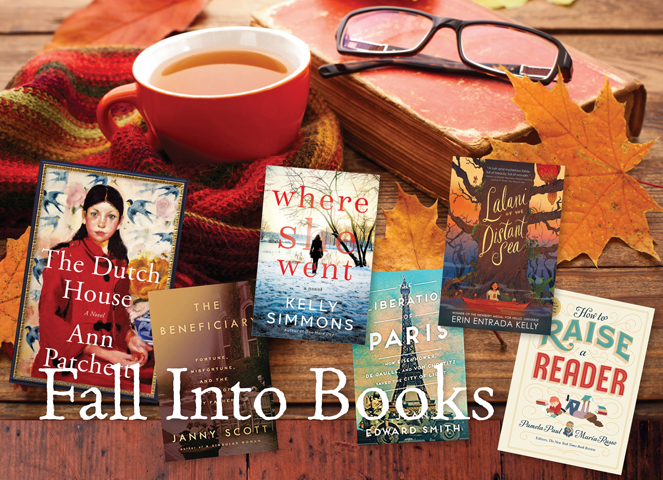 Fall is my favorite time of the year. The leaves turn shocking, vibrant colors, kids head back to school, excited to see old friends and learn new things. It's an exciting season for grownups as well. There are new shows and movies to see, new restaurants to try and, of course, books for every reader!
This is a wonderful time of year to curl up with a glass of wine or cup of tea and fall back in love with reading.
Here are a few recommendations—some with local connections and opportunities to hear the authors—to help rekindle that romance.
The Dutch House
by Ann Patchett (Fiction)
It's always an event when Ann Patchett—author of more than nine books, including perennial book club favorite Bel Canto—brings us a new book. Her new release, The Dutch House, is the story of a brother and sister whose close bonds grow stronger when they lose both parents and are forced from their home by their evil stepmother. They believe their home, The Dutch House in Elkins Park, is behind the loss of their mother and the malicious maneuverings of their stepmother. The story is told from the perspective of Danny, the protected younger brother, who tries to understand his own motivations and those of others close to him. It's a story of blame and forgiveness and the importance of knowing who you are and where you're from.
Patchett will be speaking at Keneseth Israel in Elkins Park on September 25th, just feet from where her story is placed.
The Beneficiary
by Janny Scott (Non-fiction)
We're lucky to live in an area with architecture that inspires art, and some of us even get to live in those houses! One such person is Janny Scott, author of The Beneficiary, a memoir of growing up at Ardrossan in Villanova. Some say the estate and her family inspired the play and film The Philadelphia Story. Scott turns her clear-eyed gaze on the benefits that inheritance can bring, but also shines a light on the secrets that a culture of privilege can hide.
Scott will be speaking in the area, including Radnor Memorial Library on October 2, Bryn Mawr Film Institute before a screening of The Philadelphia Story on October 3, and at Ludington Library on October 7.
Where She Went
by Kelly Simmons (Mystery)
Many of us define a page-turner as a mystery. After all, we need to know what happens! Local author Kelly Simmons' newest psychological thriller, Where She Went, asks the question: What would you do if your daughter vanished from her college campus? A mother and daughter tell the story in alternating chapters, with unexpected twists through the never-straightforward streets of Philadelphia and Temple University's campus.
The Liberation of Paris: How Eisenhower, de Gaulle and Von Choltitz Saved the City of Light
by Jean Edward Smith (History)
Sometimes we read to learn about things close to us. But often it's to travel to distant lands and different times. The Liberation of Paris, the latest book from award-winning historian and biographer Jean Edward Smith, tells the story of the 1944 liberation in vivid and compelling detail. This August marked the 75th anniversary of the historical event and Smith's book is a compelling look at how the City of Light was spared the fate of other major cities, thanks in part, to three men: Allied Supreme Commander Eisenhower, who framed the liberation as a political act; De Gaulle, who was instrumental in uniting the French army and resistance; and the German General von Choltitz, who defied Hitler, spared Paris and was instrumental in creating a truce that resulted with him surrendering to the French army.
How to Raise a Reader
by Pamela Paul and Maria Russo (Parenting)
As children spend more and more time on their phones and tablets, parents are constantly looking for ways to make sure their kids learn to love books. In How to Raise a Reader, Pamela Paul, editor of The New York Times Book Review and Marie Russo, children's book editor, combine wisdom, practical inspiration, tips, tricks and book recommendations to make sure your children will love reading as much as you do. A quick read with lots of practical advice.
Lalani of the Distant Sea
by Erin Entrada Kelly (Middle School)
Kelly, winner of the Newbery Medal and professor at Rosemont College, knows that all that's needed to engage your middle school reader is the right book. A good candidate is Erin's latest book, an adventure story based on a Filipino folktale. A pre-teen leaves everyone she loves and the home she knows in order to save her mother. She must find a mystical place called Mount Isa, an island that all the strongest and smartest men have failed to reach. How will a 12-year-old girl do it?
Cathy Fiebach is the owner of Main Point Books, an independent bookstore with a handpicked selection of books for every member of the family. The bookshop hosts events, book groups and children's activities at 116 N. Wayne Ave., Wayne. More at MainPointBooks.com or on Facebook, Instagram and Twitter.
back to top