Faces of Philanthropy 2021
Celebrating local philanthropy
Chester County Food Bank
They work from their hearts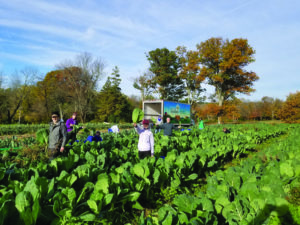 Before 2009, Chester County Cares was the distribution center for the many meal sites and food cupboards that served the County's food-insecure. In the midst of the recent recession, however, the organization faced bankruptcy.
The pieces got picked up by Bob McNeil and Larry Welsch, starting humbly out of a two-car garage in Parkesburg. The enterprise grew quickly, first to a warehouse in Guthriesville, and eventually into a 36,000-square-foot facility in Eaglesville.
Operations now include a fleet of tractor-trailers, a supply chain of local farmers, wholesalers and informal cooperatives, and a donation community of individuals, corporations and food drives.
The Food Bank serves over 120 food cupboards, shelters, senior facilities and other social service organizations and has become the central hunger relief organization in the County. Through its 4,000 volunteers, it supplies food to over 70,000.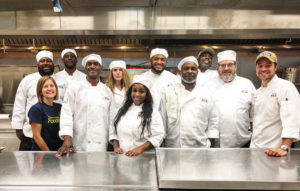 In pursuit of its mission, the Food Bank has devised several programs to achieve its mission: a Backpack program, delivering meals to school kids; a Food Box program, delivering meals to senior centers; and an Emergency Response program, to reach the desperately hungry. And, in the spirit of giving not just a fish but a rod, it offers education, training and jobs for the population it serves, graduating 30 students per year.
The pandemic presented new challenges, mostly because of the impact on volunteers. The need grew, but donations decreased.
In the long run, plans are to double the Backpack program and expand its work by delivering to children and to minorities.
When COVID hit and Welsch retired, McNeil was asked to come back and retake a leadership role. Yet the Food Bank's success would not be possible without its new Executive Director, Andrea Young and CCFB's solid board. And its employees. "They work from their hearts and do an incredible job," says McNeil.
Learn more at ChesterCountyFoodBank.org. And see the Brandywine Table article in this issue.
Donor Spotlight
Robert and Jennifer McNeil
Bob McNeil was Chairman of Board of Chester County Food Bank from 2009 to 2014 and reprised that role in 2020–2021. He has also played key roles in the Boy Scouts, the Community Volunteers in Medicine, and other local nonprofits.
Jennifer McNeil is an active member of the board of the Coatesville Youth Initiative, which seeks to build families and community relationships, while encouraging prevention education.
Known for his fund-raising skill and management expertise, Bob remains actively engaged in the Food Bank despite health issues. Lately he says he "wants people to know that life can go on despite a medical challenge."
Colonial Theatre
Nurture community by celebrating the power of film and the performing art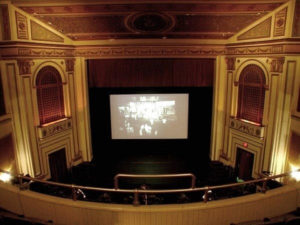 Phoenixville's Colonial Theatre has seen ups and downs over its nearly 120-year history. Its stage has been visited by musicians, vaudeville performers, magicians, lion acts, and, most famously, by The Blob.
For years, the Colonial hosted a packed house. But by the 1990s, it had to close its doors.
The Association for the Colonial Theatre (ACT) took over operations in the '90s as part of Phoenixville's revitalization. The theater reopened in 1999 and again in 2017, most recently with more theater space. The theater now focuses on first-run, independent and classic films, along with shows for children, concerts and community events.
Its mission is "to nurture community by celebrating the power of film and the performing arts to entertain, inform and reveal meaning" and to build new audiences and share its facilities with community nonprofits. One recent program subsidizes art-centered advocacy events too costly and risky for small nonprofits to undertake. Another offers free theater tickets to its clients, which use them in fundraising.
These programs were just getting started when the pandemic hit. For three months, shows were cancelled but the theater kept up spirits with punny marquee postings: No Close Encounters of Any Kind, Mr. Smith Goes to Wash His Hands, Don't Stand By Me. The public offered 400 suggestions the first week.
Virtual screenings were also added, including a Cat Video Fest, perfect for early quarantine time.
More recently the theater opened, closed again in December, and reopened now, but only at 10% capacity. A bright light during the pandemic is the 17-seat private theater, where for $125 a family or group of friends can screen its classic films in a safe bubble.
As for the future, Ken Metzner, Executive Director of ACT, is holding his breath, awaiting the pandemic's end. Then perhaps, The Blob will chase people into the theater.
Learn more at TheColonialTheatre.org.

Donor Spotlight
Kenneth and Moira Mumma
Ken and Moira Mumma have been devoted to the Phoenixville community, dedicating themselves to the arts, social justice, advancement of women, and the disabled.
From 1999 to 2009, Ken led Phoenixville's New Century Bank, remaining a board member until 2014. From 1996 through 2017, he chaired the Association for the Colonial Theatre and, from 1998, Peoples Light. He's held finance positions and board memberships on several other nonprofits.
Moira Mumma has also been active with her philanthropy. She formed and led Citizen Advocacy since 1987 and the Community Coalition in 1991, and also served on boards of area nonprofits.
Friends Association
It starts with a home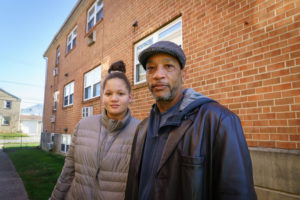 "It starts with a home," explains Jennifer Lopez, Executive Director of the Friends Association for Care and Protection of Children, a nonprofit providing emergency shelter and prevention services for families facing homelessness or housing instability in Chester County. Their mission is to prevent homelessness and promote the independence of families with children.
Using a "Housing First" philosophy, the Friends Association believes that people require food, shelter and safety before they can embark on a path to personal stability. Their view is that housing is a basic human right that leads to better health, more educational opportunities and stronger financial stability.
Importantly, the Friends Association recognizes the link between systemic racism and homelessness and is committed to being part of the solution in addressing the disproportionate rates of housing instability experienced by local African Americans.
In response to the unprecedented number of those pushed to the brink of homelessness during the pandemic, the Eviction Prevention Court program was established. The first of its kind in Chester County, this program provides free legal representative, financial assistance and social services to those facing eviction.
Unlike similar programs, this one is unique because it offers additional services, such as rental assistance and trauma counseling.
Though this pilot project is still in its early stages, it has already helped many Chester County families avoid eviction and maintain a stable home. "The hope is that together we can give every family in Chester County the safety and security of a home," says Matthew Holliday, Friends Association Board President.
During this health and economic crisis, the Friends Association has worked to keep Chester County housed and safe.
Learn more at FriendsAssoc.org.

Donor Spotlight
Donna and Tom Uria
Donna Urian, Shareholder and Director of Taxes at Fischer Cunnane, has always been a passionate champion for women. As 70% of families in the Friends Association programs are led by women, supporting this organization was a no-brainer for Donna and her husband, Tom. The Urians recognize that without having a place to call home, a person's opportunities for employment and education become very limited.
"We greatly admire how the Friends Association takes a family-centered approach to addressing homelessness in Chester County," says Donna. "Understanding each family's story and giving them the tools and resources to rebuild is the first step towards ending homelessness."

Home of the Sparrow
The life-long effects of experiencing something as traumatic as homelessness affects everything from mental health, success in education, future earning potential and interpersonal relationships.
For more than two decades, Home of the Sparrow has been a catalyst for change in Chester County, providing innovative housing solutions and support services to homeless and low-income women and mothers who want to improve their lives and become self-sufficient.
Sadly, women and mothers have been disproportionately affected by the pandemic and its economic impact affects what's known as the A.L.I.C.E. community—Asset Limited, Income Constrained, Employed. Many women experienced a sudden loss of income because they were employed by businesses that shut down or significantly reduced their operation. Through no fault of their own, many low-income, self-sufficient women are now facing housing instability.
Home of the Sparrow continued working to meet local women's greatest needs by helping in a variety of ways, such as paying back rent or current rent, avoiding utility shut-offs, restocking pantries, paying delayed expenses, meeting childcare and family pet needs, along with referring women to appropriate community partners for additional support for medical and mental health needs.
Case managers at Home of the Sparrow used technology to continue working confidentially with current program participants and as well as new clients. A staff member on site in the office provided women with other necessities using "go-bags" filled with paper products, cleaning supplies, diapers, wipes and other personal items. Donations of household goods and food were accepted in the office and were quickly dispersed to women and children.
According to Home of the Sparrow CEO, Michelle Venema, "The life-long effects of experiencing something as traumatic as homelessness affects everything from mental health, success in education, future earning potential and interpersonal relationships, to name just a few consequences." The pandemic increased stress and feelings of hopelessness.
"We are grateful to our generous donors, dedicated volunteers and community of friends for providing us with the resources and support to help women, mothers and children in Chester County who needed us more than ever," says Michelle.
Learn more at HomeOfTheSparrow.org.
Donor Spotlight
Tali Levine
Tali Levine: "I'm a senior at Downingtown STEM Academy and decided to donate all the profits from my thrifting business, TJ Thrifted This, to Home of the Sparrow. This is my third donation in a few months, totaling $2,000 so far. I love knowing their organization is helping people in Chester County and hope my donations bring a smile."
LCH Health
What are you doing with what you've been given?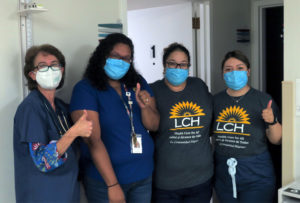 LCH Health and Community Services has been changing lives in southern Chester County since 1973. Led by a diverse, bilingual team, LCH (formerly La Communidad Hispana) is dedicated to creating a vibrant, equitable, inclusive, prosperous and healthy community.
To meet the challenges posed by the pandemic, Ted Trevorrow, Interim Director of Operations, explains: "What you may not know is that we at LCH think of ourselves as a learning organization. We don't ever want to be frozen in time, unable to adapt to changing circumstances." And LCH demonstrated a rapid response to the pandemic.
Back in March 2020, LCH quickly launched HIPAA-compliant telemedicine as a safe, convenient option for their patients, along with setting up an outdoor medical unit (now a temperature-controlled trailer) in Kennett Square to test and treat COVID patients. Keeping symptomatic patients separated in this outdoor facility allowed LCH to resume indoor office visits while ensuring all patients are safe.
To ensure safety of in-person health visits, LCH installed plexiglass screens and HEPA air filters, provided protective equipment (PPE) to staff, staggered patient visits, and enhanced cleaning and sanitization protocols. They created a mobile medical unit to travel to mushroom farms to conduct COVID testing and contact tracing for employees. Throughout their travels and in their offices they are committed to educating their patients about COVID. Ongoing patient education in Spanish and English ensures the community adopts safe habits to prevent the spread of the virus.
From the start of the pandemic, LCH put all their effort towards establishing safe and flexible services to help the community.
Learn more at LCHCommunityHealth.org.
Donor Spotlight
Mike and Nancy Pia
"We had to do something," says Nancy Pia about her family's commitment to charitable giving. "This is our town, and these are our people." To meet the unprecedented needs caused by COVID, Nancy and her husband, Mike, made major financial contributions to LCH and other essential organizations serving the region.
For the Pias, giving in a multi-generational effort. They instill in their children and grandchildren that we all have the opportunity and responsibility to make the world a better place. As a result, their family has participated in many efforts to aid people struggling through this difficult time. Nancy says, "We're most grateful to have had the opportunity to support LCH and work together with their most dedicated staff."
LCH honored the Pias at their annual Amigos event with the 2020 Alice K. Moorhead Community Impact Award for their longstanding support.
Charles A. Melton Center
To contribute to the quality of life for all people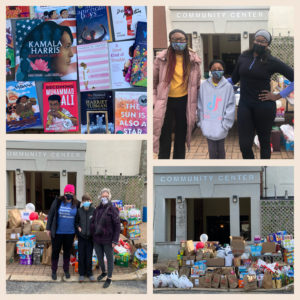 In 1918, Dr. Leslie Pinckney Hill, President of Cheyney State Teacher's College, set out to address the needs of marginalized communities in Chester County. His organization was re-named the Charles A. Melton Arts and Education Center in 2004 to pay tribute to a leading West Chester citizen and Civil Rights activist. Mr. Melton embodied the Center's mission "to contribute to the quality of life for all people of the greater West Chester community by continuing its long commitment to providing education, recreational, cultural and civic services."
The Melton Center serves a diverse population of low-income African American and Latinx families in West Chester and surrounding areas. Last March, the Melton Center closed its building to the public due to the pandemic. The resilient staff continued to provide resources and support for West Chester families during this challenging time.
Programs included partnering with other organizations—West Chester Area School District, Chester County Food Bank, Oscar Lasko YMCA, and Safe Harbor of West Chester—to collect and disseminate essentials.
The Filet of Soul Culinary Program prepared and distributed meals to needy families in Coatesville and West Chester. The New Directions Program supported students through innovative virtual programs, like tutoring, literacy skill-building and enrichment clubs. The program helps parents and guardians navigate student learning, which can be especially challenging for low-income families and those who don't speak English as a first language. Healthy snacks, books and educational supplies were distributed to students.
There's a great deal to look forward to at the Melton Center. In a partnership with Church Housing Corp., the Pennsylvania Housing Finance Agency (PHFA), the NRP Group and finance partners, 51 new affordable homes, apartments and townhouses for local families are scheduled to begin construction.
Education, community building and opportunities for underserved communities have always been key goals of the Melton Center. With a national focus on racial and economic justice, Chester County is fortunate to have an organization uniquely positioned to move towards a more just future.
Learn more at MeltonCenter.org.

Donor Spotlight
Irving Friedlander
"My whole life, I always question why people judge skin color as more important than character. It became apparent when I finally met Ken Winston (Executive Director at the Melton Center) that he and I were going to work together and make a difference. Because it's the right thing to do. A few gifts, a few dollars, a few hours of your time."
Photo Caption: Irv and Ken training the next generation of young black men (Mobby students) at a professional leadership dinner.
Surrey Services
Transforming the idea of aging from a time of limitations to a time of discovery, health and social opportunity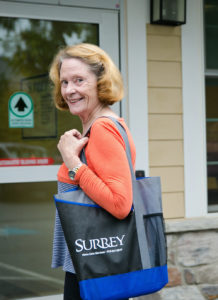 This year the work of Surrey Services for Seniors is more relevant than any other time in its 40-year history. The organization expanded from its physical centers into the greater community to continue carrying out its mission to inspire and enable us, as we age, to live with independence and dignity and as engaged members of the community. Demonstrating resourcefulness, innovation and resiliency, Surrey pivoted to meet heightened needs caused by the pandemic.
For example, Surrey collaborated with community members, volunteers, business leaders, elected officials and friends to gather input about how the organization can have the greatest impact. These insights led to the development of a new Strategic Plan.
Several initiatives, including The Beilenson Institute for Innovation in Aging (named for current board member and former chair John Beilenson), are already underway. The Institute will provide innovative programs and services through collaboration with national leaders in the field of aging.
New programs such as the Technology Lending Library help reduce isolation among older adults by providing easy-to-use technology and support. Surrey has maintained senior engagement during the pandemic by offering virtual programs on their YouTube Channel, including exercise classes and theater performances. Online programming allows seniors to take advantage of Surrey's services while staying distant and safe.
Surrey's passion for improving the health, well-being and quality of life for older adults in Chester County has inspired it to plan to expand virtual and center-based programs to provide support and assistance to older adults. They also plan to continue extending their reach to a wider, more diverse population.
Learn more at SurreyServices.org.
Donor Spotlight
Jim and Robin McErlane
Jim McErlane, senior partner at Lamb McErlane, and his wife, Robin, are good friends of Surrey. At Surrey's 2020 virtual event, Jim was honored with the Jeanne Molitor La Rouche Leadership Award, named after the organization's founder. This award celebrates an individual who, through leadership and community service, exemplifies the Surrey philosophy of Neighbor Helping Neighbor.
The McErlanes admire Surrey's dedication to helping older adults in the region by, as Jim says, "transforming the idea of aging from a time of limitations to a time of discovery, health and social opportunity."
Thorncroft Equestrian Center
Building an environment of respect and inclusion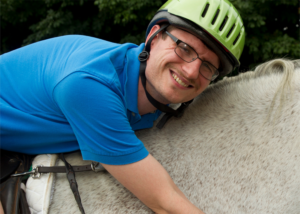 Established in 1969, Thorncroft Equestrian Center is one of the premier therapeutic equestrian centers in the United States, specializing in therapeutic horseback riding for both children and adults with mental, emotional and physical disabilities. Committed to personal growth and education, Thorncroft works towards their mission of providing an inclusive program of love and respect that allows true healing and growth to occur.
"We're building an environment of respect and inclusion," says Tiffany Meyer, Thorncroft's President. "We learn together, we teach together and we work together." Offering recreational riding for all abilities, the Center typically serves 350 riders per week and offers substantial scholarships to riders in need.
As a result of the pandemic, the Center adjusted normal operations to continue to serve the community while staying safe. They shut down for a few months but still worked hard to connect to their riders with drive-through pony parades, Zoom meetings with the horses, and virtual story time.
Thorncroft has also worked to provide new programs during the reopening process. The First Responder program helps healthcare workers cope with heightened stress, the Veterans program gives free access to vets who want to learn to ride, and the Pony Tales program helps therapeutic riders have access to horses even if they can't ride yet.
Looking to the future, Thorncroft has some special events in the works. The Therapeutic Riders Division of the Devon Horse Show is scheduled for May 29th, giving riders a chance to showcase their skills. And the annual Victory Gallop black-tie fundraiser, which helps raise money for many programs as well as fund scholarships for riders, is on the calendar for June 12th (details and safety protocols TBD).
No matter what, Thorncroft will continue to celebrate the fellowship of its riders. "Everything we have gone through has really shown our resilience," says Tiffany Meyer. And we couldn't agree more.
Learn more at Thorncroft.org.
Donor Spotlight
Molly and Mike DeSantis
Molly and Mike DeSantis personify what it means to be a "friend of the farm" by doing things like donating their beloved horse Mick, an Irish Sport Horse, to the Thorncroft program. "Mick took good care of my kids in the show ring. Now it's wonderful to see him enjoying a new career with lots of love and attention," says Molly. The DeSantis family also supports the Para-dressage and Therapeutic riding programs through frequent in-kind donations. Most remarkable, though, is Molly's dedication as a volunteer. Her dependability and commitment to the farm are an inspiration.
YMCA of Greater Brandywine
A pandemic can't stop their mission or services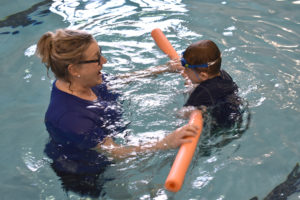 Founded in 1892, the YMCA of Greater Brandywine puts Christian principles into practice through programs that build healthy spirit, mind and body for all. They serve all of Chester County, with eight local branches and an association office in West Chester.
While you might know the Y primarily from their fitness centers, their many programs focus on diversity and inclusion, based on three pillars of service: social responsibility, youth development and healthy living. Our local Y has many signature programs including camps and outdoor activities, childcare and education, health and fitness, swimming, sports, arts and humanities, and more.
With the pandemic, our local Y had to make changes to keep members safe. They modified their facilities and implemented new protocols like health screening questions, temperature checks and masks along with retraining staff about cleaning and disinfecting procedures.
The Y experienced significant financial and programmatic effects from the pandemic, including reduced membership, staff layoffs, reduced summer camp and childcare enrollment coupled with increased operating costs due to safety protocols. This impact from the pandemic led to difficult decisions for President and CEO, Denise Day.
According to Denise, "We quickly pivoted last March to provide essential services in response to community need." Staff organized blood drives, collected donations for local hospital patients, collected and distributed food to families, and reopened child care and summer camp so families of essential workers could return to work.
The Y held their summer learning-loss prevention program, Power Scholars Academy, both virtually and in-person. And they arranged phone calls, virtual coffee hours and additional outreach to seniors struggling with isolation.
The YMCA will continue to innovate and commit to addressing the needs of Chester County residents as they emerge from this recent challenge. A pandemic can't stop their service or mission.
Learn more at YMCAGBW.org.
Donor Spotlight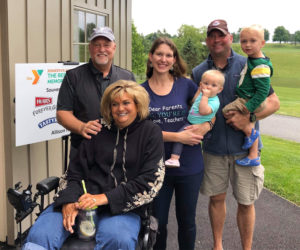 Bill and Melissa Hostetter
Bill and Melissa Hostetter donate to the YMCA in memory and in honor of their daughter Rebekah, a former YMCA lifeguard, swim instructor and swim coach. Rebekah tragically passed away in December 1999 at the age of 21. For 20 years, the Hostetters have held an annual golf tournament in Rebekah's memory to raise funds to support the splash water safety program. Over 1,200 kids have participated in this program.
back to top