Extend the Pumpkin Season
Yes, you can have fun with pumpkins well into November.
Baking, decorating, pumpkin facemask making—that big orange gourd can be used in a slew of tasty and creative ways after October.
Pumpkins are not just for Halloween anymore. Use them as planters, bird feeders or even to make seasonal dioramas!
Start a new November family tradition with an outing at select pick-your-own pumpkin fields still open for visits. Or choose from a variety of local farm markets to "pick out" your pumpkin. Stroll through the farm stands in the area—all unique in their own way—to discover a bountiful collection of hidden fall treasures and your new favorite place to shop local.
Then decide whether your pumpkin will be part of the centerpiece on your Thanksgiving table, hold a steaming seasonal soup, or be part of a November arts-and-crafts project. So many uses for pumpkins! And for pumpkin recipes, see the Brandywine Table column in this issue, "All In On Pumpkin!"
Find your Special Pumpkin
At Cherry Crest Adventure Farm pumpkin picking season extends into the first weekend of November with plenty of other fun activities to enjoy. Smash, bowl, throw, drop and carve pumpkins at the end-of-season Pumpkin Madness Festival, on November 7, while enjoying delicious pumpkin-inspired foods, wine and craft beer. End the night with a fall-tastic fireworks display. 150 Cherry Hill Rd., Ronks. CherryCrestFarm.com.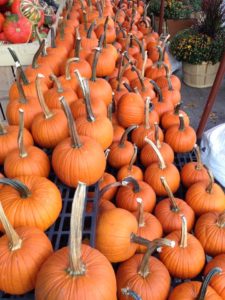 Pumpkins of different shapes and sizes line the outside of Glen Willow Orchard along with rows of mums, decorative Indian corn cobs and other seasonal plants to celebrate fall. Stop inside the market for a selection of fresh fruits, veggies, juices and shelf-safe foods that will last you well into winter. 1657 Glen Willow Rd., Avondale. GlenWillow.Weebly.com.
Produce is just the beginning of what you'll find at Highland Orchards. Pluck a plump pumpkin from the market stands and feast your eyes on our favorite apple cider donuts and delish pies—pumpkin, pecan and other flavors perfect for fall. Private hayrides are available—until the middle of November—to take in the autumn atmosphere. 1000 Marshallton Thorndale Rd., West Chester. HighlandOrchards.net.
Pick out the perfect pumpkin and discover so much more in the newly renovated farmstand at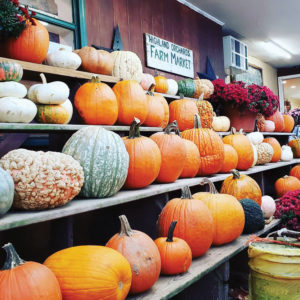 Indian Orchards Farm. Fall favorites like apple and pumpkin butters, locally made jams and jellies, and Pennsylvania maple syrup complement organically grown fruits and veggies. Don't forget the apple cider—brewed on site and naturally delicious. 27 Copes Lane, Media. IndianOrchardsFarm.com.
With over 100 tons of harvest fun on display, Pumpkinland is open until November 8th to pick and play at Linvilla Orchards. Venture off into straw bale and cornfield mazes or reserve a time for festive train and hayrides through the orchard. 137 W. Knowlton Rd., Media. Linvilla.com.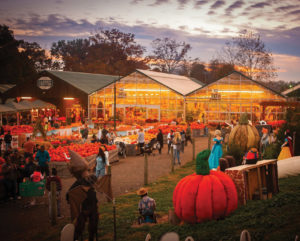 While pick-your-own season may be over, Weaver's Orchard still offers an abundance of pumpkins in their market. Explore the rest of the orchard to discover delicious sweets like pumpkin pie and apple cider, fresh market produce and a wide variety of local yogurts and artisan cheeses. 40 Fruit Lane, Morgantown. WeaversOrchard.com
Pumpkins aren't the only thing ready to pick out at Yeager's Farm Market! Check out the selection of fall baked and canned goods, cider, cornstalks, crafts and anything else you could possibly need to decorate for this autumn season. 1015 Pike Springs Rd., Phoenixville. YeagersFarm.com
back to top