Explore Chester County + Delco
A vibrant, fast-growing community dotted with ever-changing towns to explore
Chester County has long been a destination for history buffs headed for places like Brandywine Battlefield State Park and Chadds Ford History Center, as well as lovers of special interest museums, including the Kennett Square Underground Railroad Center and Christian Sanderson Museum. The area is laced with historic markers and reminders of our past.
There's another side to Chester County—a vibrant, fast-growing community dotted with ever-changing towns to explore. Here are a few of our favorites, worth a visit or two this summer and beyond, to glimpse the future of this area.
West Chester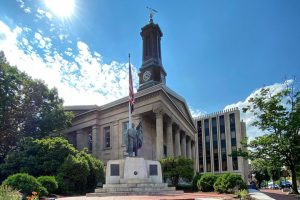 We'll start with the county seat and our magazine's home base for 45 years. West Chester is a picturesque and historic community boasting small-town charm and cosmopolitan flair. In addition to its many accolades, including as a Great American Main Street, West Chester was called "one of the world's most perfect small towns" by the Philadelphia Inquirer.
And if that's not enough to entice you, remember West Chester has long been a top area dining destination as home to about 70 eateries and drinkeries—try Wrong Crowd Beer and Sterling Pig Brewing. From Iron Hill Brewery, with 20-some years in residence, to recent arrivals including Stove & Tap, Sedona Taphouse and Greystone Oyster Bar, there really is something for every taste. Again this year, Gay Street will close to traffic to create a multi-block pedestrian mall and Open-Air Marketplace.
For more fun, there's music in Marshall Park, the return of the Turks Head Music festival on July 18 and plenty of live entertainment—Dueling Pianos, tribute bands and more—at Uptown! Knauer Performing Arts Center throughout the year. DowntownWestChester.com.
Media, Yes It's Delco
"Everybody's Hometown" is Delco's county seat. So it makes sense that fans of HBO's recent hit "Mare of Easttown" might want to compare authentic regional accents with a certain British film star's.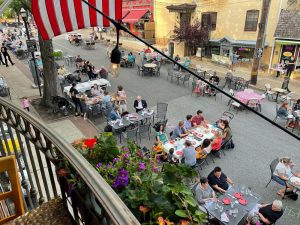 Other attractions in Media Borough include two theaters (Hedgerow and Media Theatres), two parks (Rose Tree and Ridley Creek State Park), along with Tyler Arboretum, the PA Veteran's Museum and a trolley (route 101) that runs from Philadelphia through the center of town on State Street.
State Street is home to another draw: Summer Dining, when on Wednesday evenings and Second Saturdays through September, the downtown area is closed to traffic for al fresco dining.
As the country's first Fair Trade Town, Media is also home to an eclectic collection of shops, open for browsing during Summer Dining and other times and often staffed by the owners.
Mark you calendar for several musical festivals hosted most years—May's Americana Roots Ramble, June's State Street Blues Stroll and November's Jazz by Night Celebration.
More at VisitMediaPA.com.
Phoenixville
It's a town on the rise after a history as an old mill town—home to Phoenix Iron Works and factories for boilers, silk and Majolica pottery. In its current renaissance, Phoenixville is a 2021 Travel Magazine "Most Charming Small Towns and Small Cities in PA."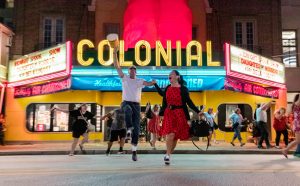 Others may know Phoenixville for its other claim to fame: the town with the most breweries per square foot. (It's merely #10 in breweries per capita.)
To attract diners and shoppers, the town instituted Open-Air Set-Ups along two blocks of Bridge Street, the main thoroughfare. Through late November businesses can set up along the sidewalks and closed roadway. Enjoy al fresco dining at old favorites like Molly Maguire's and the Great American Pub, or newer additions like Avlos (in Majolica's former space) or Paloma's, a modern European restaurant.
Phoenixville hosts several annual festivals, but none better known than its July Blobfest, in honor of the 1950s sci-fi movie featuring scenes shot locally. The event is virtual again this year, with traditions with a twist. (Fans will film their own "Running out of the theater" footage.)
Finally, this town has its own Six Degrees of Kevin Bacon status. The well-connected star visited his grandmother here and returns from time to time.
More at PhoenixvilleFirst.org.
Kennett Square
For a taste of southern Chester County, visit Kennett Square. How long did it take you to think "Mushroom Capital of the World"? Yes, it supplies about 60% of the country's mushrooms.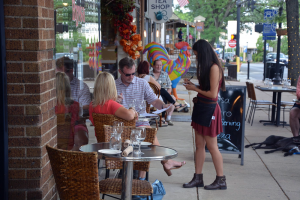 There are many connections to the industry, such as the Woodlands at Phillips Mushroom Farm. This retail store with special exhibits, set in an 1828 restored family farmhouse, is worth a visit for everything from mushroom puzzles to a 4.5-pound combo box of mixed fresh fungi to take home.
Food and drink are big draws, too. October's popular Kennett Brewfest and February's Winterfest attract beer fans from far and wide as they raise funds for Historic Kennett Square.
And small local eateries have garnered high profile fame. James Beard-award finalist Talulah's Table continues to wow foodies with its hard-to-score hyperlocal Farmhouse Table dinners. Philadelphia Inquirer food critic Craig LaBan gave the low-key La Peña Mexicana a rave for its authentic regional fare. And La Michoacana Homemade Ice Cream shop's corn, avocado, tamarind and guava cones have wowed no less a fan than President Biden.
More at HistoricKennett.Square.com.
back to top