Explore Chester and Delaware Counties
Our area has a long and storied past, giving us a very long list of places dedicated to preserving and educating others about that history. Here are a few of our favorite historical sites to visit this summer, where you can get a glimpse into our region's past — and maybe even take part in it.
Brandywine Battlefield Park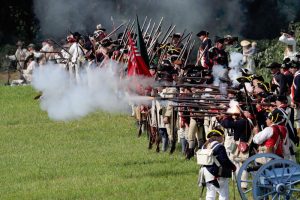 On September 17, 1777, George Washington's Continental Army fought the British Army in the Battle of Brandywine, the largest single-day land battle of the American Revolution. Although the Continental Army was defeated, their resilience helped convince France to aid in the war effort.
Brandywine Battlefield Park is a 52-acre park that was the epicenter of Washington's encampment. Admission to the grounds is free, but tickets (Visitors Center, Fri. & Sat., 10 to 4) give access to an 18-minute orientation film, museum admission and guided tours of the Benjamin Ring House (Washington's headquarters) and Gideon Gilpin Home and more.
Through July, the park hosts weeklong summer camps for children entering grades 3 to 6. Campers will learn about the Continental Army and life in the 18th century through hands-on activities and visits from historical figures. Open March–Dec., Tues.–Sat., 10 to 4 . 1491 Baltimore Pk., Chadds Ford. BrandywineBattlefield.org.
Colonial Pennsylvania Plantation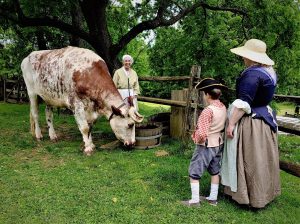 At Colonial Pennsylvania Plantation, you'll find yourself transported to the 18th century. Located in Ridley Creek State Park, this living history site educates visitors about the everyday life of colonial farmers, who composed nearly 90% of Pennsylvania's early population.
The 112-acre working farm consists of five restored historic buildings, crop fields, a kitchen garden, orchard and apiary. Costumed interpreters perform daily chores — tending to livestock, growing heirloom produce, cooking, woodworking, blacksmithing — and encourage visitors to participate. In July, you can help harvest heritage Red May wheat and Bere barley crops.
The Plantation hosts events and workshops throughout the year. Learn a new skill, like spinning, ox driving, soap making and even colonial beer brewing methods, and gain a better appreciation of those who came before us. Open March–Dec., Sat. & Sun., 11 to 4. 3000 N. Sandy Flash Dr., Newtown Square. ColonialPlantation.org.
Chadds Ford Historical Society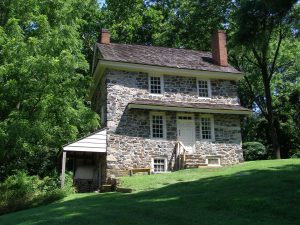 For over 50 years, the Chadds Ford Historical Society has been educating, preserving history and serving the community. Three 18th-century houses are the focal point of their efforts, operating as museums and open for Saturday tours.
The John Chads House was built in 1725 for, not surprisingly, John Chads, a Quaker ferryman and Chadds Ford's namesake. The Springhouse is a one-room schoolhouse with a natural spring in the basement. The 1714 Barns-Brinton House, open between Memorial Day and Labor Day, was a tavern before becoming the Brinton family home for over a century.
The Barn Visitors Center is home to public exhibits, a museum store and research library. Plan to visit during Historic Chadds Ford Days, September 16 and 17, featuring Brandywine Battle reenactments, demonstrators and historians, live music, food and beverages. Open Thurs.–Sat., 11 to 5. 1736 Creek Rd., Chadds Ford. ChaddsFordHistory.org.
Historic Sugartown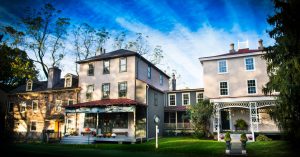 Visit the lovingly restored 19th-century village of Sugartown. Throughout the 1800s, Sugartown was a vibrant crossroads community, serving the surrounding farming community and weary travelers making their way to Philadelphia. Today, Historic Sugartown shows us how early Americans conducted business and lived as a community.
From May to November, the village offers guided tours on Sundays, noon to 4 p.m. You'll get to see the c. 1880 general store, school room exhibit, book bindery, c. 1805 William Garret House, c. 1835 Cheever Bank Barn and Carriage Museum.
The village also hosts workshops and special events. This month, there are bookbinding workshops on July 8 and 9, and marbling workshops on July 22 and 23. And don't miss the Pop-Up Biergarten on July 27 and August 24. Open daily, 9 to 5. 273 Boot Rd., Malvern. HistoricSugartown.org.
The Mill at Anselma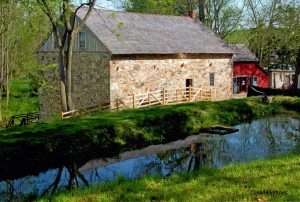 Discover Chester County's industrial heritage at the Mill at Anselma. A National Historic Landmark, the 18th-century mill and homestead showcase our region's cultural history. The main attraction is the c. 1741 grist mill, with original colonial- era power train, as well as multiple layers of industrial equipment from the late 1700s to early 1900s.
The mill is open for tours on weekends and hosts mill-grinding demonstrations on the second Saturday of each month, April to December. The 22-acre grounds and trails are open daily from dusk to dawn for hikes and picnics. On July 20, come for Music at the Mill. Check online for more details.
Before you leave, drop by the gift shop, which offers stone-ground flour from the mill as well as souvenirs. Open April–Dec., Sat., 10 to 4, Sun., 1 to 4. 1730 Conestoga Rd., Chester Springs. AnselmaMill.org.
Hopewell Furnace National Historic Site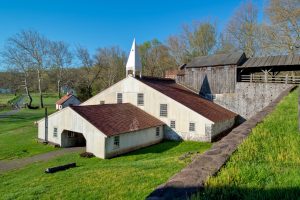 First, a caveat: though it has an Elverson address, Hopewell Furnace National Historic Site is technically in Berks County. That said, it's a must-see.
In operation from 1771 to 1883, Hopewell Furnace was one of the "iron plantations" that helped kickstart America's Industrial Revolution. Today, the 848- acre site offers a glimpse into the business, technology and lifestyle of our young nation. Next to French Creek State Park, the historic site is also a great place for a hike, picnic or birdwatching.
Start at the Visitor Center, with exhibits, audio-visual programs and bookstore, then tour the grounds and 14 historic structures. The kiddos can become Junior Rangers by answering questions and finding important items, and earn a special badge. Visit the farm and meet domesticated animals similar to those found at the furnace in its heyday. In September and October, pick historic apple varieties in the orchard. Open daily, 9 to 5. Closed Mon. & Tues., Oct.–May. 2 Mark Bird Ln., Elverson. NPS.gov/HoFu.
back to top